DISCLOSURE: THIS POST MAY CONTAIN AFFILIATE LINKS, MEANING I GET A COMMISSION IF YOU DECIDE TO MAKE A PURCHASE THROUGH MY LINKS, AT NO COST TO YOU.
These Buffalo Cauliflower Bites with Spinach Ranch Dip are the perfect snack to enjoy while watching your favorite team play!
Prior to going plant-based, my husbands go-to game day snack was buffalo chicken wings.
I knew that I needed to replace them with something that would hit it out of the park and this was just the dish.
Loaded with lots of great spices such as garlic powder, onion powder, paprika, and let's not forget the perfect hot sauce Franks Hot Sauce.
Would you believe that at one point this year we had over 10 bottles of Franks Hot Sauce in our pantry at one time. Some already opened with just a few drops left in them, and some brand new. Thanks to my 17-year-old, who I sometimes wonder if he bleeds out hot sauce, would put it on my grocery list every time.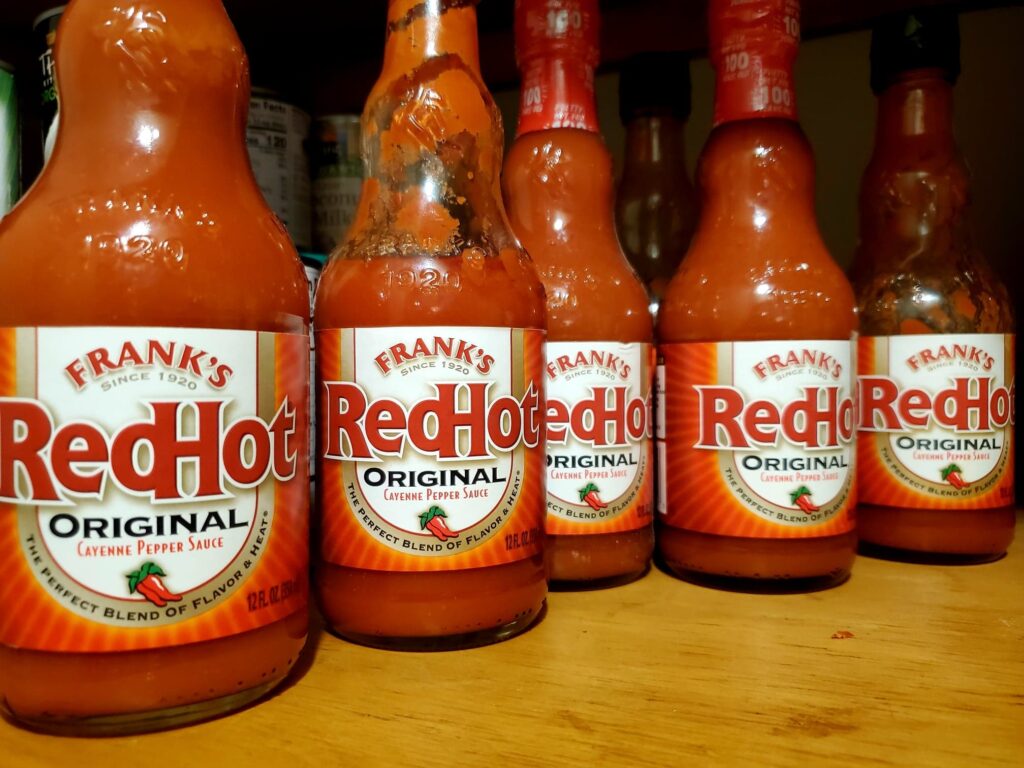 I mean, sure I should have paid a little more attention that we were not completely out of it before buying more, but all I can say is that we are down to 6 bottles on hand now and he has agreed to use those up before adding them to the next shopping list.
The great thing about this dish is that besides that it is oil-free and a whole food plant-based approved dish, it can be made in around 30 minutes and is a great way to get those kids or husbands in your life that might shy away from cauliflower to become one of its biggest fans.
I personally love cauliflower raw, steamed, roasted, baked, and my newest way is as the main ingredient of these Buffalo Cauliflower Bites with Spinach Ranch Dip. You do not have to twist my arm to get me to enjoy cauliflower. I love its texture and knowing that I am a great source of fiber and vitamins. This nutrient dense vegetable is becoming a popular food to replace pizza crust, rice, and cheeses.
They are not only is this dish plant-based, but it is gluten free and pairs great with this Spinach Ranch Dip.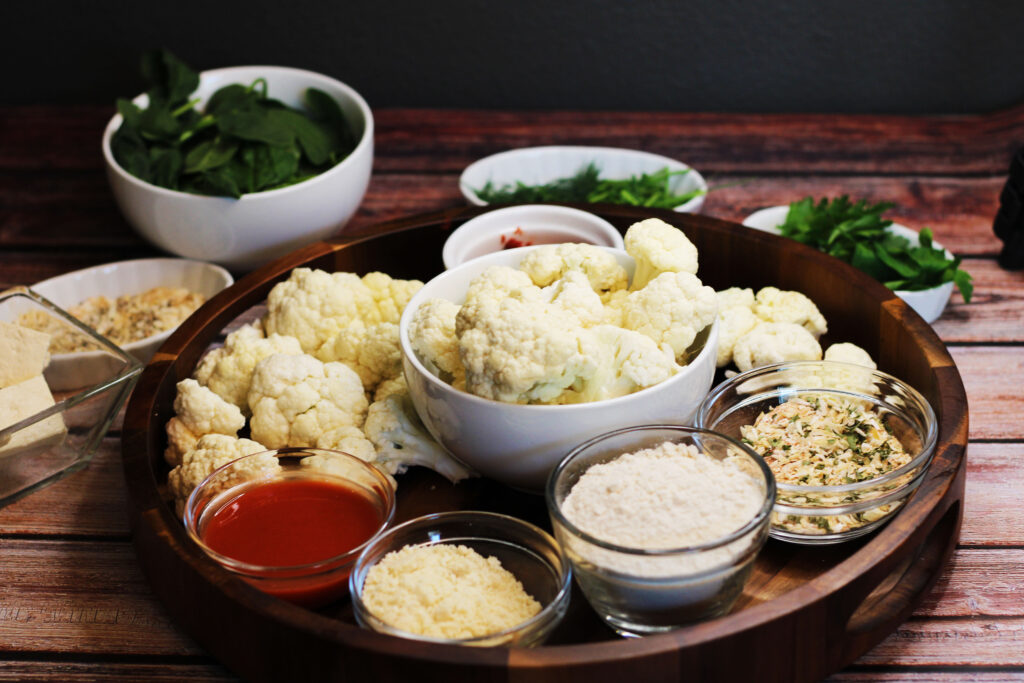 Another great thing about this dish is that the Ranch Spinach Dip can also serve as a dressing over your favorite salad, Power bowl, or Buddha Bowl recipe. You can store the Spinach Ranch Dip in an airtight container in the refrigerator for up to three days.
The only argument we have in the house over this dish is just how much Franks Hot Sauce should we use. I prefer a milder taste, but I have been known to lose out to both my boys and my husband who like things very spicey. The good news is that I can take my share of Buffalo Cauliflower Bites just before they go to town on the Franks Hot Sauce.
And the great thing is that the only equipment you will need is:
A Large Sheet Pan
A Blender or Food Processor
A Large Mixing Bowl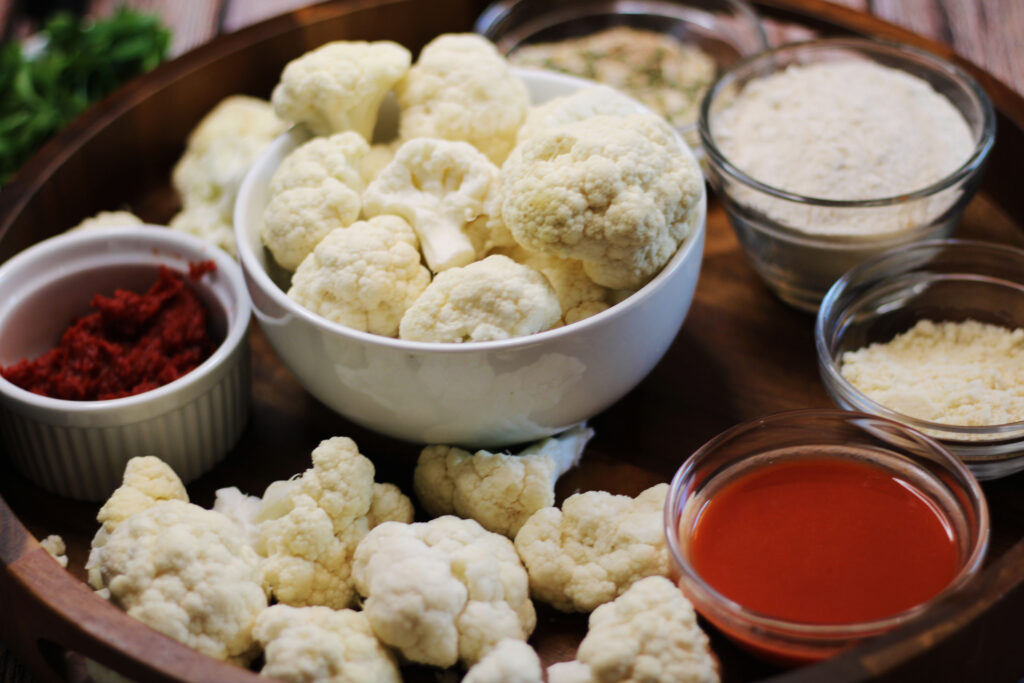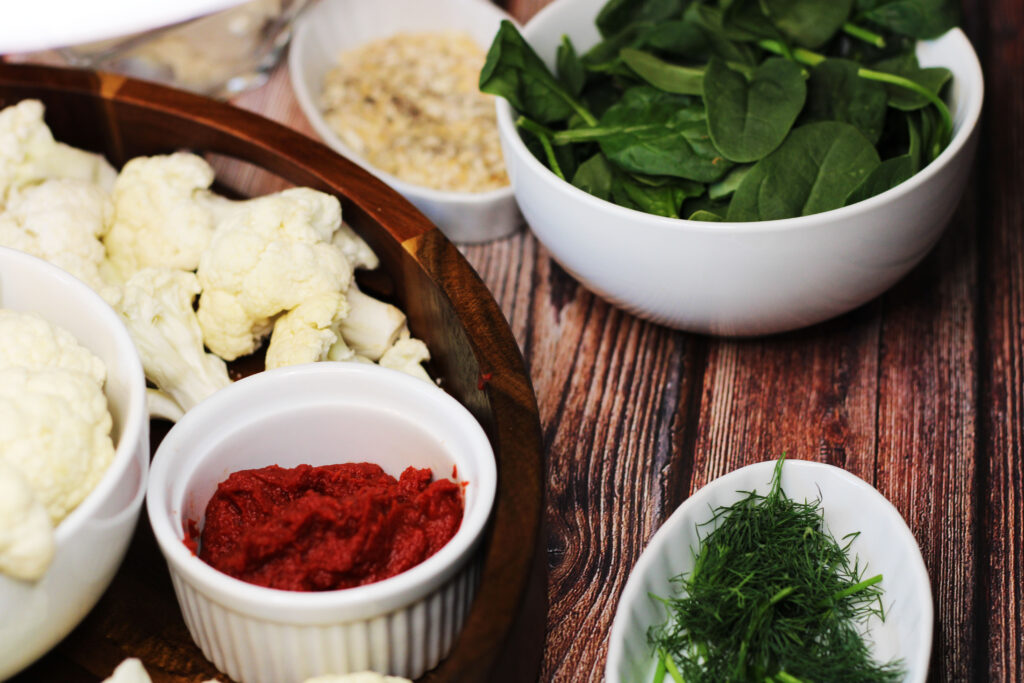 Which also makes for easy clean up and less dishes to wash.
The Superbowl is coming up in a couple of months and this Buffalo Cauliflower Bites with Spinach Ranch Dip would make a great dish to serve your family.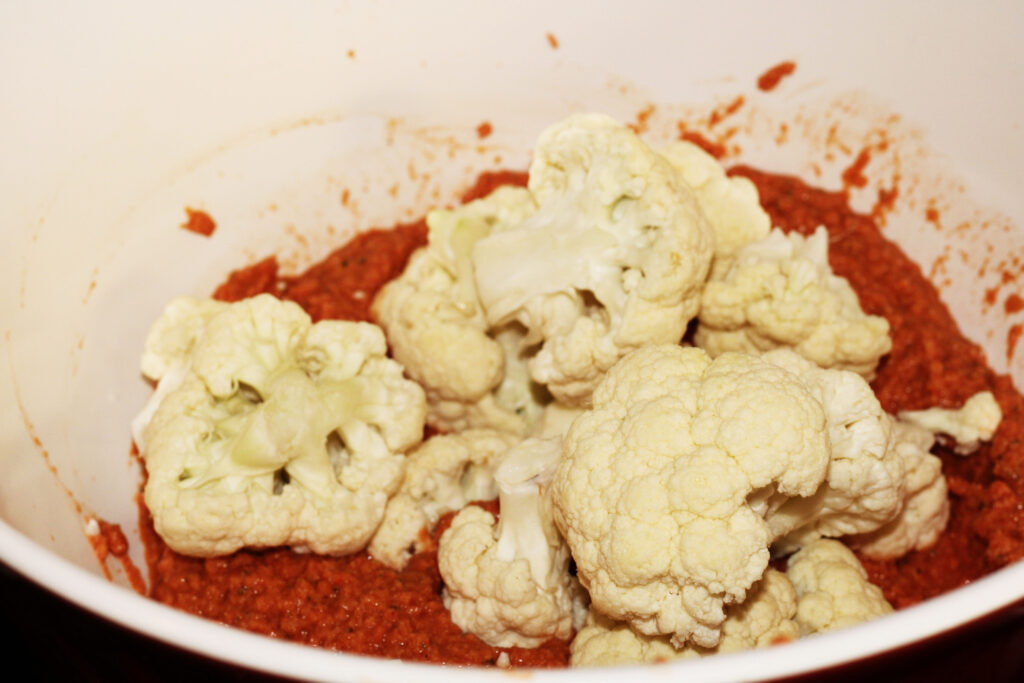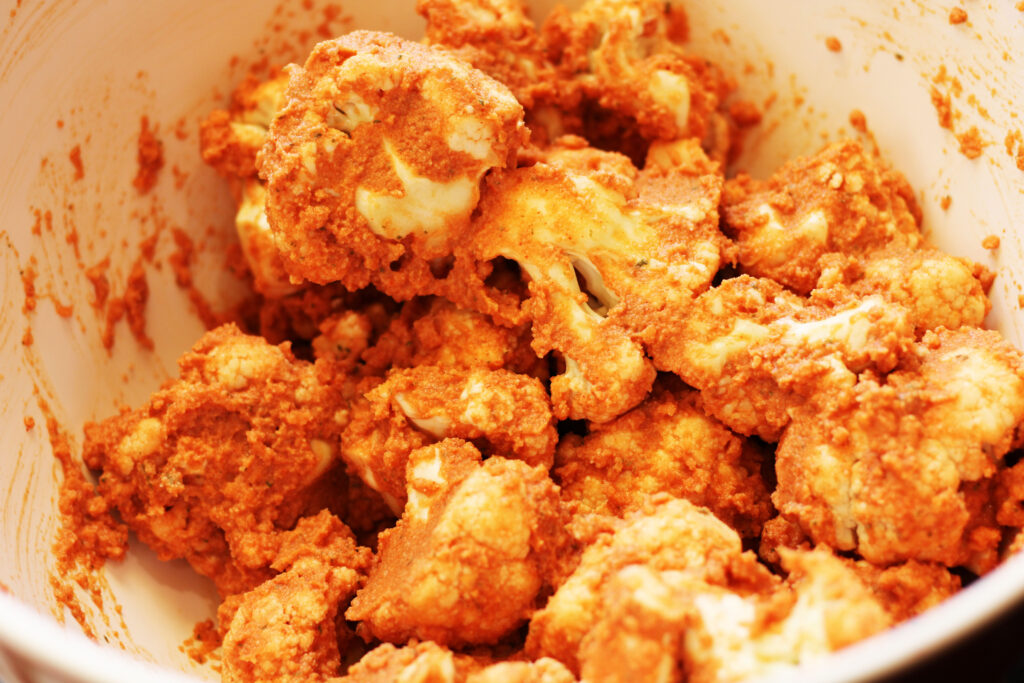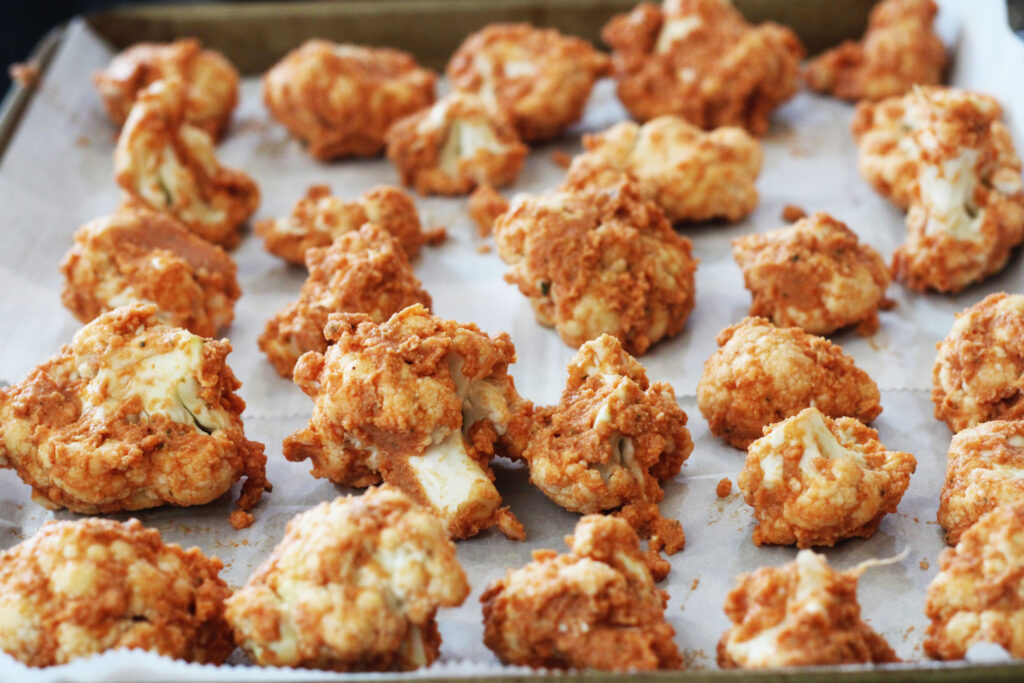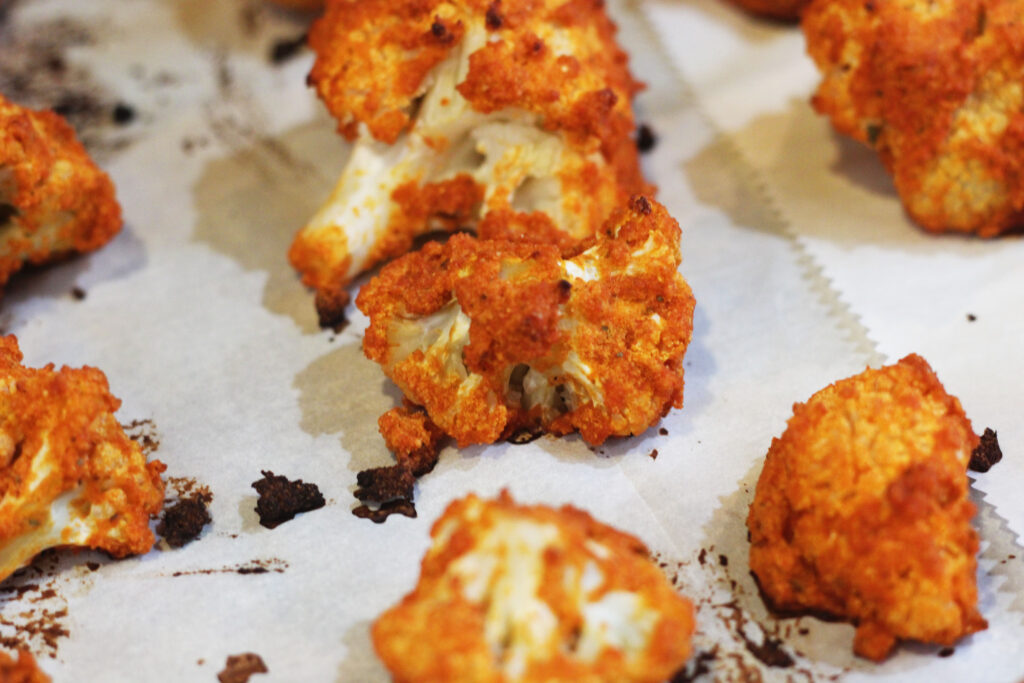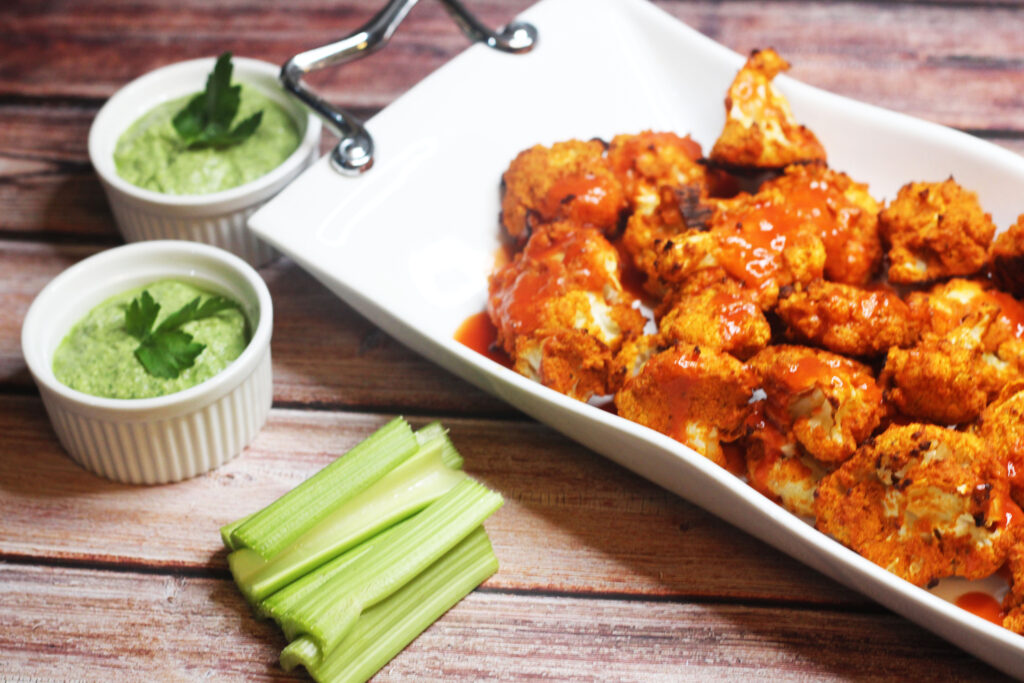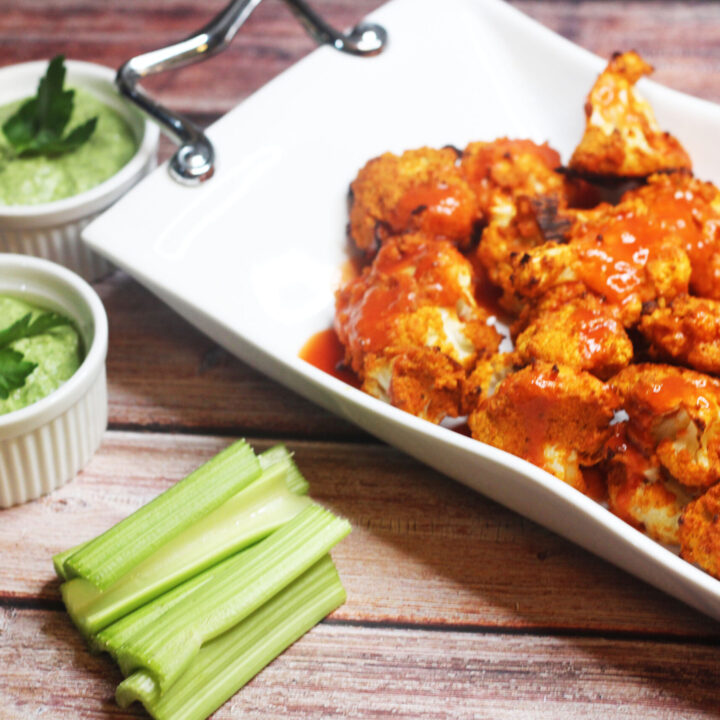 Buffalo Cauliflower Bites with Spinach Ranch Dip
These Buffalo Cauliflower Bites are full of flavor and make a great game day snack.
Ingredients
2/3 Cups Brown Rice Flour
2 TBSP Almond Flour
2 TBSP Tomato Paste
1 TBSP Garlic Powder
1 TBSP Onion Powder
1 TBSP Paprika
1 Head of Cauliflower or 1-16 oz package of cauliflower florets
2 TBSP Franks Hot Sauce
Instructions
1. In a blender or food processor, combine the brown rice flour, almond flour, tomato paste, garlic and onion powder, paprika, and 1/2 cup of water. Blend until smooth and thick.
2. Add the mixture to a large bowl and add in the cauliflower florets and mix together until the florets are all covered in the mixture.
Air Fryer Instructions:
It might take two batches to cook all your florets depending on your air fryer size.

1. Place florets on your air fryer racks or basket, spacing them out (if some overlap that is okay).
2. Set your Air Fryer to 390 degrees.
3. Air Fry for 7 minutes, Remove and flip over. Then continue air frying for an additional 5 minutes until golden and crispy.
Instructions if needing to cook in more than one batch.
Preheat your oven to 250 degrees or its lowest setting. Add your first batch of air fried cauliflower bites to a parchment lined baking sheet and place in the oven to keep warm.
Continue cooking the remaining cauliflower in the air fryer.
Remove from the oven and let sit a few minutes. The florets will become more crispy. Drizzle the Franks hot sauce over them and serve.
*The temperature and cooking time will depend on your air fryer model and size.
Oven Instructions:
1. Preheat the oven to 425 degrees. Line the large baking sheet with parchment paper.
2. Place the cauliflower on the large baking sheet, making sure there is space between each of the florets.
3. Bake in the oven for about 25 minutes. Remove from the oven and let sit a few minutes. The florets will become more crispy. Drizzle the Franks hot sauce over them and serve.
Spinach Ranch Dip
This Spinach Ranch Dip pairs great with our Buffalo Cauliflower Bites or as a dressing to on your favorite Salad, Power Bowl, or Buddha Bowl.
Ingredients
1 Cup Spinach
1-12 oz of Silken Tofu
1 TBSP White Wine Vinegar
1 TBSP Garlic Powder
1 TBSP Onion Powder
1 TBSP Fresh Parsley, diced
1 TBSP Fresh Chives, diced
TBSP Fresh Dill, diced
Salt and Pepper to taste
Instructions
In a food processor or blender, add spinach, tofu, vinegar, garlic powder, onion powder. Add in chives, dill, parley, salt, and pepper, blend until smooth and creamy.
Put the mixture in a small bowl and place in the refrigerator for about 30 minutes.
Remove from the refrigerator and serve.
And here are some other great Superbowl dishes
and snacks on our blog that your family can enjoy that are whole food plant-based and kid-approved:
Oil-Free Air Fryer Plantains (Tostones) with Lemon Garlic Sauce
Happy Cooking!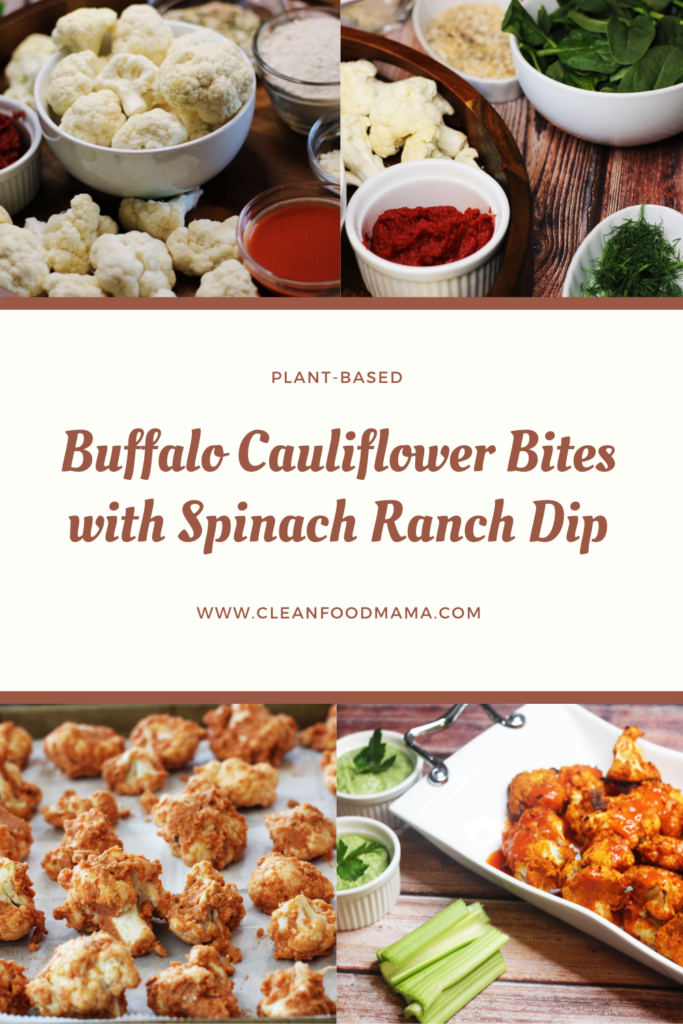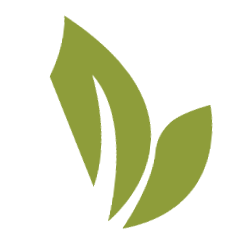 Stephanie is the founder of Clean Food Mama, a blog about a health journey, weight loss and getting more plants into your diet. She discusses her health journey and empowering others to do the same. She shed 125 lbs by incorporating a whole foods plant based diet. Click here to learn more about plant based foods.