Easy To Follow Carrot Recipes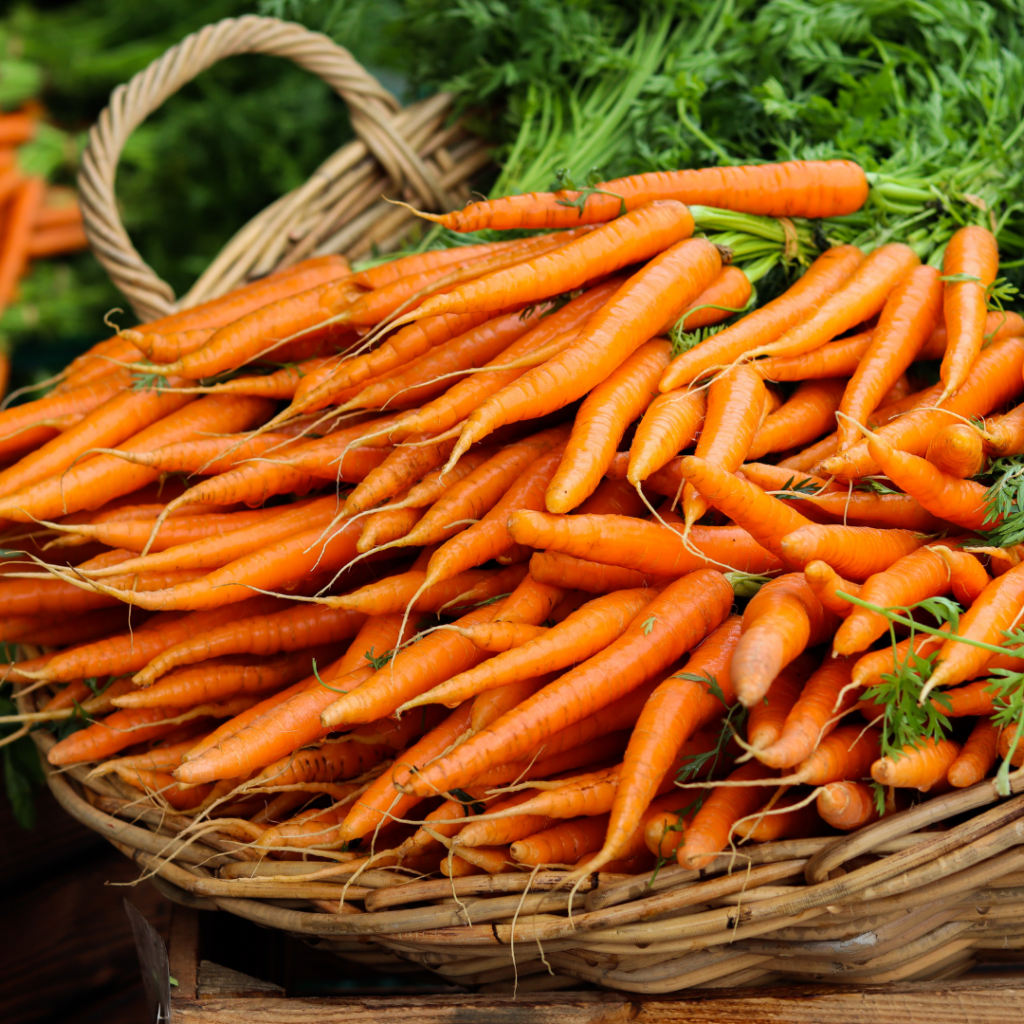 This post may contain affiliate links. See our Disclosure Policy for details.
Getting more plants on the family table has never been more easy or tasty!
We put together a roundup of some easy-to-follow carrot recipes that are oil-free, plant-based and full of flavor and include everything from appetizers to tasty desserts.
Whether you are snacking on them fresh, roasting as a side, shredding into cake or shaving them over a salad, carrots is one of our favorite vegetables.
No matter if you grow your own carrots or purchase them from your local grocery store or farmers market, these low fat and fiber friendly dishes are sure to please even the pickiest eater in your house.
Health Benefits of Carrots
Carrots are not only a crunchy and highly nutritious root vegetable; they are often claimed as the perfect health food.
Carrots are a good source of beta carotene, fiber, Vitamin K1, potassium, and antioxidants.
Carrots get their bright orange color from beta carotene which is an antioxidant your body converts into Vitamin A.
Carrots are one of the most nutritious foods you can eat and contain about 88% water making them a great addition to a plant based diet.
Two small carrots or about 100 grams contains the following:
Protein 0.9 grams
Carbs 9.6 grams
Sugar 4.7 grams
Fiber 2.8 grams
Fat 0.2 grams
Carrots are a good source of fiber and often rank low on the glycemic index (GI) which measures how quickly foods raise your blood sugar after a meal.
And carrots have been linked to helping aid in weight loss, and reducing the risk of heart disease and degenerative aliments.
Here is how to buy, store, cook, and freeze this popular root vegetable.
How To Buy The Best Carrots
It is best to choose carrots that are firm with a bright color and smooth skin. Most carrots are orange, but there are also yellow, purple, red, and white varieties.
If the greens are still attached, make sure they are not wilted. We normally suggest you avoid buying carrots that are cracked or have green skin near the top. You will find that smaller carrots have a sweeter flavor than the large ones.
Baby carrots the ones you typically see sold in bags at the grocery store are not actually baby carrots, but instead pieces of large carrots that have been cut down and shaped.
How to Store and Prep Carrots
You can buy carrots canned, frozen, pickled, or in juice. If you chose to purchase them other than fresh, we suggest that you check the ingredients list to ensure you are not getting any unnecessary additives.
It is best to store fresh carrots in the refrigerator in a sealed bag. Removing any tops from them before storing helps prevent drawing moisture and nutrients from them.
Once you are ready to eat your carrots, scrub them under water using a vegetable brush. We normally leave the skin on as many of the nutrients are found in the skin, but if you prefer, you can peel them with a vegetable peeler, and then cut off each of the ends.
Ways to Cook Carrots
There are so many ways you can enjoy carrots. You can see from the recipes below just some of the ways you can make simple and easy dishes that are both delicious and nutritious.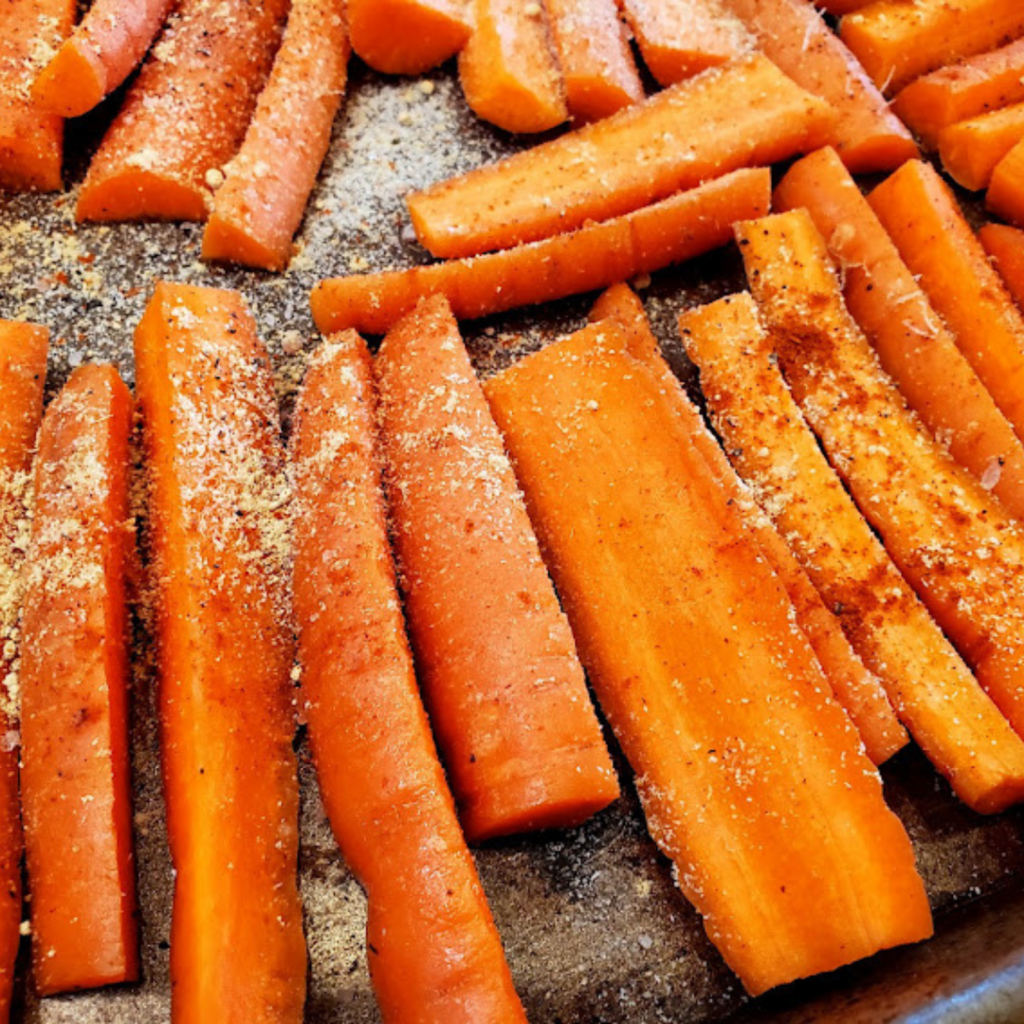 Boil
To boil carrots, trim the ends off, and peel if desired. then cut them into ¼ inch thick slices. Cook in a medium size pot with water for about 7-10 minutes. Drain and toss them in a small bowl with garlic powder, onion powder, salt, pepper, and ginger, or your favorite seasonings, and serve.
Roast
Preheat your oven to 450 degrees. Take about 6-8 carrots, scrub them, and cut off the ends, and peel if desired. Then cut them into ¼ inch thick slices and place into a large bowl, add in your favorite spices, and mix together until coated. Place them evenly on a parchment lined baking sheet making sure they have space in between them. Bake in the oven for about 30 minutes and serve.
Steam
To steam carrots, scrub them, trim the ends off, and peel if desired., and then cut them into ¼ inch thick slices. Add your freshly cleaned carrots to a steamer basket, place in a pot and add about 1 inch of water and steam on high for about 5-7 minutes until crisp. Toss in some of your favorite seasonings and serve.
Air Fry
You can air fry fresh or frozen carrots. No oil needed. Simply scrub and then trim the ends of the carrots and cut into ¼ inch thick slices or if you prefer to make carrot fries, cut them lengthwise; place them on your air fryer rack, making sure they are not touching each other. Air fry for about 15-18 minutes, flipping them halfway through and serve.
If your air fryer has a dehydrator setting, this is a great way to enjoy a healthy snack. You will want to place your dehydrator at 125 degrees to 135 degrees and place the freshly chopped carrots on your racks and allow them to get crispy.
We first suggest that you blanch your carrots as suggested before adding them to the dehydrator as this allows them to get even crispier and helps them keep their color.
Once they have completed dehydrating, let them cool and add them a BPA safe bag. They make great after school snacks for the kids or take them on your next road trip or hiking adventure.
Freezing Carrots
Often you can buy carrots in bulk or sometimes not sure what to do with all the carrots you have. Freezing them is a great way to ensure you don't waste any food and is great for meal prepping.
We found it is best to blanch your carrots first to ensure they last longer in the freezer and don't lose their texture over time.
To blanch your carrots, you will want to scrub them, cut the ends off, and peel if desired. Again we normally keep the skin on as most of the nutrients are found there. Cut your carrots into ¼ inch thick slices, and add them to boiling water for about 2 minutes. Once they are done boiling, take a slotted spoon and add them to a large mixing bowl with ice water.
Make sure they are covered in the ice water, then drain, and place them evenly on a parchment lined baking sheet in the freezer for about 2 hours until completely frozen. By placing them in a single layer this will avoid the carrots from sticking together once you add them to the freezer safe bag.
Once frozen add them to a freezer safe bag and store them in the freezer for up to 12 months.
Blanched carrots that have been frozen go great in soups, stews, casseroles, and other hot dishes. We do not suggest using frozen carrots in cold dishes as they seem to do best with hot dishes.
APPETIZERS
Side Dishes
Soups and Salads
Main Dishes
Desserts
Here are some carrot recipes you might like