This post contains affiliate links, and I will be compensated if you make a purchase after clicking on my links.
With most of our kids out of school due the school closures, I am seeing more and more parents looking to homeschooling their kids during this time.
Since 2009 I have been homeschooling both my boys who are now ages 16 and 13.
In the beginning I tried replicating school and found that there were days that we accomplished a lot and days in which I struggled to get them to do their schoolwork. Over the years I have learned what each of my boys learning styles are and have implemented a variety of ways in which I have helped facilitate their education. While we now focus on an interest-led education, I have put together a list of tips and resources that have been helpful in our homeschooling journey.
The tips below are from my own personal experience and may not work for every family. Some of these resources I have not personally accessed as some are newer resources, but can provide new families some options and information so they can make an informed decision regarding their own children's education.
Tips for younger kids:
In my experience younger kids respond to learning with play. You can teach them about math and money by playing grocery store. Canned and boxed goods make great for this. If you do not want to use real money, this is a great opportunity to incorporate art and let the kids design paper coins and bills.
Things like corn starch are great for kids who are learning to write. They can use it to trace and help develop their motor skills.
Work together to design a board or card game you can play together. My kids have come up with the most unique games. This gets them involved and helps unleash their creativity.
And if you have Legos, they are a great way to teach kids how to build and create. To this day, my boys still love designing Lego creations.
If your child likes to play video games, do not count them out as a great way for them to learn. Homeschool with Minecraft has been a great tool for both my boys over the years. You can learn more about implementing it as an education tool here: Homeschooling with Minecraft
If you have a home with a backyard, here are some great resources for incorporating some backyard fun into your learning. Backyard Learning
Tips for kids of all ages:
As a recipe creator and homeschooling mom, cooking has played a big role in both my boys' education. They have helped with everything from recipe planning to measuring and cooking our meals (of course safety first!). Since we focus on creating clean eating, real food recipes, it has given me the opportunity to not only develop their love of cooking, but also it has been a great opportunity to incorporate nutrition education and how foods play an important role in our health.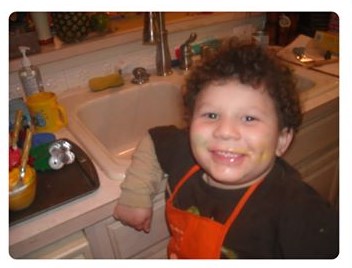 We have used resources such as ChooseMyPlate through the Department of Agriculture. You can access it here: https://www.choosemyplate.gov/. They offer everything from printables to quizzes to a new App for learning more about building healthy eating habits.
And if you are looking for some recipes for inspiration, you can find some on this blog that have all have been tried and tested and approved by both of my boys.
Getting up and moving is so important no matter what age you are. There are so many at home workouts that you can do with your kids. Here are a few workouts that I received from our pediatrician a couple years ago that both you and your children can do together.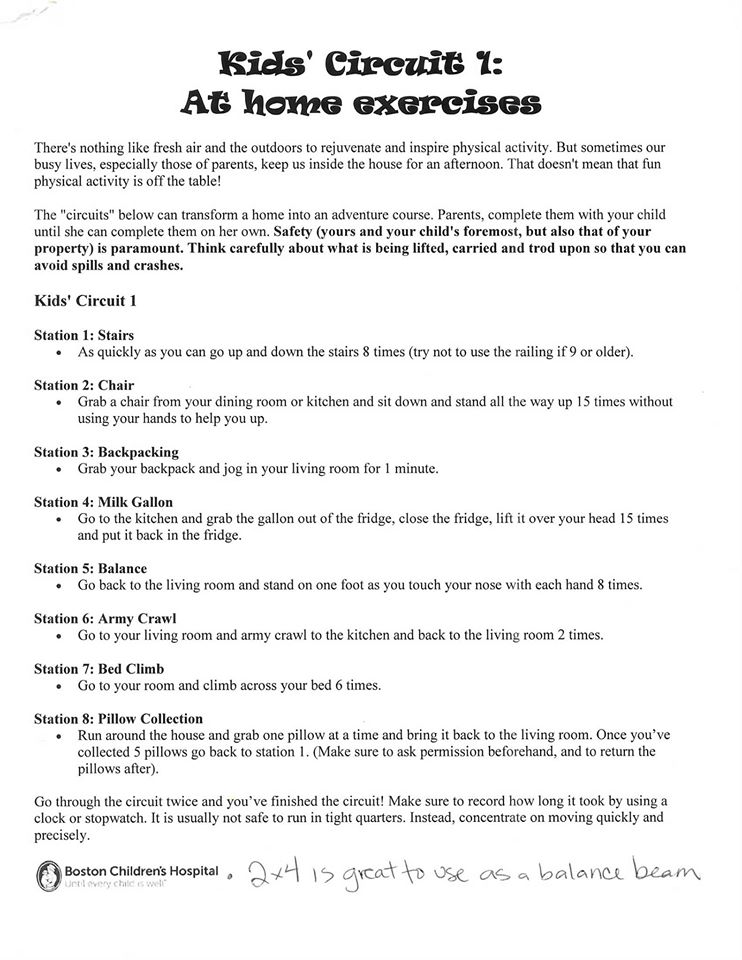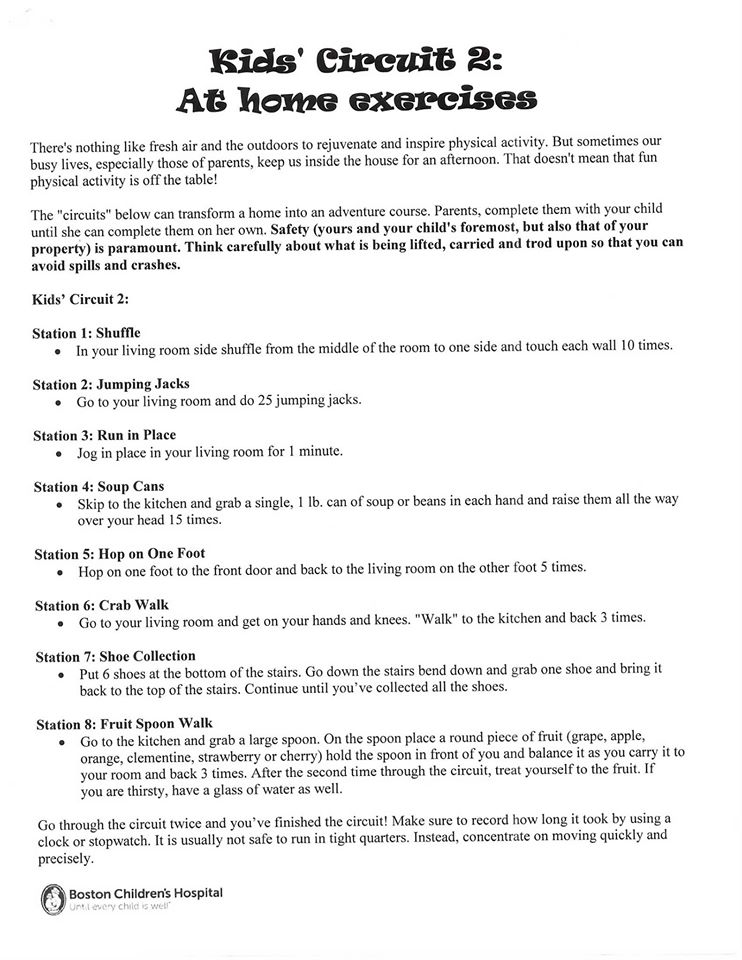 Something as simple as turning on your favorite song and getting up and dancing can help break up the day and get everyone moving and exercising.
Documentaries:
If you have access to streaming services like Netflix, Hulu, or Amazon Prime, you can find a variety of documentaries out there that can provide additional educational tools for kids of all ages.
Tips for older kids:
As my boys have gotten older, their love of reading has really blossomed. They are currently reading one of their favorite books and writing a short book report and designing an online presentation each. If you do not have access to an online program like Power Point or Prezi, poster board also works as a great tool for telling a story. I also find that when they can choose their own book, they are more interested in reading and sharing about it.
Science projects have been something both my boys enjoy working on. There are so many great science kits out there, but if you do not have access to those kits, here are some safe science projects you can do at home: Safe Science Projects you can do at home.
Homeschooling through High School:
What I have found in being a homeschool parent to a high schooler is the importance of helping them prepare them for adulthood. Working on budgeting, balancing a checkbook, and record keeping have been instrumental for my oldest son. Giving them the tools that help them become successful adults, I believe is a vital part of homeschooling through high school. Whether it is ensuring they know how to run our basic appliances or being there to facilitate them learning things such as changing a tire, or doing home repairs, I believe it is up to us parents to help prepare them for their future.
I also feel it is important that we support them in their passions. My oldest loves drawing art and I see how much joy it brings him. As an entrepreneur myself with a Master's in Organizational Leadership and Entrepreneurship, I love encouraging him to follow his passion. I know the importance of an education in their childhood and beyond, but I also know how important it is that they feel supported.
If you are interested in online courses for your high schooler, Time 4 Learning has some programs for a monthly fee here: Homeschooling in High School as well as does Easy Peasy All-In-One Homeschool that provides Free Online Homeschooling curriculum to preschool through high school. You can access it here at: Easy Peasy All-in-one School.
Free Resources and Printables:
Here are some online resources that you can also access. Some are Free and some requirement payment or are subscription-based.
Education.com provides some great resources for kids ages Preschool-5th grade at Education.com
Free Resources for Educators can be found at: Free Resources for Educators
Scholastic is offering access to free online learning right now during the COVID-19 closures. You can access their free resource here: Scholastic
Crossword puzzles are a great way to keep kids and adults busy and a great way to learn some new things you might not have known. If you do not have access to crossword books, here are links to some free crossword online printables: Free Crossword Printables
ABC Mouse has some great resources for our younger kids at: ABC Mouse.
Other Free printables: Confessions of a Homeschooler
While this list from is from The MOB Nation (Network made up of Mom-Owned-Businesses) has homeschooling resources, it also has some great resources for self-care and other resources that parents can get access through during this time. You can access it here: The MOB Nation
Most of all have fun. Each of our children have their own unique learning styles.  Now is such a great time to find things that speak their love language.  If you decide that you want to home school beyond this time, contact your state's homeschooling organization for your homeschooling state laws and requirements. If you live in Washington State like I do,  you can contact the Washington Homeschool Organization.
Be well my friends and Happy Homeschooling!