I love the opportunity to take a dish and make it plant-based.
This week I took on a friendly recipe challenge with Estelle at Homemade on a Weeknight.  This is the first time ever that I have participated in a recipe challenge and I was excited to get to try one of her delicious dishes. 
I have been admiring Estelle for quite some time on her Instagram account and when she reached out to me, I jumped at the chance to be able to share one of her amazing dishes.
As a mom of six children, easy to follow recipes are a must in her home. Cooking is a huge part of her life and pouring love into her meals gives a feeling of fulfillment and satisfaction.
Estelle loves helping people make healthy meals made with real ingredients. She believes making homemade meals on a weeknight should not be a daunting task. And she just recently released her cookbook Homemade on a Weeknight designed to help even the busiest families make healthy, homemade meals any day of the week. You can get her cookbook here.
Earlier in the week, Estelle chose to take on our Black Bean Burger recipe and wrote a blog post that you can see here.
So, when it became my turn to chose one of her recipes, I had a hard time deciding. They all look so good, but I knew that with my family now being plant-based, pasta is one of our favorite dishes, and so it was unanimous in our house to try her Creamed Corn Pasta.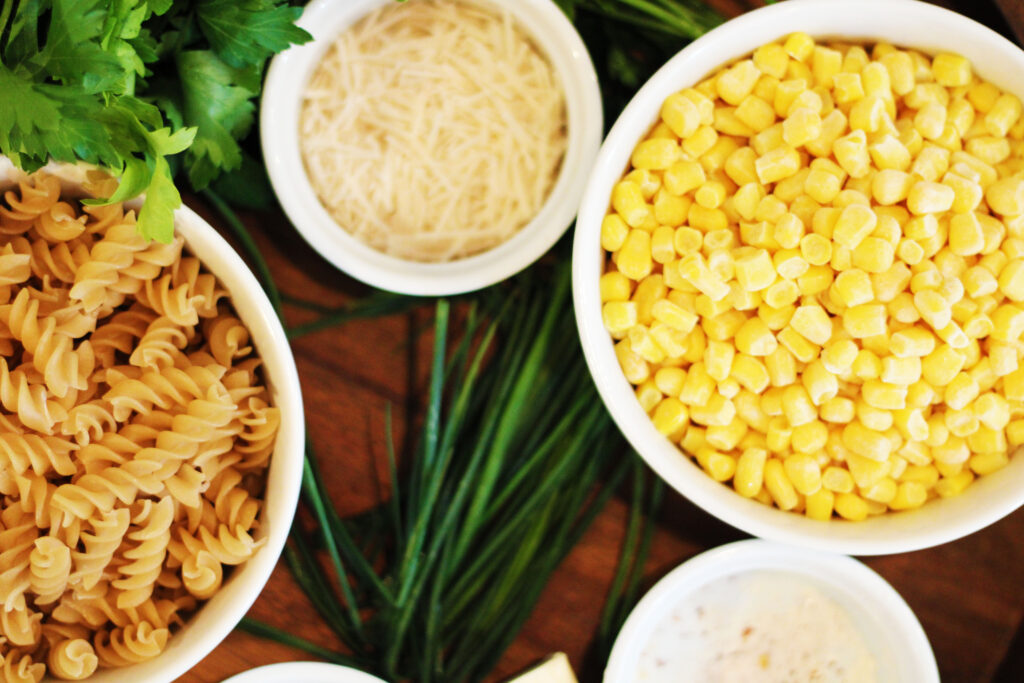 This post may contain affiliate links. See our Disclosure Policy for details.
Her original recipe calls for heavy cream, butter, and Parmesan, and since we have gone plant-based in our house, I switched out those three items for a plant-based milk, vegan Parmesan, and vegan butter.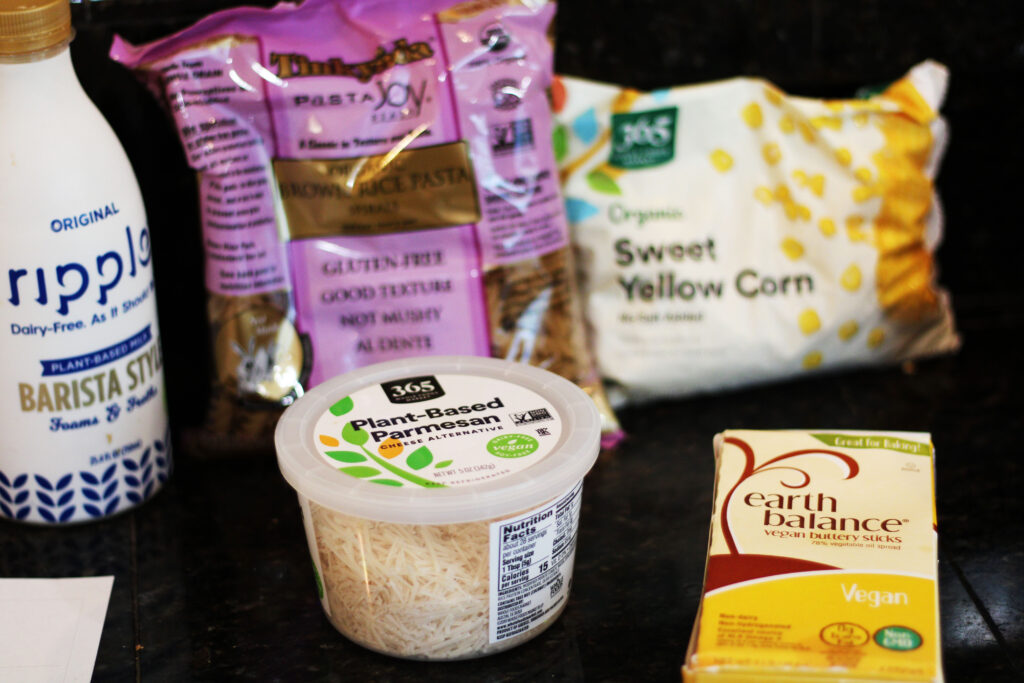 My family is big fans of Tinkyada Brown Rice Pasta and so for this recipe I used their Brown Rice Spiral Noodles. They make one of the best plant-based pasta noodles and my boys just love them.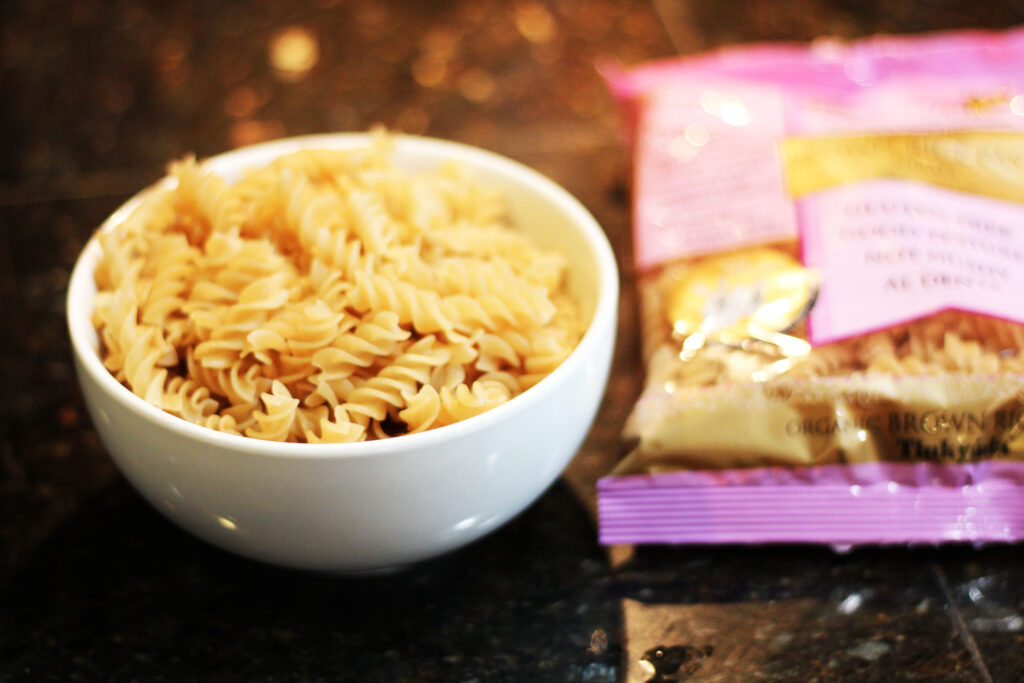 I ordered all the ingredients for this dish from Prime Now, but you can pick them up at your local grocery store. For the butter, I used Earth Balance Buttery Vegan Sticks. And for the Parmesan Cheese I used 365 Everyday Value Plant-based Parmesan and for the creamer, I used Ripple Plant-based milk. I also substituted the canned corn with frozen 365 Everyday Value Organic Sweet Corn.
Estelle has the recipe set up that it is so easy to follow and can be made in less than 30 minutes. It makes six servings, so we had plenty left over for lunch the next day.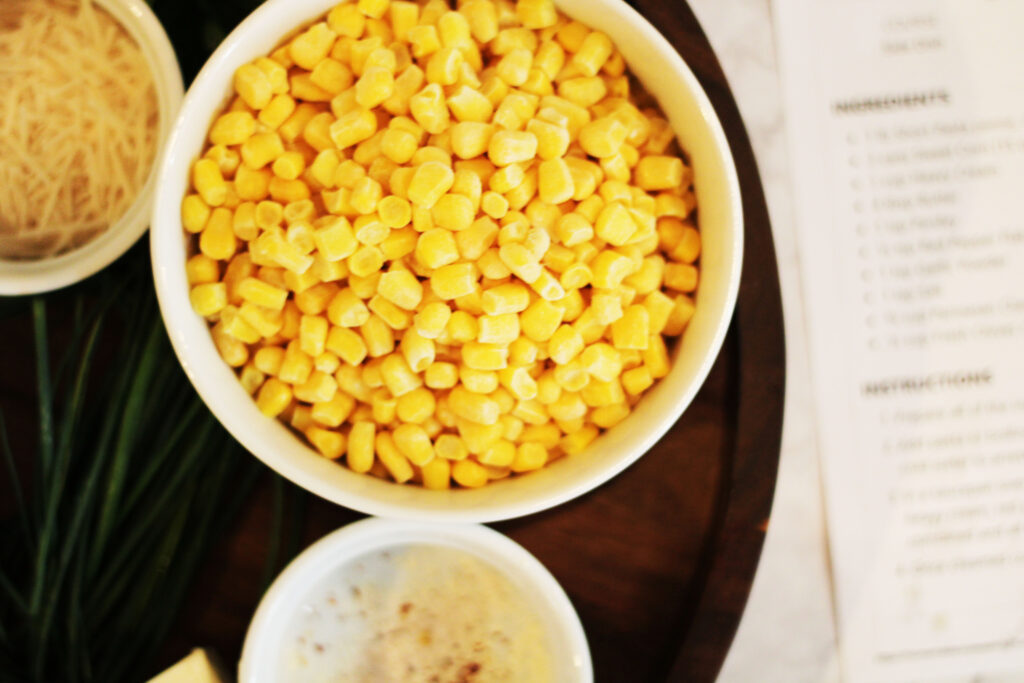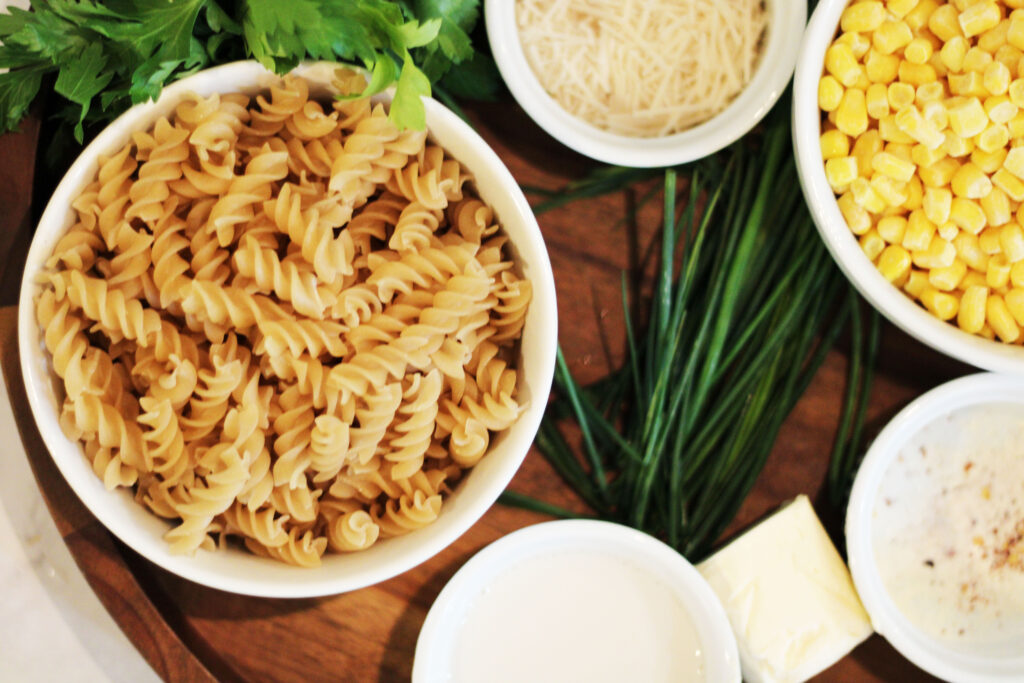 Normally all of our dishes are made using whole food plant-based staple ingredients, but every once in a while, it is nice to be able to bring in some additional plant-based vegan ingredients to put together a meal.
It was a perfect blend of buttery goodness with some spice but not too much, which made it the perfect side dish to serve alongside our Spring Salad. The dish was a hit in our house and I have already had a request from both of my boys to make it again next week.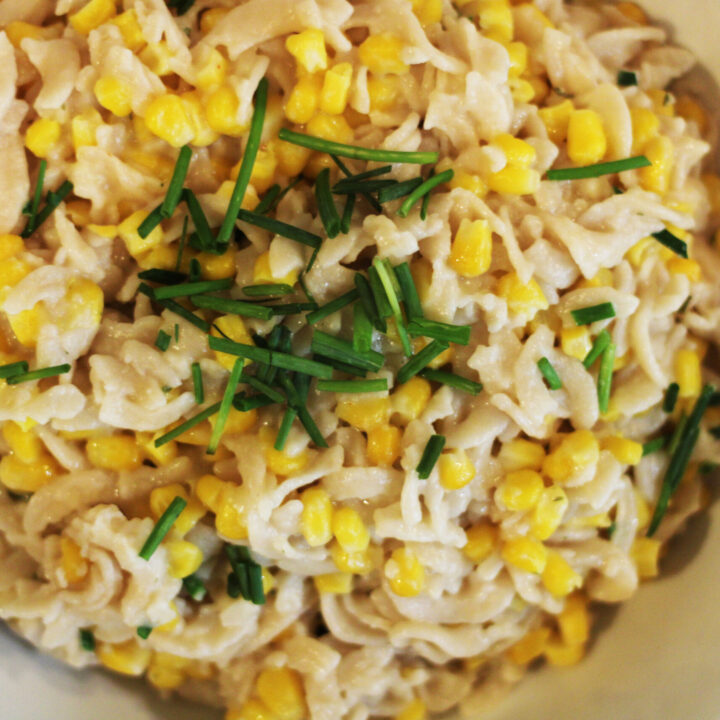 Plant-based Creamed Corn Pasta
This Creamed Corn Pasta is a perfect blend of buttery goodness and spice.
Ingredients
1 LB Brown Rice or Whole Wheat Pasta (Spirals, Penne, Rigatoni)
1-12-ounce bag of Frozen Sweet Corn
½ Cup of Plant-based cream
4 TBSP Plant-based or Vegan Butter
1 TSP Fresh or Dried Parsley
½ TSP Red Pepper Flakes
1 TBSP Garlic Powder
1 TSP Sea Salt
¼ Cup Plant-based Parmesan Cheese, Shredded
½ Cup Fresh Chives, chopped (plus some for garnishing)
Instructions
Prepare all the ingredients. In a large saucepan add
water and bring to a boil.
Add in the pasta and cook until pasta is done or as directed on the packaging. Then drain in a colander, rinse with cold water, and return to the saucepan.
In a saucepan over medium heat, add water and corn. Cook
until done. Use a colander to drain out the water, and add it to the cooked pasta.
Then add in the butter, cream, parsley, chives, red
pepper flakes, garlic powder, and sea salt. Mix together. Cook for about another 5-7 minutes or until the butter is melted.
Add in the Parmesan and cook for another 3 minutes.
Remove from heat. Add the mix to a bowl and garnish with chives and serve.




Notes
This is an adaptation of Homemade on a Weeknight Creamed Corn. I used frozen corn, so instead of adding all the ingredients to the corn, I switched it up a bit and added them all the the entire mixture.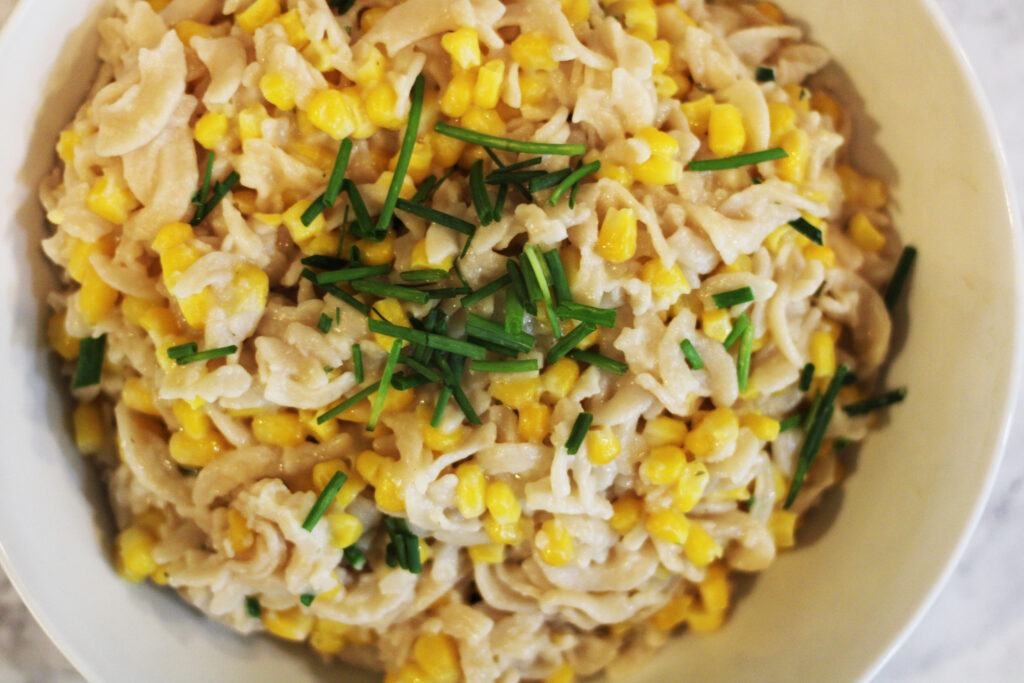 Because I used frozen corn, I chose to add the corn to the pasta before adding in the cream, butter, and spices. You can find the original instructions on how Estelle made the dish here.
What I love about this dish is that it can be made using the ingredients on her site or you can substitute the dairy items for non-dairy plant-based options like I did..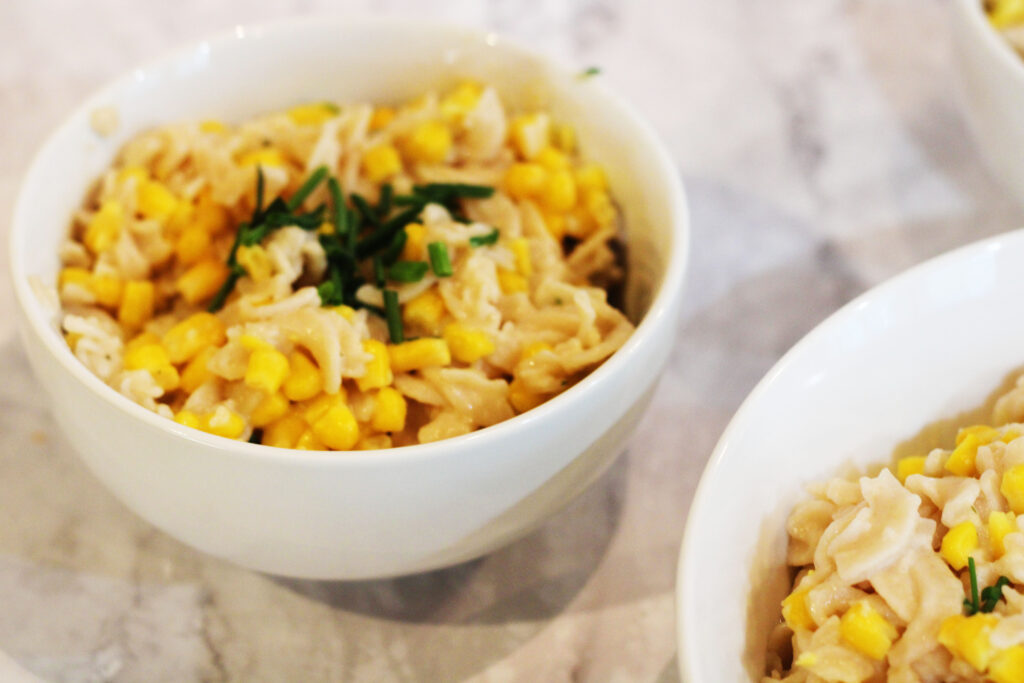 I love being able to support other mom-owned businesses and have to say my first experience doing a recipe challenge was a lot of fun.
After you check out the recipes on her blog, don't forget to follow her on her Instagram page and on her Facebook page.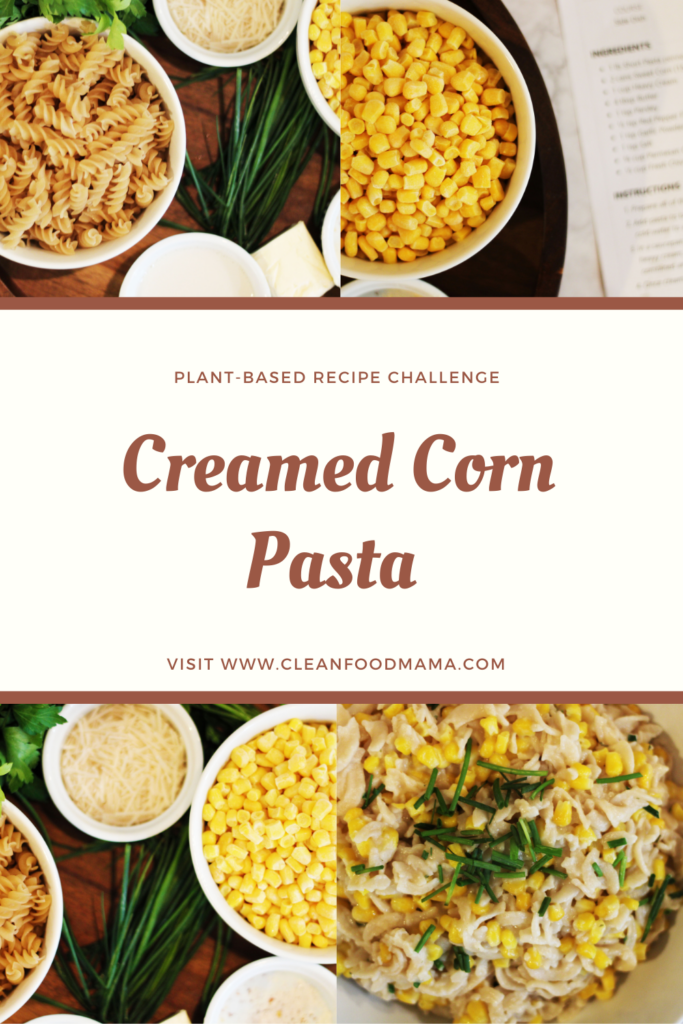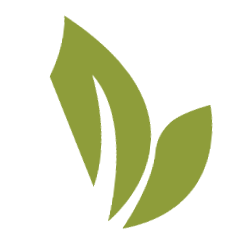 Stephanie Collazo, MS, CHC is the founder of Clean Food Mama, to help you get more plants into your diet. She shed 165 lbs by incorporating a whole foods plant-based diet and loves empowering other women to create healthy habits for themselves and their families.