Growing up I remember my mom driving my sister and I around to see homes decorated in Christmas lights. I can remember seeing some of the most elaborate displays of lights as we drove up and down the streets.
When my boys were old enough to enjoy the Christmas light displays, I knew it would be something that would become our new family tradition.
Being that we live in a large metropolitan area, we are fortunate not to only have access to some beautifully decorated homes, but we also have access to some of the most spectacular light displays in the country.
Here is a list of some of our favorite Holiday light displays we have enjoyed in and around the Portland Area.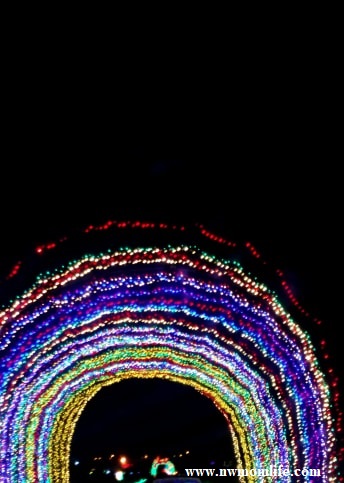 The Festival of Lights at the Grotto
The Grotto's Christmas Festival of Lights is open nightly starting the Day after Thanksgiving through December 30, 2019 from 5:00 pm to 9:30 pm.
It is the largest Christmas Choral Festival in the world and is located in Portland, Oregon. Visitors are encouraged to bring a donation of canned or dry food to help benefit the Snow-Cap Food Bank in East Portland.
The Grotto offers a petting zoo, five indoor concerts, a puppeteer Christmas-themed Show, and Carolers performing your favorite Christmas Carol.
For more information and ticket prices, please click here: The Festival of Lights at the Grotto
Peacock Lane
One of Portland's oldest Christmas light traditions takes place on Peacock Lane.  Since 1932, Peacock Lane has been adoring their homes with Christmas lights and stunning life-like replicas of your favorite Christmas characters including Santa and Frosty. 
This 100% commercial-free light display is open December 15th through December 31st, 2019 from 6:00 pm to 11:00 pm and is located at SE Peacock Lane, Portland, Oregon 97214.
You can follow them for up to date information on their Facebook page at Peacock Lane or their Instagram at Peacock Lane.
Each of the residents that decorate their home do it on a volunteer basis for fun and purely for the spirit of the holiday. To see the lanes magic or to learn find out more about Peacock Lane, please visit their website by clicking here: Peacock Lane Website
Winter Wonderland at Portland International Raceway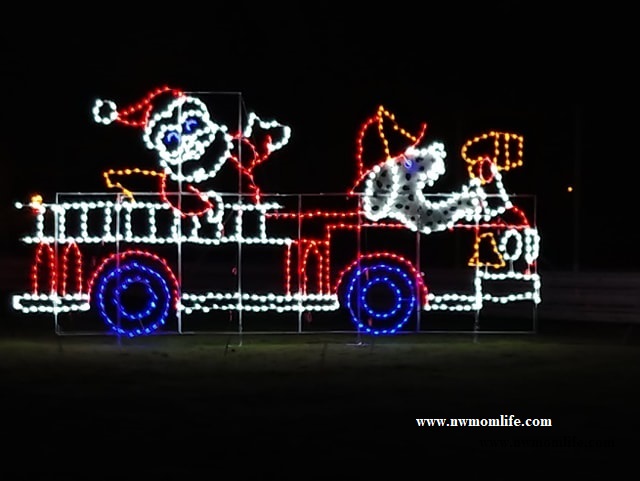 The largest Holiday Light Show west of the Mississippi will celebrate their 27th year of providing families with glimmers and glow around every corner.  It takes place every year at the Portland International Raceway located at 1940 N. Victory Blvd, Portland, Oregon 97217 from November 29th  2019-January 4th, 2020.  The light display can be seen Sunday-Thursday from 5:30 pm-9:30 pm and Fridays and Saturdays from 5:00 pm-11:00 pm. 
There will be people on hand collecting canned food items that will benefit The Sunshine Division; a local food pantry.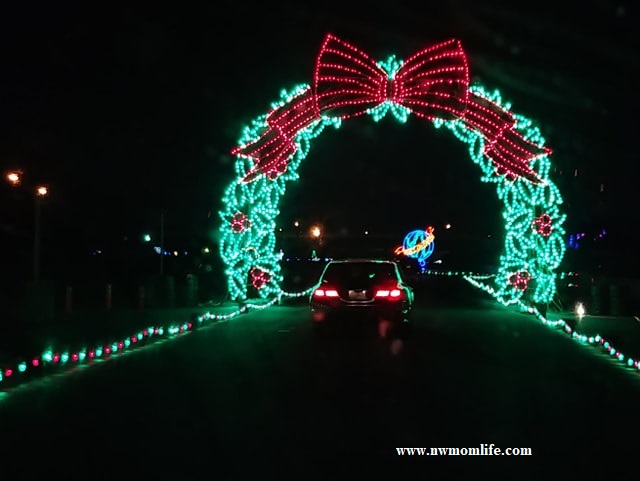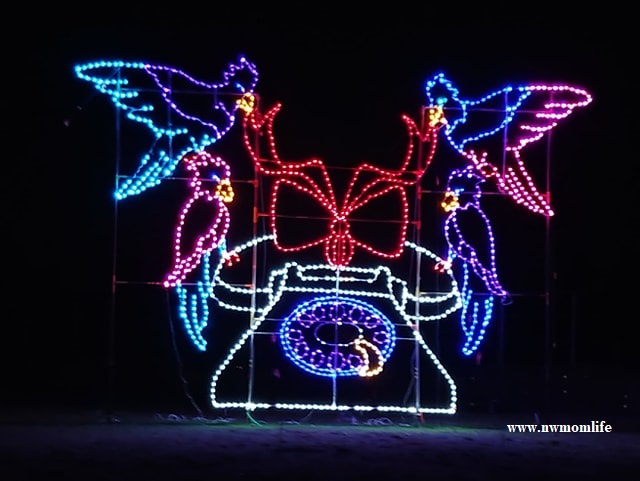 This show is our family's favorite light display in the Portland Area. It has been a family tradition for as long as I can remember. Every year my boys look forward to our annual Christmas Eve visit to The Winter Wonderland at Portland International Raceway (PIR).
We pile all three dogs in the car and head down to the track to enjoy this drive-through light show. As we drive around the race track looking at all the colorful lights, our favorite part is when we get to the 12 days of Christmas Display Lights, we burst out in song as we drive by each of the twelve displays.
In addition to singing the 12 Days of Christmas, our other favorite part about this light display is being able to participate in voting for their Children's Holiday Art Contest.  Each year, Portland and Vancouver area elementary kids are asked to paint a greeting card mural.  Each of the murals are displayed around the track and the school who receives the top entry is then rewarded with a cash prize for their efforts.
No matter how old my boys get, I know this will be a tradition they look forward to every year.
You can find ticket information and more about this light display at Winter Wonderland.
Zoo Lights at Oregon Zoo
The Oregon Zoo lights up with over 1.5 million lights from November 29th, 2019 through January 5th, 2020 from 5:00 pm through 9:00 pm, letting you experience the Oregon Zoo in a whole new way.
You can ride the lighted train and carousel or enjoy hot drinks and local food carts.  And Santa makes a stop by the Zoo every evening through December 24th. 
The Oregon Zoo is located at 4001 SW Canyon Road, Portland, Oregon 97221.
To see ticket prices and more information, please visit their website at Zoo Lights at the Oregon Zoo
Christmas Ships on the Columbia River and Willamette River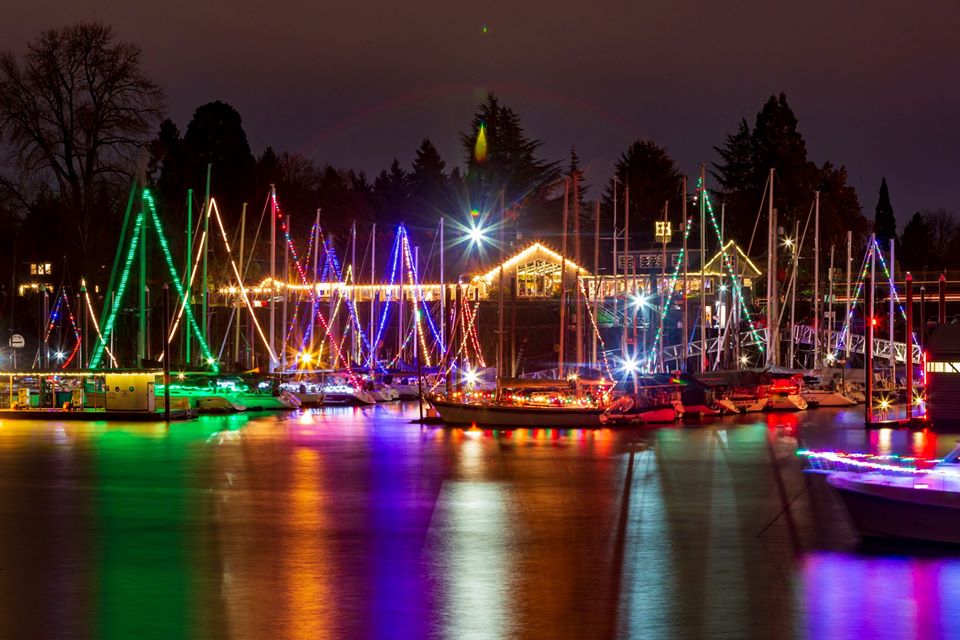 Photo Credit: Christmas Ships Parade Facebook Page
The Christmas Ships Parade will take place this year from December 5th though December 22nd, 2019 on the Columbia and Willamette Rivers.
They will be hosting a Meet & Greet event at the Public Dock near Tom McCall Water Front Park. You can also see the boats up close and pay a visit to Santa. Please check their website for times and schedules at Christmas Ships Parade.
Miracle of a Million Lights
One of Portland's best wedding venues, the Victorian Belle Mansion transforms into a beautiful Christmas Wonderland from December 8th, 2019-December 28th, 2019 from 6:00 pm to 10:00 pm. This entire 2.5-acre estate is transformed into a beautiful twinkling light display with unique traditional elements that the whole family will love.
The Victorian Belle Mansion is located about 20 minutes from The Portland Airport at 1441 McClellen Street, Portland, Oregon 97217.
You can get ticket information and directions on their website at Miracle of a Million Lights.
Whether you enjoy the Christmas Ship Parade from Downtown Portland Tom MCCall Waterfront or drive through the lights at The Portland International Raceway. I hope you and your family have a memorable experience and are able to make it a part of your family tradition.