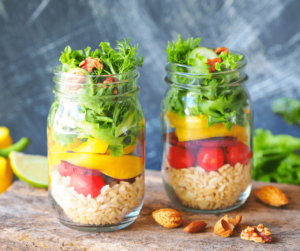 This post may contain affiliate links. See our Disclosure Policy for details.

If you're looking to save time and money while still eating healthy and filling your body with the nutrients it needs, creating your own meal plan might be just what you need. It's easy to do and doesn't take more than an hour or two each week to make, but it can save you from having to come up with new meal ideas every single day as well as from going out to eat every night or getting takeout because you're too exhausted from work to cook dinner that night.

 

 
Start with why you're creating a meal plan
It's no secret that life can be hectic. Sometimes it feels as if there are never enough hours in the day, let alone hours to think about what you're going to eat for dinner. Even though we all know that eating healthy is important, it's often hard to prioritize this when you don't have time to plan meals. The way I see it, not having time for meal planning equates to not caring about your health and well-being. That being said, I'm providing some tips on how meal planning can help save you time and money while also boosting your energy levels!
How to get started with your own meal plan
It's easy to get started with meal planning. All you need is a pen, paper, and an hour or two each week to plan your meals. But before you begin, there are some questions you should ask yourself. – What are your cooking skills? – Do you want to cook healthy meals? – What type of food do you like to eat? – How much time do you have to spend on cooking each day? After you answer these questions, start planning! There are so many benefits of having a meal plan that it's worth the work. Read on for more information about why meal plans rock!
Step 1 – Make A Grocery List
To start, make your grocery list. List the meals you plan on eating for the week as well as any snacks, sides, or drinks you want to buy. When making your list, be sure to include foods that are appropriate for your diet. For example, if you follow a vegan diet, the only foods you would need to include in your grocery list would be fruits and vegetables.
Step 2 – Prepare Each Week's Ingredients
Before you start cooking, it's important to plan what ingredients you'll need for the recipes in your meal plan. When you prepare your ingredients ahead of time, it's much easier to make your meals when it's time to eat. Plus, when you shop for groceries with a list, you're less likely to purchase food that will go bad before you can use it.
Planning out your meals is an essential step in the process of creating a meal plan.
Step 3 – Shop & Cook
1. Stay on Budget
2. Cut Down on Waste
3. Save Yourself from Impulse Buys
4. Eat Healthier, More Balanced Foods
5. Spend Less Time in the Kitchen (when you have a plan)
6. Eat What You Want (In Moderation)
Additional Tips
It's no secret that grocery shopping can be pricey. In fact, according to the Bureau of Labor Statistics, the average American spends more than $3,000 each year on groceries. That is $3,000.00 per person in your household. To help you make your dollar go further in the produce section, we've compiled a list of tips on how to cut down on your grocery bill.
First things first – meal plan! Yes, it's much easier to shop for groceries when you have an idea what you're going to make for dinner tonight or tomorrow night. If you have family members with allergies or dietary restrictions this is even more important as not everyone will want or be able to eat the same thing.