The 15 Best Plant-based Pumpkin Recipes for Fall
When I think of fall, I think of the leaves changes and making and eating pumpkin dishes.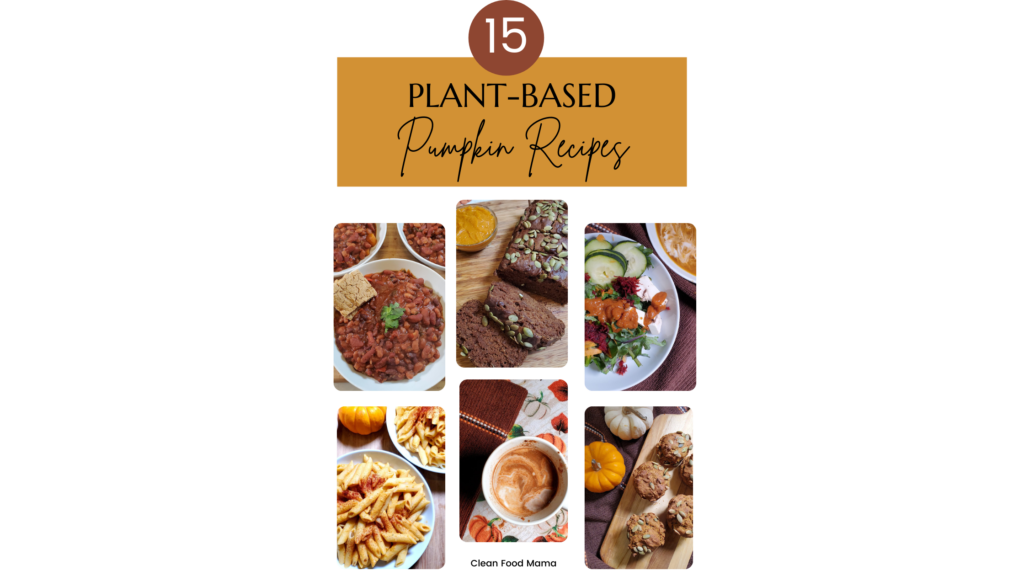 This post may contain affiliate links. See our Disclosure Policy for details.
Nothing says fall like a homemade pumpkin recipe. Cue the pumpkin decorated porches, and these amazing plant-based pumpkin recipes that are sure to please everyone in your family.
We have compiled a list of the 15 best plant-based and vegan pumpkin recipes for fall. You will find everything from breakfast to dessert to drink recipes.
These pumpkin recipes are plant-based, oil-free, and oh so delicious.
They will please even your non vegan and plant-based friends.
Fall Is Here!
Cozying up in a warm blanket with some pumpkin spice latte sounds like a great way to spend a fall morning. This pumpkin spice latte recipe is super delicious and is quick and easy to make.
While we might have gone a little crazy creating some pumpkin recipes this past month, we figured you could never get enough plant based pumpkin recipes so we figured we would do a round up on the blog of our favorite plant-based pumpkin recipes for fall.
Because we know you can never have too much pumpkin recipes, we chose 15 of our favorite plant-based pumpkin recipes from our blog and from some of our other favorite plant-based bloggers.
Enjoy!
The 15 Best Plant-based Pumpkin Recipes for Fall
Clean Food Mama Pumpkin Recipes
This happens to be one of our favorite recipes to make that you can find on our blog. Packed full of beans and veggies, this Instant Pot vegan pumpkin chili recipe is flavorful protein and fiber rich dish that will help keep you feeling full and satisfied for hours. Made using our one of our favorite kitchen essentials, the Instant Pot makes creating this dish a simple and easy way to enjoy a healthy recipe your whole family will love.
Everyone needs a good pumpkin soup recipe that is nourishing and easy to make. This deliciously easy vegan recipe takes only 8 ingredients and less than 30 minutes to make.
Our vegan pumpkin mac and cheese is so creamy and delicious and best of all it is oil-free, nut-free, and a plant-based dish your whole family will love.
This homemade pumpkin spice latte is super easy to make. It is dairy-free, and free from refined sugar. It is so delicious even non-coffee drinkers will love this Homemade Pumpkin
This is seriously the best vegan pumpkin bread recipe you will EVER try. Not only is it incredibly moist, it is delicious and dairy and oil-free. SO easy to make and you don't even need a mixer!
These vegan pumpkin protein balls make the perfect snack or dessert. They are full of healthy plant-based foods, making them a great on the go breakfast option.
This pumpkin vinaigrette dressing is plant-based, oil-free, and so creamy and delicious. It goes great on your favorite salad or power bowl and takes under 5 minutes to make.
Pumpkin Recipes From Other Plant-based and Vegan Bloggers
Nothing says fall quite like a pumpkin recipe including these pumpkin recipes that we love from some of our other favorite plant-based and vegan bloggers.
Last year for Thanksgiving, we made this Apple Pumpkin Pie Bake that we found through the T. Colin Campbell Center for Nutrition Studies by Evelisse Capó, PharmD. All we can say was it was so delicious and easy to make. My boys loved it that we even made it again for our Christmas dinner.
Here are some other Fall Plant-based Dishes you might like
Did You Make This Recipe? Tag @cleanfoodmama on Instagram and hashtag it #cleanfoodmama.