Quick and Simple Vegan Zucchini Noodles with Pesto | Oil-Free
This Zucchini Noodle with Pesto recipe is vegan, plant-based, oil-free, and easy to make.
This is a plant-based recipe that is great if you are just being introduced to a plant-based diet or even if you are just looking for adding in more plant-based foods into your life.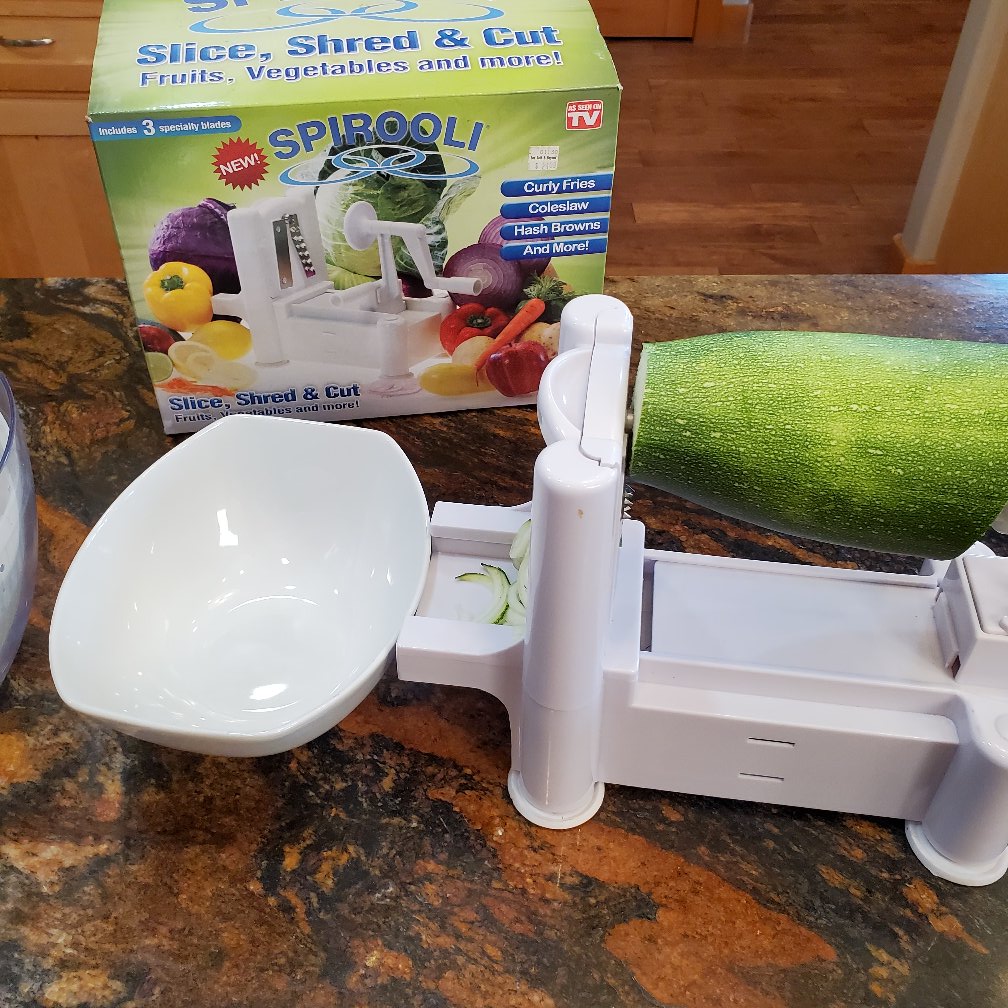 This post may contain affiliate links. See our Disclosure Policy for details.
Zucchini is high in antioxidants and provides can promote many health benefits including:
Healthy Digestion
Reducing blood sugar levels
Improving Eye Health
Improving Heart Health and Circulation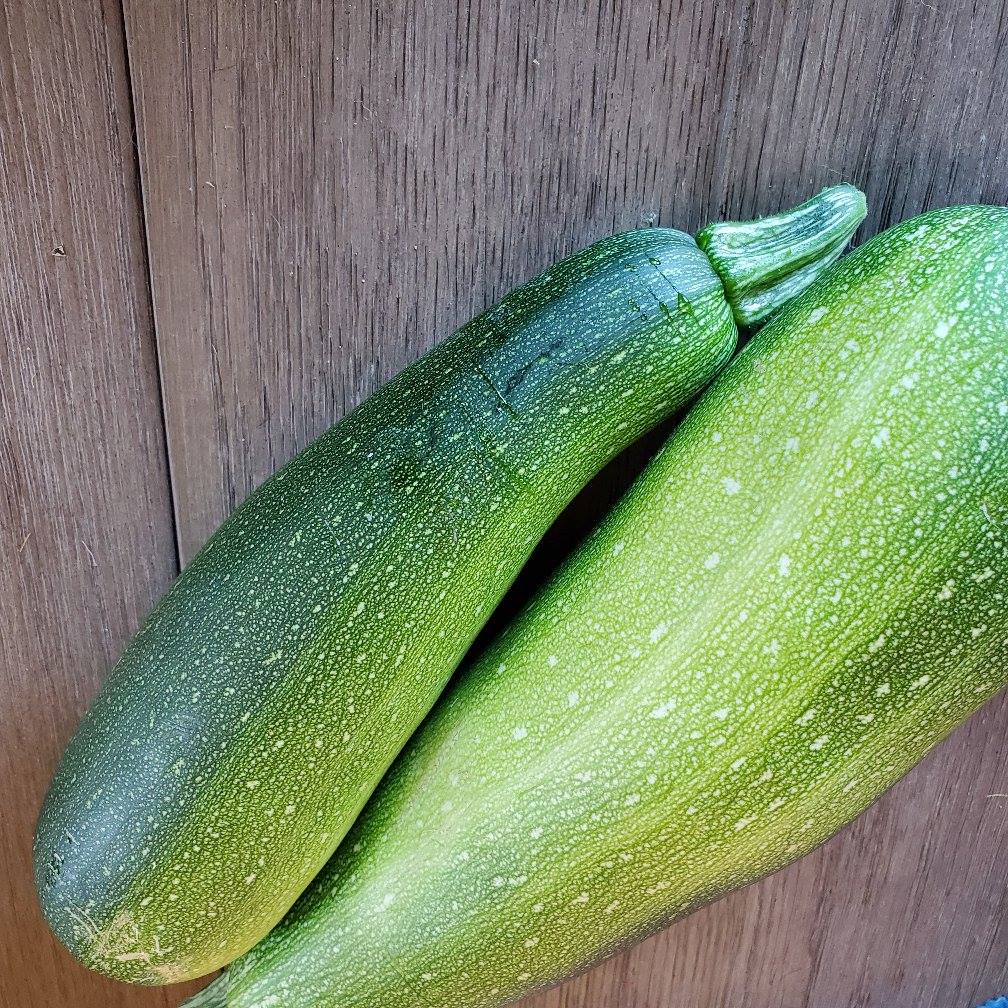 This summer squash is nutritious and full of flavor.
Here are some of the ways you can enjoy this versatile plant food.
Spiralize it into spaghetti shaped noodles
Roast it
Add it to your favorite pasta
Enjoy it raw in a salad or power bowl
Add it to a Stir Fry
Dehydrate It
Add it to your favorite smoothie
Make Zucchini Chips
To keep zucchini fresh, you should store them whole, dry in an open paper bag in the refrigerator.
And did you know that zucchini is 94% water, making it a great plant-based vegetable for helping keep you hydrated.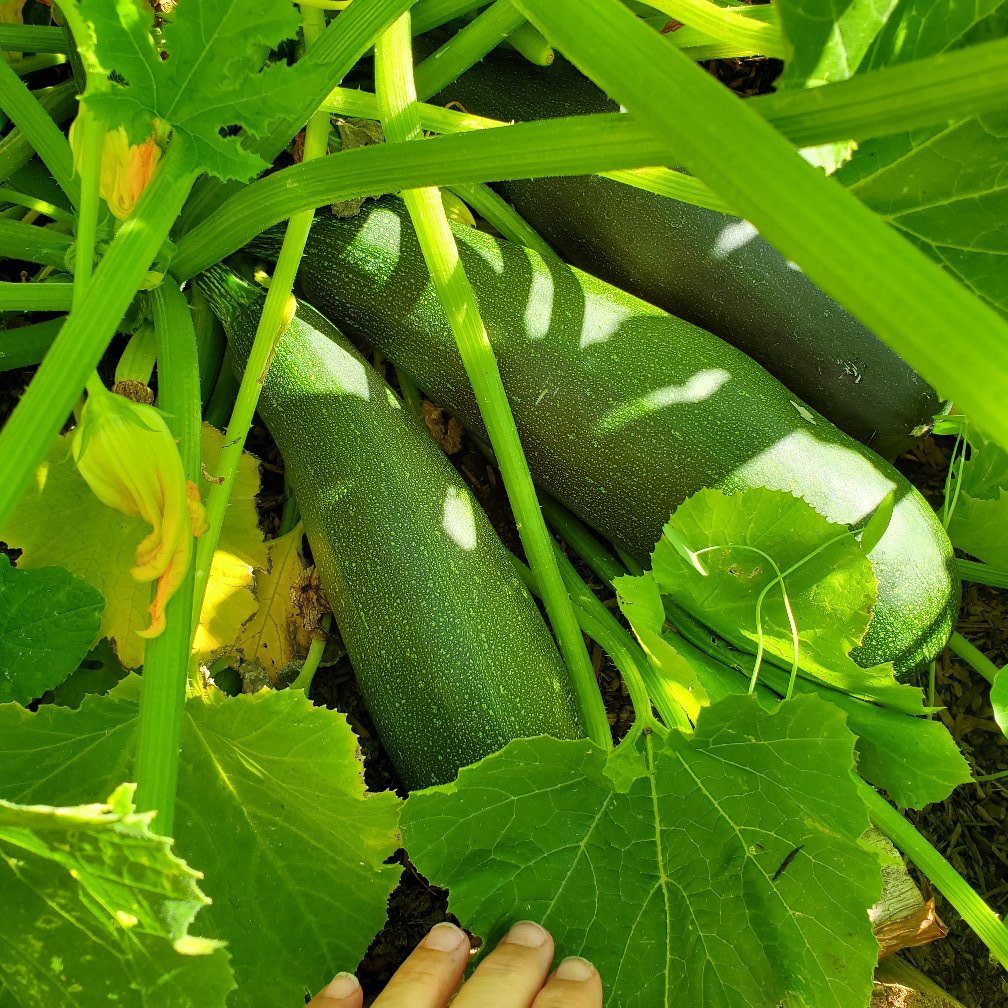 This year was our first year growing zucchini at our new place. Last fall we moved to a home with acreage and planted our first garden here. Zucchini was one of the first things we planted and 3 months later, we are enjoying some of the biggest zucchini's I have ever seen, so I decided I would make this Zucchini Noodle with Pesto and share it with you.
For this recipe you will need the following equipment:
Spiralizer
High Speed Blender or Food Processor
Large Bowl
Large Frying Pan (optional)
Salad Spinner
Ingredients you will need for this recipe to make about 4-6 servings:
6 Medium Zucchini's or 2-3 Large Zucchini's.
Although I do recommend that you use medium sized zucchini as I found a large size ended up not being as easy as I thought. I ran into problems with it staying on the spiralizer and also it was almost too much and I actually broke my plastic spiralizer, which is why I recommend using a stainless steel one. Not only does it help reduce the use of plastic, they hold up better.
1 tsp Salt
Our Dairy-free Basil Pesto Sauce (Link to the Recipe)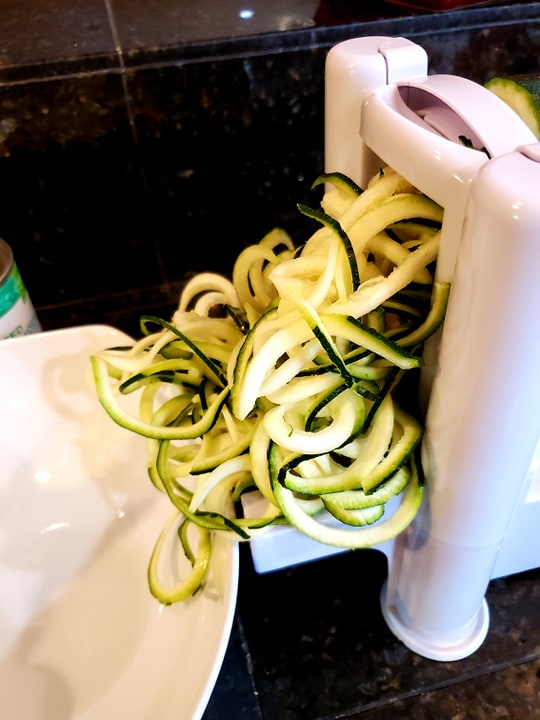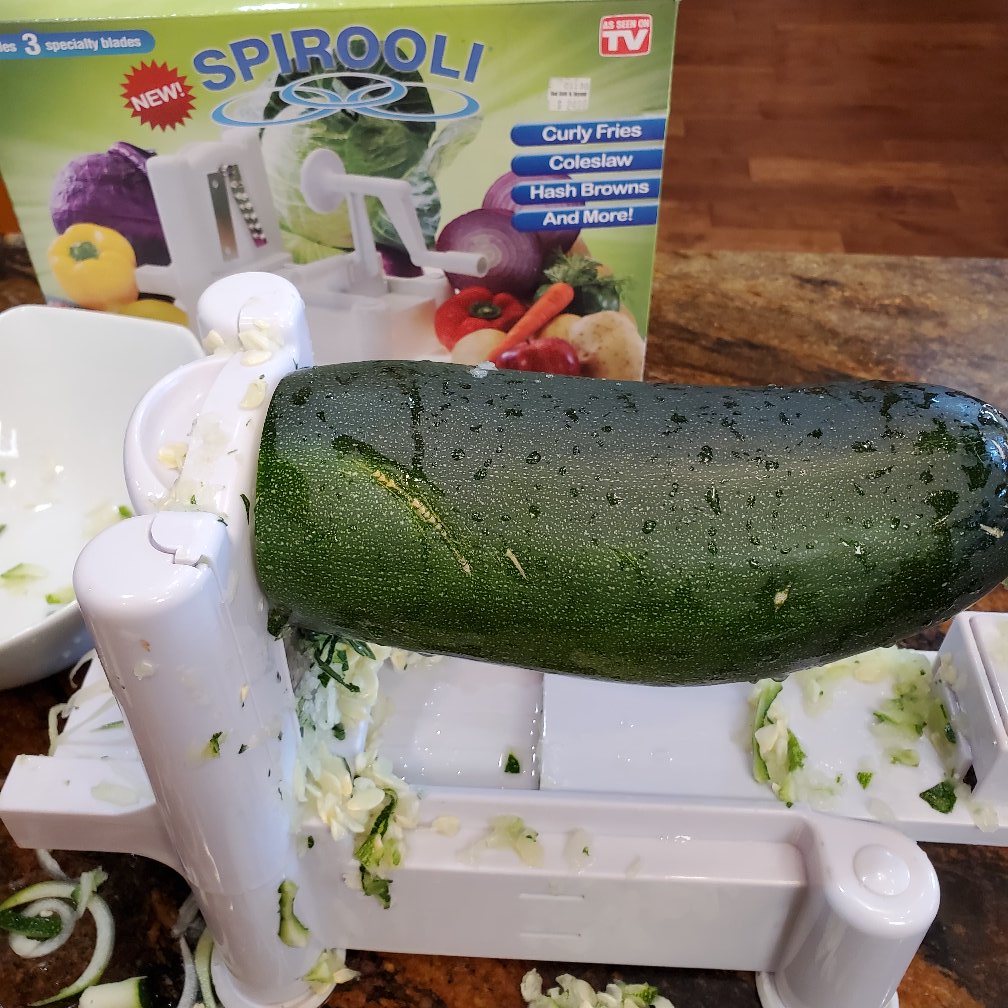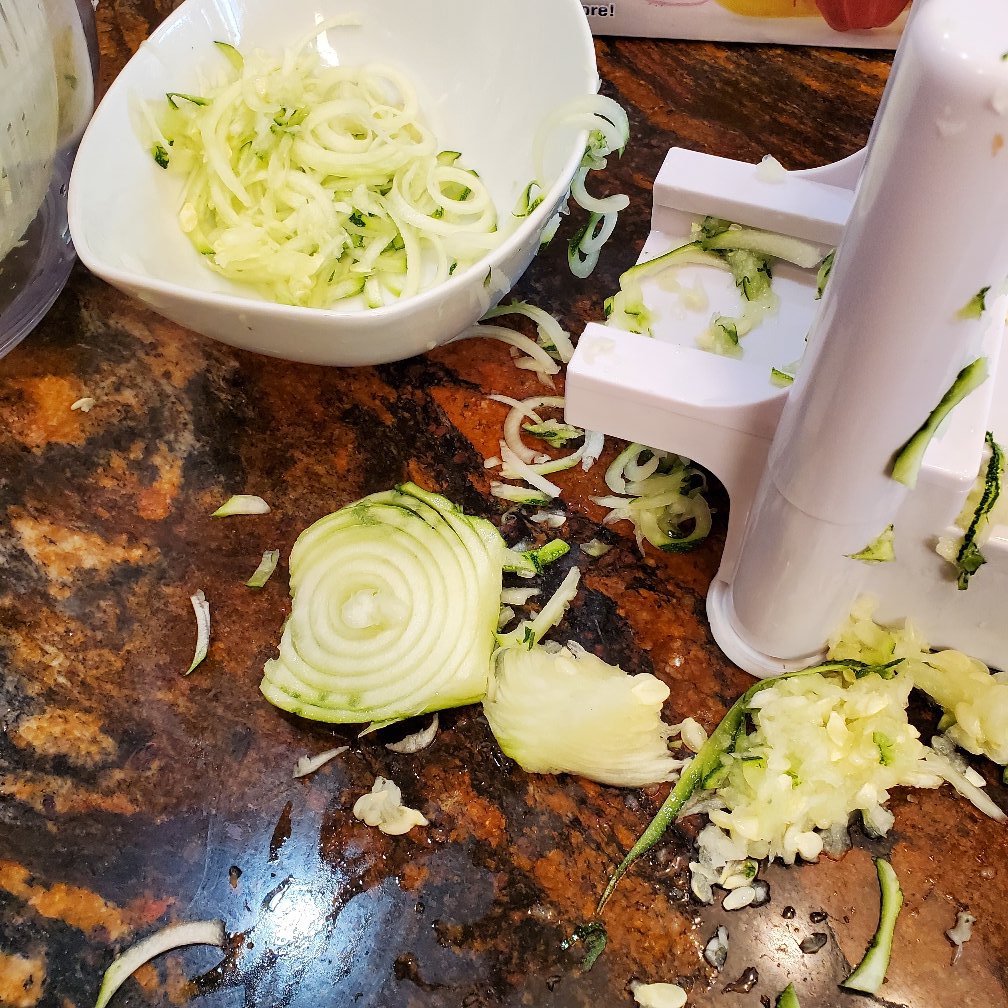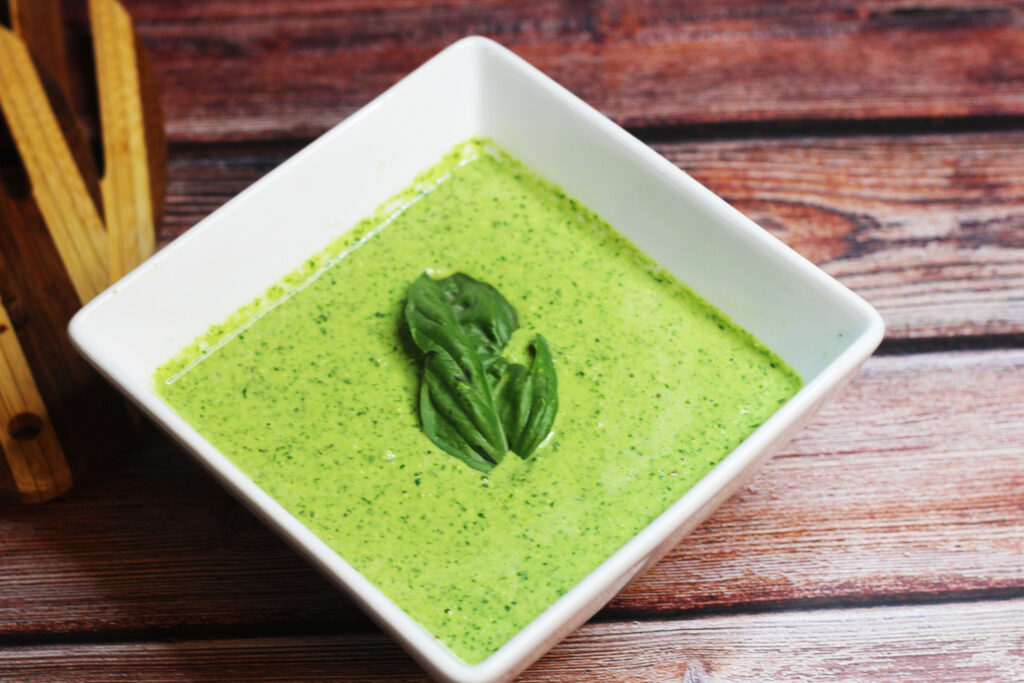 Once you are done gathering your ingredients, you will want to spiralize the zucchini into a bowl. I decided this time not to cook it, but you can also cook it on the stove on medium heat for about 5-7 minutes.
Once I finished making the zucchini into spaghetti noodle shape, I added them to a salad spinner to get out the excess water. I found that doing this helped make the noodles less mushy.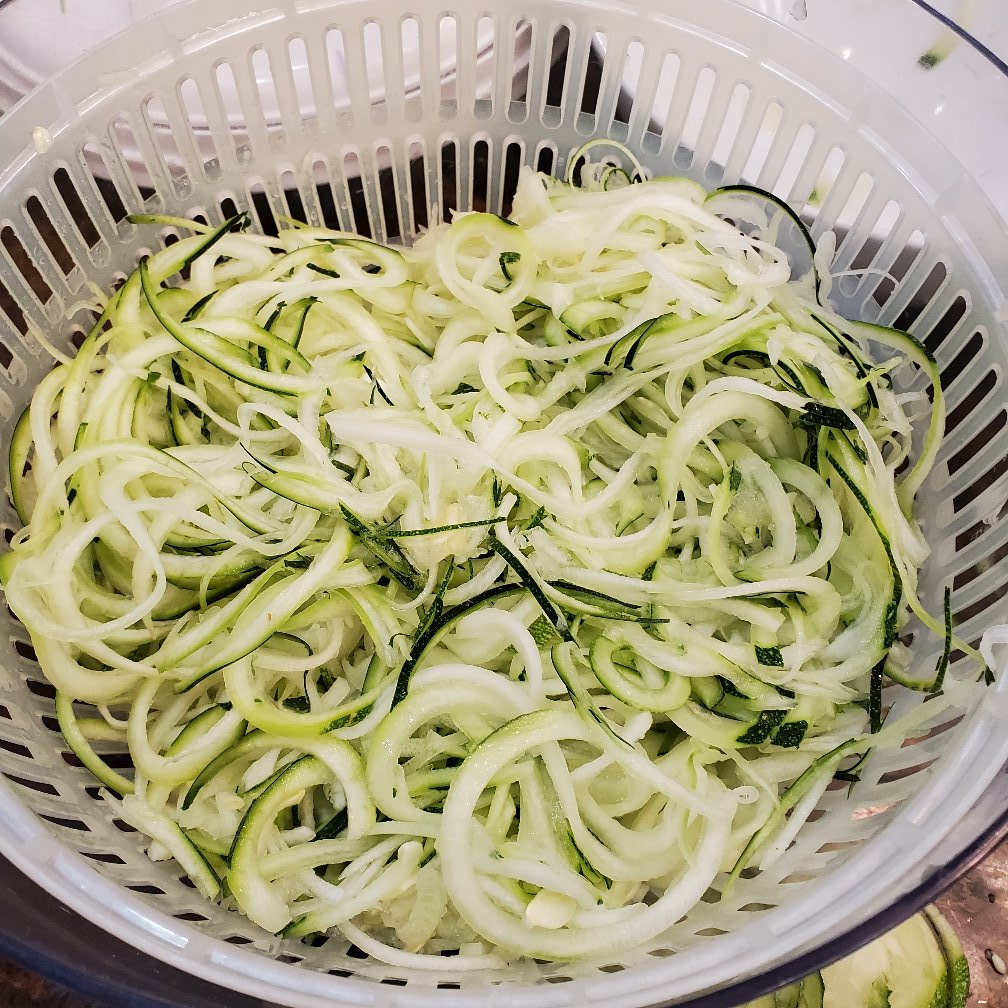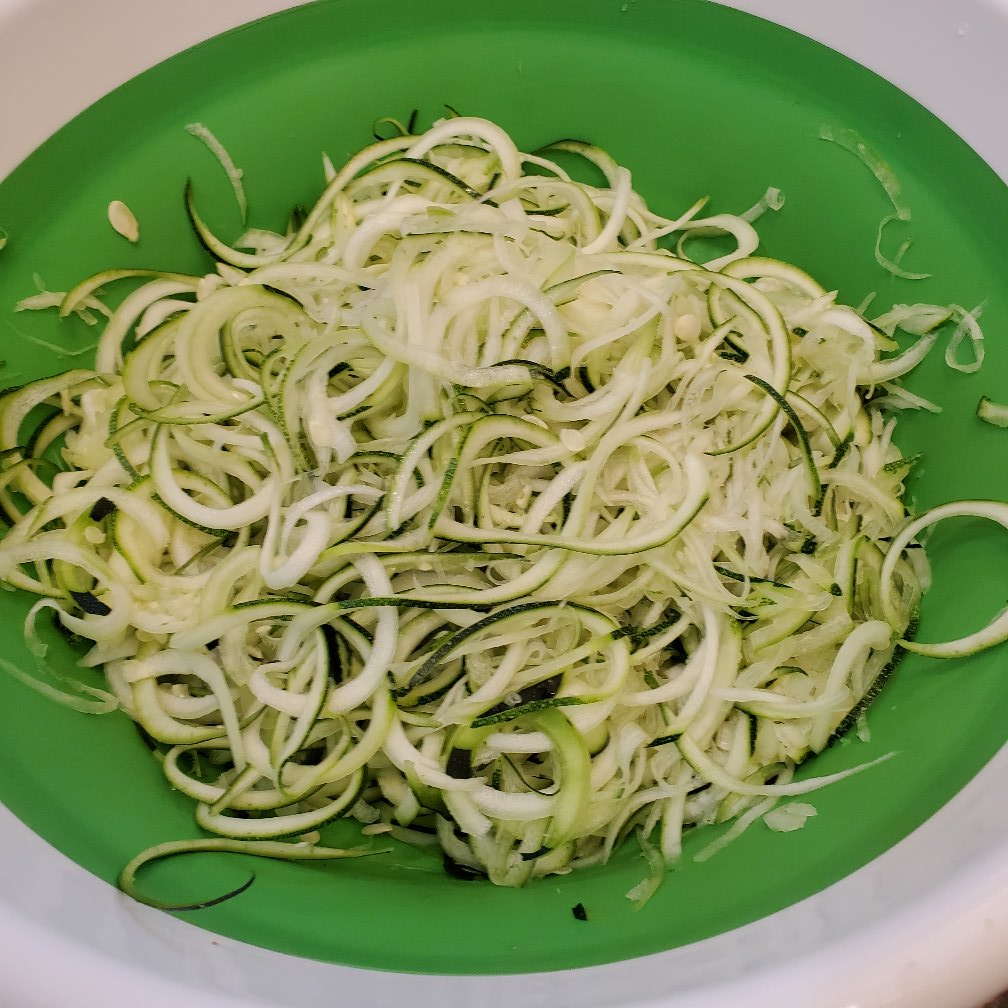 If you want to serve your dish warm, you can heat up all the ingredients in a large frying pan on the stove on medium-low for about 5-7 minutes. If you have a high-speed blender like a Vitamix Venturist V1200 you can also heat up the sauce by blending it in the blender until warm.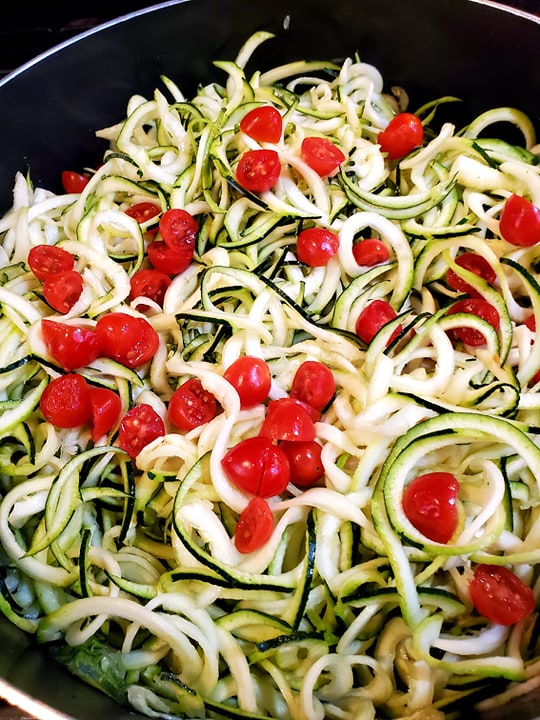 It also tastes just as delicious without having to warm up the pesto. Either way, this delicious and nutritious plant-based recipe is sure to be a family favorite.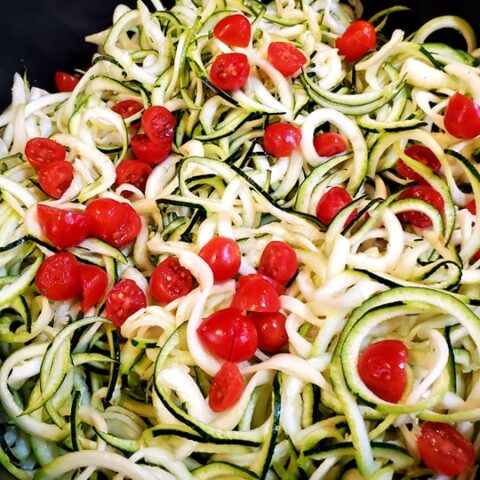 Zucchini Noodles with Pesto
Additional Time:
5 minutes
This Zucchini Noodles with Pesto is plant-based, oil-free, and can be made in under 30 minutes.
Ingredients
6 Zucchini (medium)
6-8 Cherry Tomatoes, halved (optional)
Instructions
Trim the ends off of the zucchini. Use a spiralizer or vegetable peeler to turn into noodles.
Add the zucchini noodles to a salad spinner to remove excess water.
In a bowl, combine the zucchini noodles, basil pesto sauce. Enjoy!





Notes
You can eat this dish warm or cold. If you prefer to have it warmer. You can heat the ingredients in a large frying pan on the stove on medium-low for 5-7 minutes.
Here are some other plant-based recipes we thought you might like:
Spinach and Mushroom Lasagna with Cashew Ricotta
Here are some kitchen essentials that are helpful in making this recipe: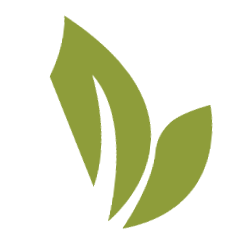 Stephanie Collazo, MS, CHC is the founder of Clean Food Mama, to help you get more plants into your diet. She shed 165 lbs by incorporating a whole foods plant-based diet and loves empowering other women to create healthy habits for themselves and their families.