January of this year we kicked off our Clean Food Mama Cooking Club. Our goal when we created this cooking club was to give back to our readers like you, who inspire us each day to create delicious and nutritious recipes for you and your families.
At the beginning of each month we will choose a plant-based or vegan recipe for you to make, you make the chosen recipe sometime in that month and email us a photo of it and at the end of each month, we will randomly choose one winner to receive a prize. Its as simple as that!
To make this easy and fun for you so, the month of March's cooking club recipe is our Most Excellent Sweet Potato and Black Bean Tacos. These are not just your ordinary tacos, they are a delicious and nutritious plant-based recipe that will have you coming back for seconds.
Who doesn't love Tacos? Tacos are not for just Tuesdays anymore and these Sweet Potato and Black Bean Tacos are a great way to enjoy a delicious and a nutritious meal any day of the week.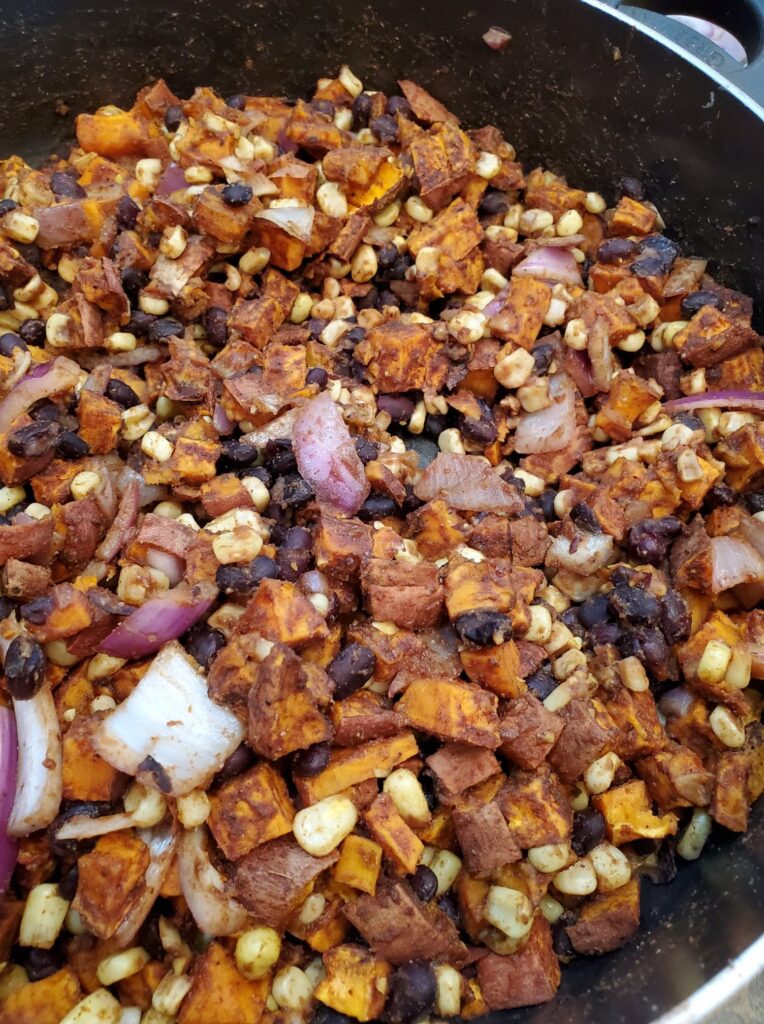 This post may contain affiliate links. See our Disclosure Policy for details.
Join the Clean Food Mama Cooking Club Challenge
We couldn't think of a better way to bring our community of readers together and to be able to give back to you for your continued support of Clean Food Mama, so we created a month cooking club just for you.
Each month we will choose one plant-based or vegan recipe, trust us, these are not boring recipes, they are delicious and nutritious recipes your whole family will love. 
Make the recipe during that month
Send us a photo to 

[email protected]

 by 11:59pm est on the last day of month.
Don't forget to sign up for our email list, so you can be the first to know the recipe that we choose for the month. 
We hope you will join in the fun.
6 Benefits of Sweet Potatoes
Did you know that one cup of sweet potatoes can provide you with 6.6 grams of fiber and 4 grams of protein and 65% of the daily recommended Vitamin C?
The fiber and antioxidant properties of sweet potatoes helps promote gut health and those that are of the orange or purple variety help protect your body from free radicals that can damage your DNA and trigger inflammation.
Besides being rich in beta carotene, sweet potatoes may help promote healthy vision and have been known to be helpful in aiding the following health benefits:
Helping improve insulin sensitivity for those with Type 2 Diabetes
Reducing the risk of cancer
Improving digestion
Boosting immunity
Reducing inflammation
Promoting gut health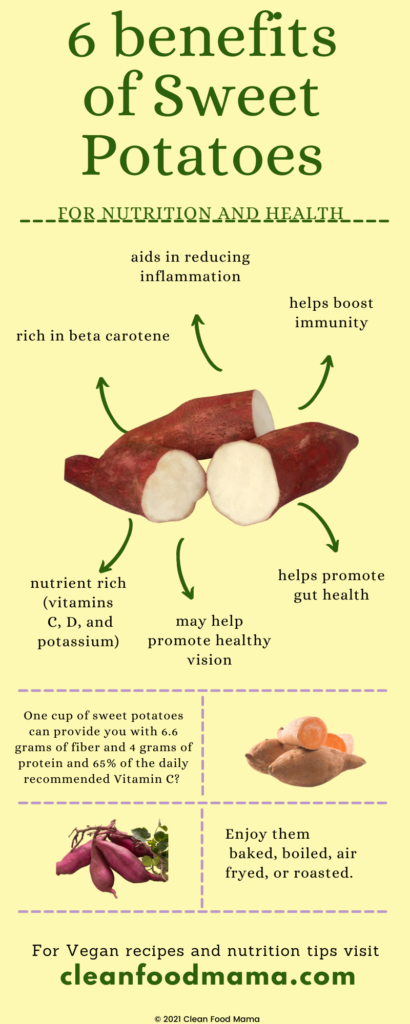 Sweet potatoes are make a great addition to a plant-based diet and are not only healthy for you, they are a great source of plant-based protein and fiber.
What's This Month's Prize?
March's prize is a WellToBe 6-Blade Vegetable Spiralizer Spiral Slicer.
This vegetable spiralizer is a must in any plant-based kitchen. Make your own zucchini noodles, or veggie fries with this easy to use vegetable spiralizer. Looking for an alternative to pasta, this veggie spiralizer helps you create delicious veggie pasta noodles that the whole family will love and because its stainless steel, it makes clean up a breeze.
Here's How the Challenge will work
Each month, we will choose one Clean Food Mama recipe and all you have to do is make the recipe sometime in the month of March, take a picture of it, and email it to [email protected] by 11:59 PM EST on the last day of the month.
Once you send in your photo by the deadline, it will automatically enter you into this month's drawing for a WellToBe 6-Blade Vegetable Spiralizer Spiral Slicer.
You can receive a bonus entry into this months drawing by leaving a comment on the current month's cooking challenge blog post after you email your photo and then at the end of each month we will announce a randomly selected winner from the entries received during that month.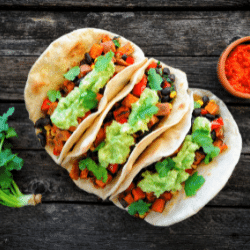 Ingredients
2 large sweet potatoes, diced into ½-inch cubes
3 tbsp vegetable broth
2 tsp cumin
2 tsp paprika
2 tsp coriander
1 tsp onion powder
1 tsp garlic powder
¼ tsp cayenne pepper
himalayan or sea salt
ground black pepper
1 cup white onion, diced
4-5 garlic cloves, minced
1-14.5 ounce can black beans, or 2 cups of dry black beans, cooked
2 cups frozen corn
1 lime, squeezed
¼ cup fresh cilantro, chopped
8-10 corn tortillas
Optional Toppings: Diced tomato, baby spinach, chopped romaine lettuce, diced green onions, diced avocadoes, microgreens)
Instructions
Preheat oven to 425 degrees.
Line a large baking sheet with parchment paper.
In a medium bowl add the diced sweet potatoes, 1 tbsp.
vegetable broth, 1 tsp cumin, 1 tsp paprika, 1 tsp coriander, 1 tsp onion powder, 1 tsp garlic powder, salt, pepper, and mix together until evenly coated.
Place the sweet potatoes on the large baking
sheet making sure they are spread out evenly. 
Bake in the oven for 15-20 minutes or until tender and once they are done cooking remove them from the oven.
While the sweet potatoes are baking, in a large
skillet add in 2 tablespoons of vegetable broth on medium heat and once hot add in minced garlic and chopped onions and sauté for about 5-6 minutes. Reduce heat to medium low and add in the black beans and corn, 1 tsp cumin, 1 tsp coriander, 1 tsp paprika, ¼ tsp cayenne pepper, salt, and pepper, and cook until warmed. 
Once the sweet potatoes are done cooking, add
them into the skillet, squeeze lime over the top and add in the cilantro and mix the ingredients together. 
Serve with warm corn tortillas or add the mixture to a burrito bowl or as a layer for nachos.
Add your favorite toppings and enjoy!
     
Leftovers
Store the leftovers in an airtight container in the refrigerator for up to 5 days.
What we love about this Recipe
It is a great way to get in more plant-based protein.
It makes a great taco, burrito or burrito bowl recipe.
Is an easy to make recipe that you can enjoy as leftovers.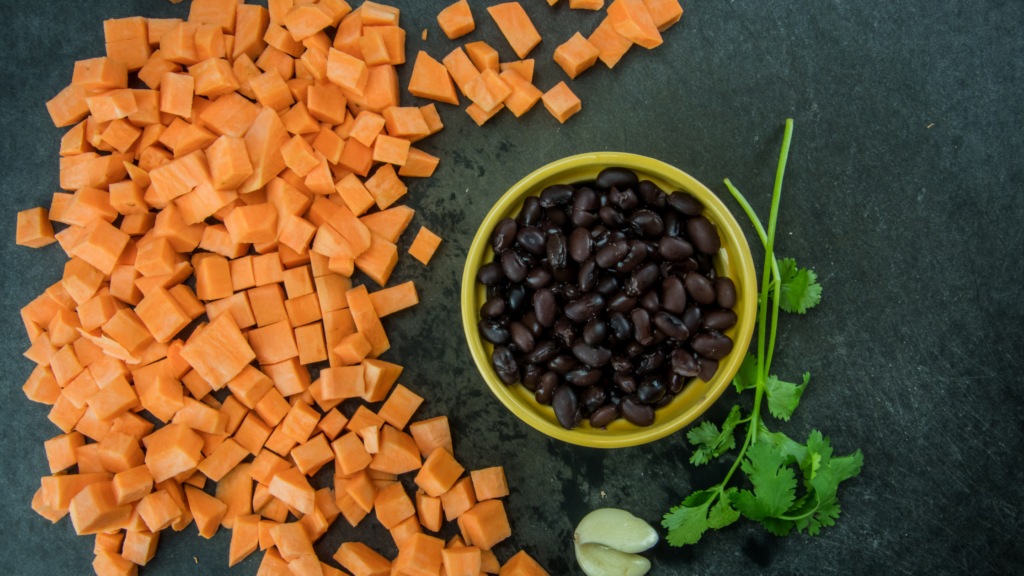 Let's Recap Our March Challenge
Make our The Most Excellent Sweet Potato and Black Bean Tacos sometime during the month of March, 2022.
Send us a picture to 

[email protected]

 by March 31, 2022 at 11:59pm est.
Don't forget to sign up for our email list so you can be the first to know of each month's recipe challenge. 
Have fun!
We look forward to seeing all your entries.
Happy Cooking!
Check out these other amazing sweet potato recipes on the blog you can make in less than 30 minutes:
Sweet Potato and Red Bean Buddha Bowl
Sweet Potato and Red Bean Power Bowl
Outstanding Vegan Sweet Potato and Black Bean Burrito Bowl
Did You Make This Recipe?  Tag @cleanfoodmama on Instagram and hashtag it #cleanfoodmama.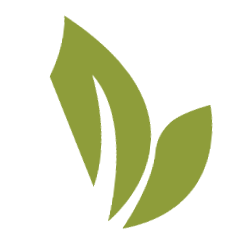 Stephanie Collazo, MS, CHC is the founder of Clean Food Mama, to help you get more plants into your diet. She shed 165 lbs by incorporating a whole foods plant-based diet and loves empowering other women to create healthy habits for themselves and their families.