Who else loves Pico de Gallo?  It is one of my favorite recipes to make.  It is great as a dip or with your favorite corn tortilla chips, or atop your favorite Mexican dish or my new favorite way of eating it is as a dressing on top a fresh salad.  It is the definition of what a clean eating recipe looks like.  Packed with fresh veggies and fats that help make this dish one of my family's favorites. 
Creating salsa type recipes has been one of my oldest teenage sons favorite things to make and I have to say that he has gotten pretty creative and made some of the best dips I have ever tasted, so after working together for a while, we have finally perfected our Pico de Gallo Recipe.
While there are many different versions of this versatile dish, this is the recipe that we find gives us the best of both worlds, great flavor and a means to include some of our favorite ingredients such as cilantro, tomatoes, onions, and limes.  
Cilantro: Cilantro is a great addition to soups, salads, and curries. Just one cup of cilantro provides a wide range of health benefits including Folate, Potassium, Manganese, and Beta-carotene.  Cilantro is relatively easy herb to grow and can thrive in a small pot in your sunny windowsill.  When preparing Cilantro, remember to make sure you only use the leaves by separating them from the stems.
Tomatoes: Did you know that tomatoes are classified as a fruit despite being prepared like a vegetable?  This fruit is a part of the nightshade family and is native to South America.  Tomatoes are also a good source of Vitamin K.  They are often harvested while they are still green and immature. Some experts suggest though buying them local as they are allowed to ripen naturally, and often taste better.
Onions: Red, white, yellow, onions come in a variety of colors and are a significant source of antioxidants.  Used in cooking around the world, they provide added flavor without the added salt and sugar. Whether eaten raw or cooked, onions have been known to make some people cry. That is because they produce a sulfur-based gas that reacts with the water in your eyes to form sulfuric acid.  To help lessen the tears, some experts suggest chilling the onion in water for 30 minutes before cutting the top off and peeling it.
Limes: These bright round citrus fruit has some powerful benefits including Vitamin C, Vitamin B, Potassium, and other antioxidants.  Their juice and floral aroma make limes a great addition to everything from Southeast Asian to Mexican meals to desserts, and baked goods.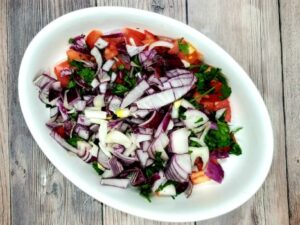 This post may contain affiliate links. See our Disclosure Policy for details.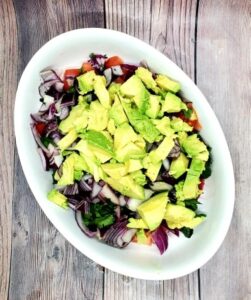 After you cut up all the ingredients, mix together with squeezed lime, salt, and pepper.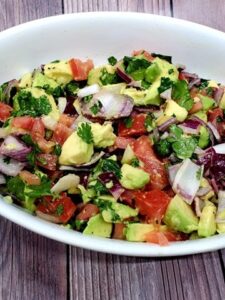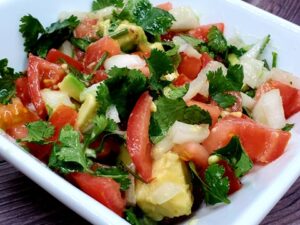 You can enjoy it with a Summer Salad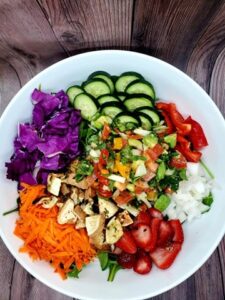 Or as a dip with your favorite Tortilla Chips.  I like to take Three Sisters Nixtamal Yellow Corn Tortillas and cut them into Triangles and bake in the oven at 375 degrees for about 10-15 minutes.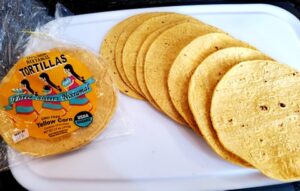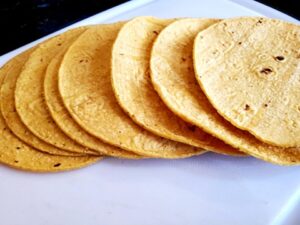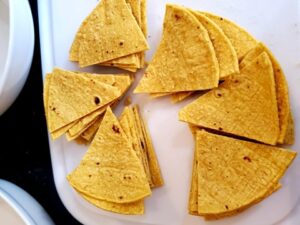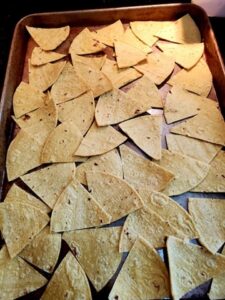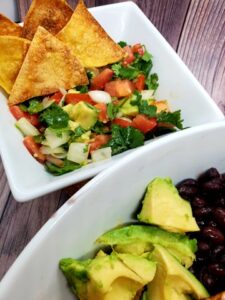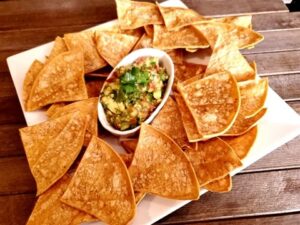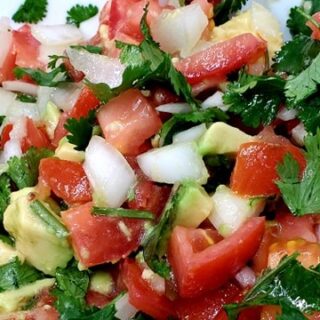 Homemade Pico de Gallo
This Pico de Gallo recipe is one of our family's favorites. Enjoy as a dip or on your favorite Mexican dish or salad.
Ingredients
1/2 Bunch of Cilantro, leaves removed from the stem, diced
1 Large Tomato, diced
1 Lime, sliced, and squeezed
1 Avocado, peeled, and diced
1 White or red onion, diced
1 TSP Avocado Oil
Pinch of salt and Black Pepper
Instructions
Remove the Cilantro leaves from the stems. Gather in a bunch and dice. Add it to a large bowl.
Take your tomato and remove the stem and end, and cut in half and dice.
Repeat with the other half and add it to the bowl.
Take your Avocado, peel and dice into small squares and add it to the bowl.
Peel your onion and cut off at each end then dice into squares and add
it to the bowl.
Take your lime and cut in half and either by hand or using a citrus squeeze, squeeze both halves of the lime over the ingredients in the bowl.
Then add in 1 TSP of Avocado oil, salt and pepper, and then mix thoroughly.

Notes
You also can add in diced and seeded Jalapeno (or for more of a spicy
flavor, skip taking out the seeds) or even diced mangoes can help make this dish
a little sweeter.
Nutrition Information:
Yield:

4
Serving Size:

1
Amount Per Serving:
Calories:

116
Total Fat:

9g
Saturated Fat:

1g
Trans Fat:

0g
Unsaturated Fat:

7g
Cholesterol:

0mg
Sodium:

42mg
Carbohydrates:

11g
Fiber:

5g
Sugar:

3g
Protein:

2g
cleanfoodmama.com, occasionally offers nutritional information for recipes contained on this site. This information is provided as a courtesy and is an estimate only. This information comes from online calculators. Although cleanfoodmama.com attempts to provide accurate nutritional information, these figures are only estimates.
From our family to yours, we hope you enjoy this recipe.
References:
Bjarnadottir, M. R. (2019, March 25). Tomatoes 101: Nutrition Facts and Health Benefits. Retrieved from Healthline.com website: https://www.healthline.com/nutrition/foods/tomatoes
Hrefna MS, P. (2016, April 6). 9 Evidence-Based Health Benefits of Avocado Oil. Retrieved from Healthline.com website: https://www.healthline.com/nutrition/9-avocado-oil-benefits
Raman, R. M. (2019, March 20). Limes: A Citrus Fruit with Powerful Benefits. Retrieved from Healthline.com website: https://www.healthline.com/nutrition/limes
Szalay, J. (2017, May 9). Onions: Health Benefits, Health Risks & Nutrition Facts. Retrieved from Live Science.com website: https://www.livescience.com/45293-onion-nutrition.html
Ware RDN, L. M. (2019, November 15). Why is cilantro (coriander) good for you? Retrieved from Medical News Today: https://www.medicalnewstoday.com/articles/277627#preparation-and-uses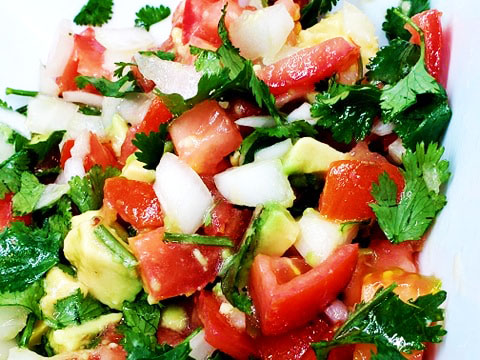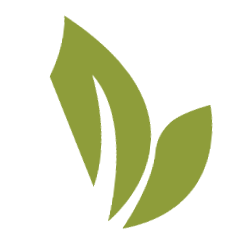 Stephanie Collazo, MS, CHC is the founder of Clean Food Mama, to help you get more plants into your diet. She shed 165 lbs by incorporating a whole foods plant-based diet and loves empowering other women to create healthy habits for themselves and their families.