Earlier this year we kicked off our Clean Food Mama Cooking Club. Our goal when we created this cooking club was to give back to our community. We love creating delicious and nutritious recipes for you and this is our way of giving back.
At the beginning of each month we will choose a plant-based or vegan recipe for you to make, you make the chosen recipe sometime in that month and email us a photo of it and at the end of each month, we will randomly choose one winner to receive a prize. Its as simple as that!
To make this easy and fun for you so, the month of March's cooking club recipe is our Amazing Vegan Mac and Cheese.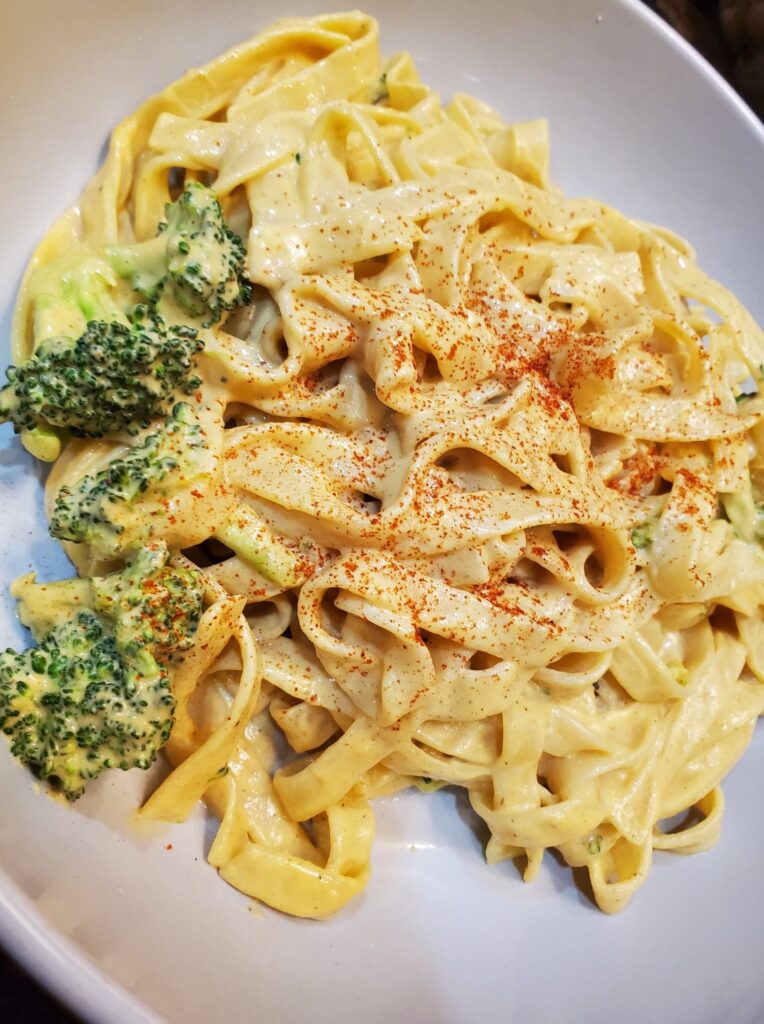 This post may contain affiliate links. See our Disclosure Policy for details.
This is not your ordinary Mac and Cheese, its made using the most amazing cheese sauce ever using Noochy Licious nutritional yeast from Gloriously Vegan.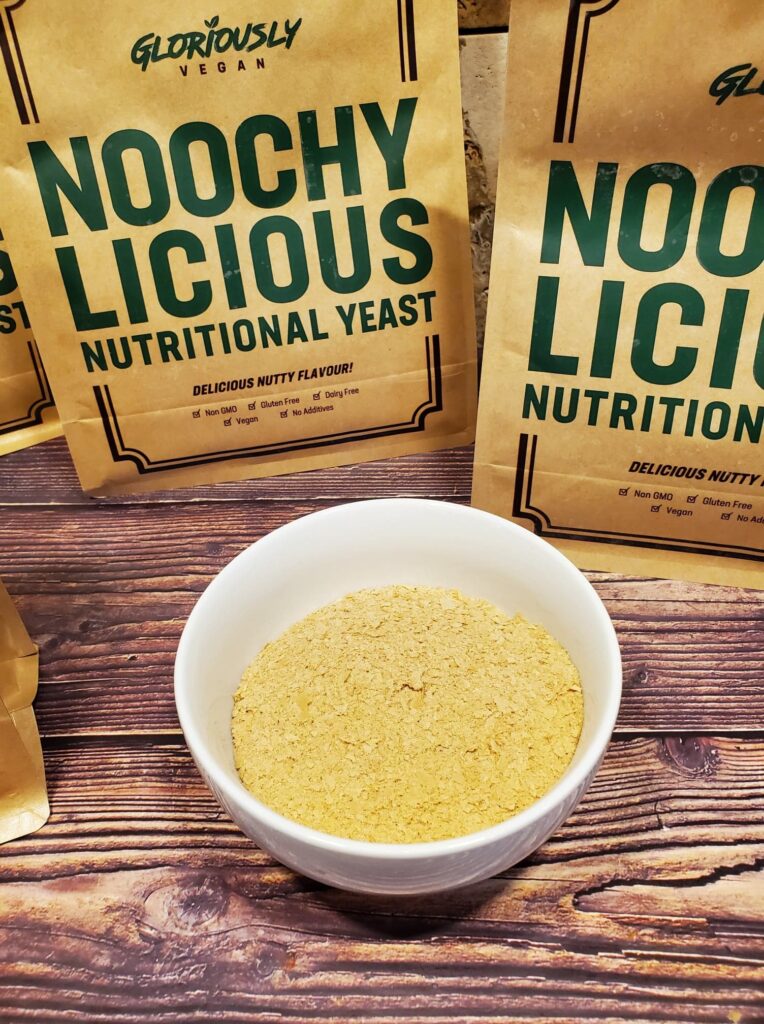 Who doesn't love Mac and Cheese? Transport yourself back to your childhood with this cheesy flavored dish.
Join the Clean Food Mama Cooking Club Challenge
We couldn't think of a better way to bring our community of readers together and to be able to give back to you for your continued support of Clean Food Mama, so we created a month cooking club just for you.
Each month we will choose one plant-based or vegan recipe, trust us, these are not boring recipes, they are delicious and nutritious recipes your whole family will love.
Make the recipe during that month
Send us a photo to hello@cleanfoodmama.com by 11:59pm est on the last day of month.
Don't forget to sign up for our email list, so you can be the first to know the recipe that we choose for the month.
We hope you will join in the fun. 
Nutritional Yeast
Different than active yeast, the one that allows the bread to rise, nutritional yeast is an inactive yeast, which has been heated. It is known as " pure ", obtained from a micro-organism, the Saccharomyces cerevisiae fungus, grown on sugar cane or beet molasses.
 It is sometimes enriched with chromium, selenium, which allows it to be particularly well absorbed by the body. Sold in the form of powder or pale yellow flakes.
There are two types of nutritional yeast — unfortified and fortified:
Unfortified. This type does not add any vitamins or minerals. It only contains the vitamins and minerals that are naturally produced by the yeast cells as they grow.
Fortified. This type contains synthetic vitamins added during the manufacturing process to boost nutrient content.
Hands down Noochy Licious nutritional yeast gives our Vegan Mac and Cheese that extra "cheesy" flavor that will have your family coming back for seconds.
What's This Month's Prize?
April's prize is a Set of 5 Stainless Steel Mixing Bowls .
These mixing bowls are a great addition to any kitchen and make whipping up your favorite recipe simple and easy.
Here's How the Challenge will work
Each month, we will choose one Clean Food Mama recipe and all you have to do is make the recipe sometime in the month of April, take a picture of it, and email it to hello@cleanfoodmama.com by 11:59 PM EST on the last day of the month.
Once you send in your photo by the deadline, it will automatically enter you into this month's drawing for a 5 Piece Mixing Bowl Set.
You can receive a bonus entry into this months drawing by leaving a comment on the current month's cooking challenge blog post after you email your photo and then at the end of each month we will announce a randomly selected winner from the entries received during that month.
Ingredients
2 Cups of Raw Cashews
2 Cups of Broccoli, chopped
1-16 oz package of Macaroni noodles or pasta noodles of your choice. 
1 Lemon, Squeezed
1 ¾ Cup of Water or as needed
2 TSP Sea Salt or Himalayan Salt
¼ Cup of Vegetable Broth
½ Cup of Nutritional Yeast
1 TSP Chili Powder
1 TSP Cumin
2 TSP Onion Powder
2 TSP Garlic Powder
2 Garlic Cloves
1 TBSP of Dijon Mustard
¼ TSP of Red Pepper Flakes
1 TSP Turmeric
1 TSP Black Pepper 
Instructions
Cook the noodles as directed on the package.
In a large frying pan add your veggie
broth, broccoli, 1 Tsp onion powder, 1 Tsp garlic powder, 1 tsp of salt and 1/2 tsp black pepper and let it cook on medium low until the broccoli is soft. Reduce heat to low and let simmer.
While the pasta and broccoli are cooking, in a high-speed blender or food processor, add in the cashews, lemon juice, 1 TSP salt, nutritional yeast, chili powder, garlic cloves, Dijon mustard, red pepper flakes, 1/2 TSP black pepper, turmeric and blend until smooth and creamy. You can adjust the ingredients to your taste.
Once the pasta is done cooking. Drain and rinse and put the pasta back into the large pan and place back on the stove on low and add in the cooked broccoli and cheese sauce. Mix together until blended.
Cook for a few minutes just to heat up the sauce. Remove from heat and serve.

Leftovers
Store the leftovers in an airtight container in the refrigerator for up to 4 days.
What we love about this Recipe
It is oil-free, dairy-free.
is a kid-friendly dish that is quick and easy to make.
It reminds us of one of our favorite childhood comfort foods.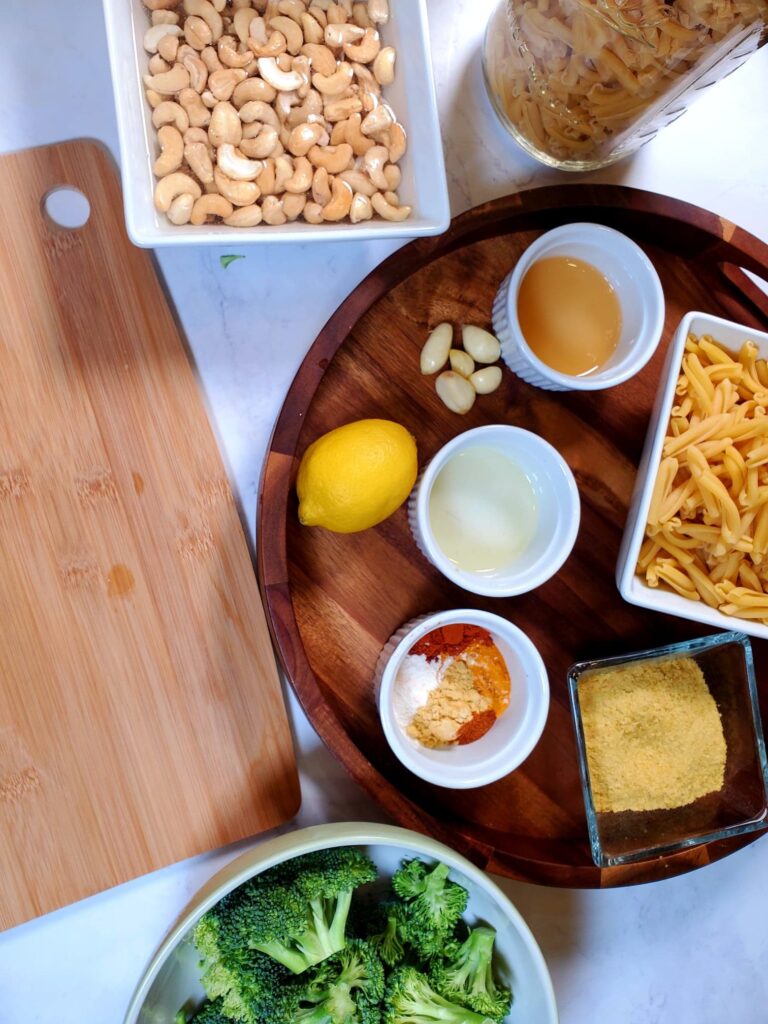 Let's Recap Our April Challenge
Make our Amazing Vegan Mac and Cheese  sometime during the month of April, 2022.
Send us a picture to hello@cleanfoodmama.com by April 30, 2022 at 11:59pm est.
Don't forget to sign up for our email list so you can be the first to know of each month's recipe challenge. 
Have fun!
We look forward to seeing all your entries.
Happy Cooking!
Check out these other amazing vegan cheese recipes on the blog you can make in less than 30 minutes:
Did You Make This Recipe? Tag @cleanfoodmama on Instagram and hashtag it #cleanfoodmama.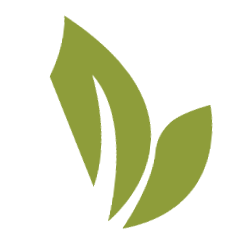 Stephanie Collazo, MS, CHC is the founder of Clean Food Mama, to help you get more plants into your diet. She shed 165 lbs by incorporating a whole foods plant-based diet and loves empowering other women to create healthy habits for themselves and their families.