This recipe is plant-based, gluten-free, and one of the easiest vegan dishes to make. Do you remember the Loaded Portobello Mushroom Nachos I posted a while back, well this dish has come in second as the most popular dish my kids ask for. And yes, it is made using all real food ingredients. Made using air fryer russet potatoes, but you could make this recipe using sweet potatoes too.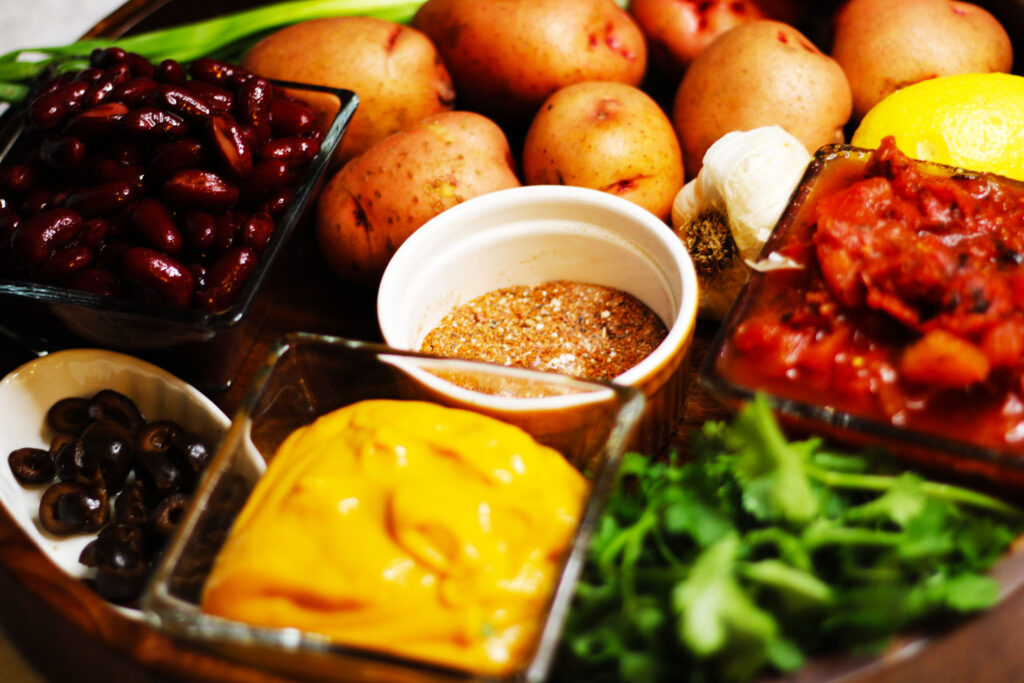 This post may contain affiliate links. See our Disclosure Policy for details.
The flavorful chili alone would taste amazing. I am not sure what took me so long to create this recipe. Serve it for lunch, dinner, or as a party platter, it will be a hit for years to come.
Let's talk about the Cheese Sauce. You can find our recipe here. This Cheese Sauce is a family favorite. Every time I make a batch thinking it will last for days, I check the refrigerator and its gone. My kids love it on everything, and when I mean everything, I am not kidding. Broccoli with cheese, on top of our Loaded Portobello Mushroom Nachos, or to make a grilled cheese sandwich, in our homemade mac n cheese, you name it my boys put it on everything.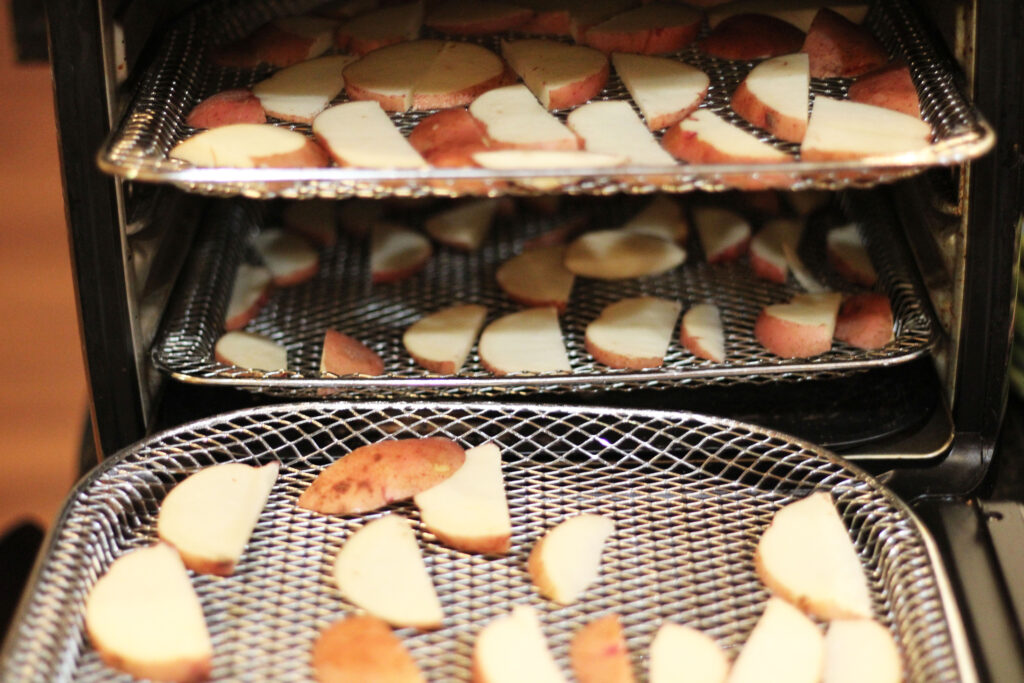 For this recipe, I used our homemade broth that you can find here.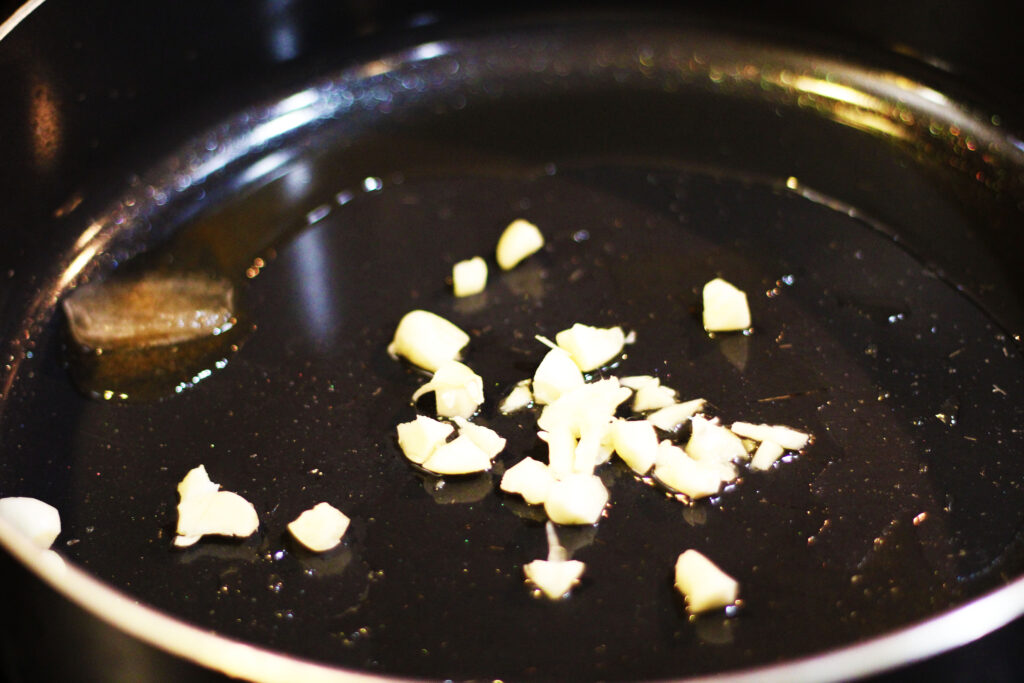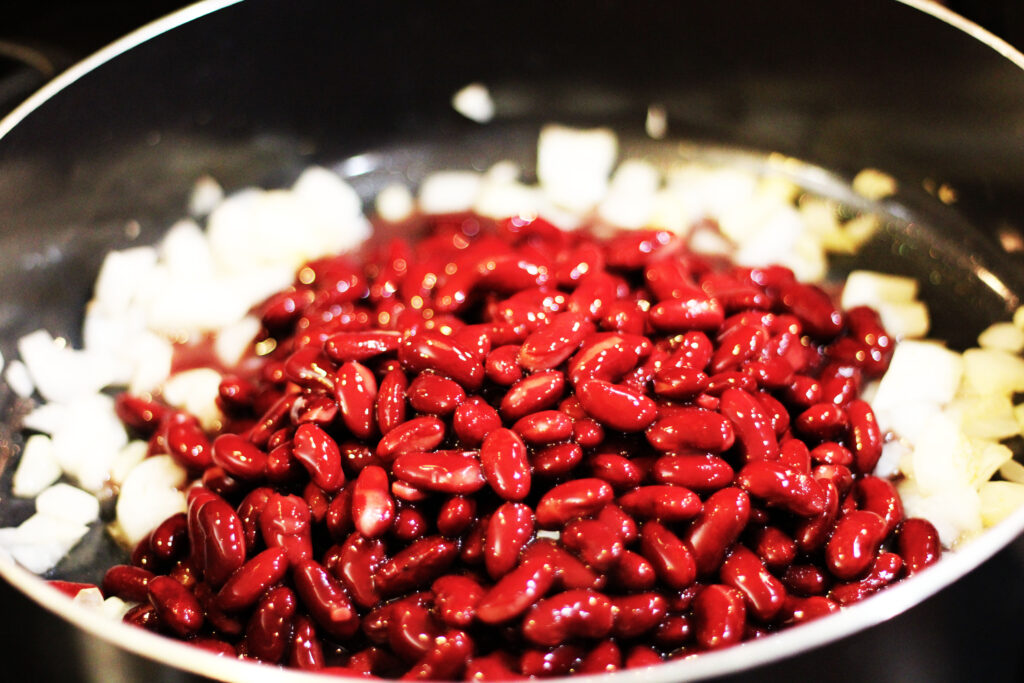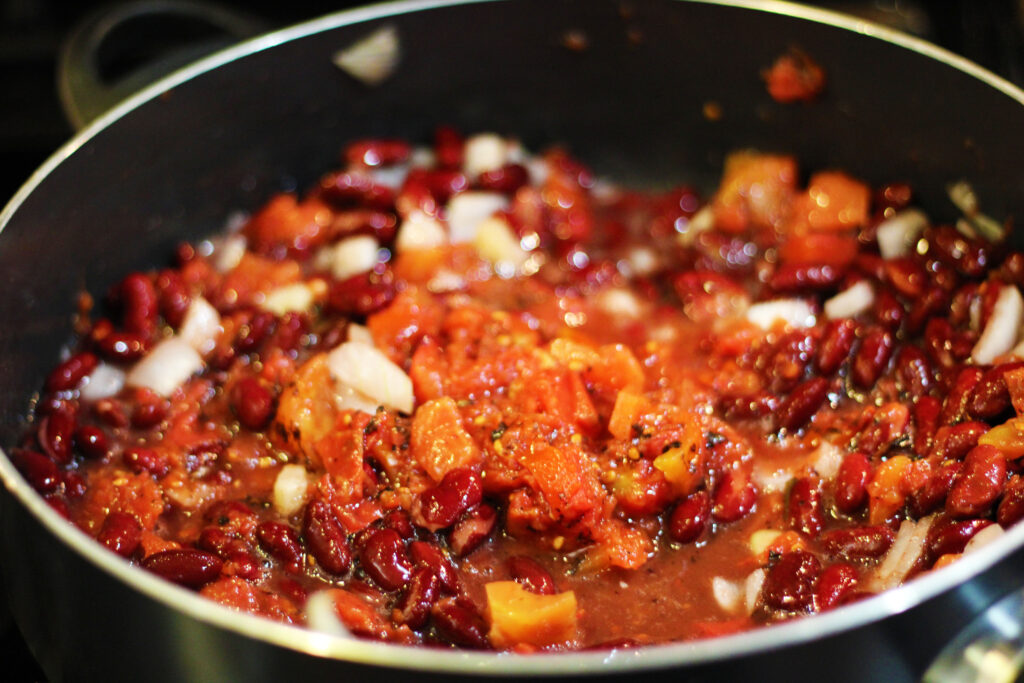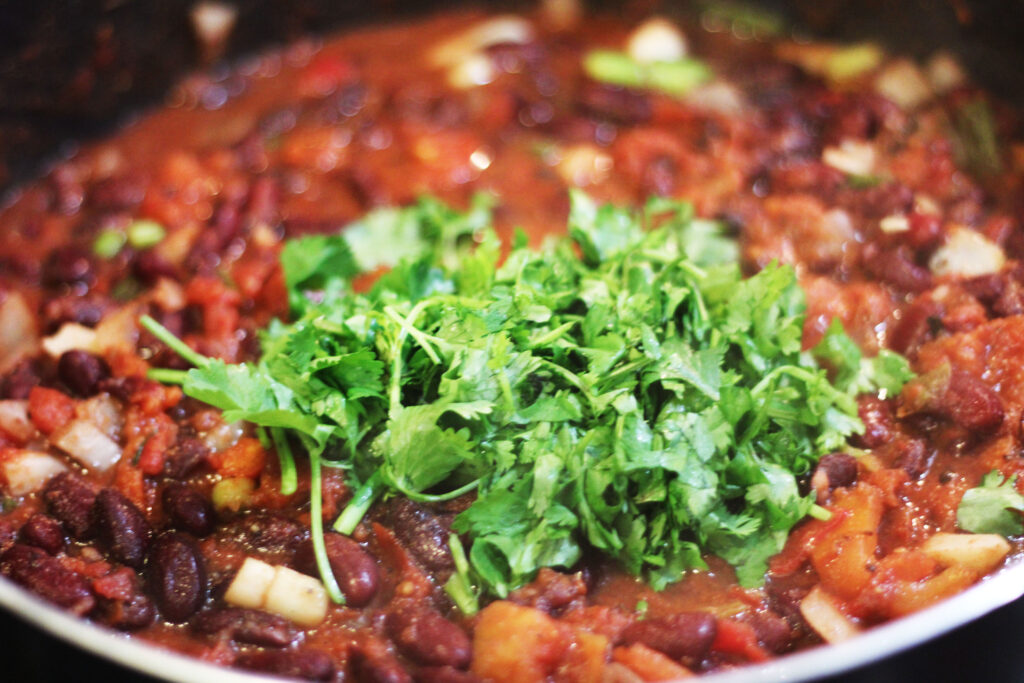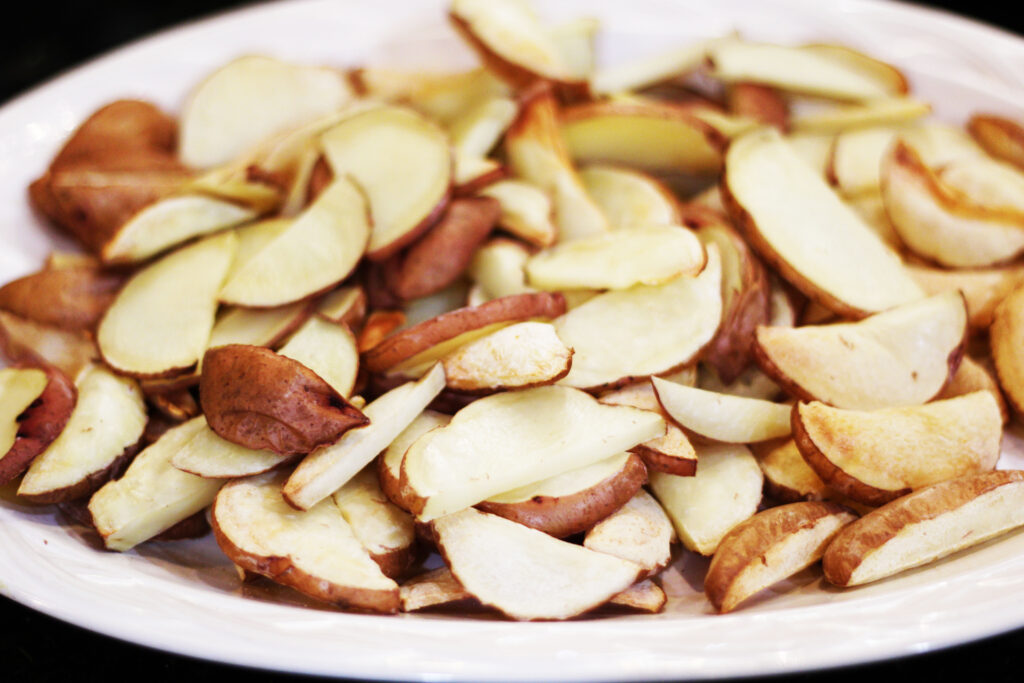 You can adjust your recipe to make it a little or less spicy by how much fire roasted tomatoes and spices you put in the dish. And depending on how many people you are serving; you can add more potatoes and double the chili recipe. That is the great thing about this dish it can be customizable to your family's needs. My oldest son loves to leave the seeds and the membranes in the jalapenos, but my youngest son and I cannot handle them that hot.
Vegan Chili Cheese Fries
Additional Time:
10 minutes
Just as mouth watering as it sounds. This Vegan Chili Cheese Fries are absolutely delicious.
Ingredients
6 Russet Potatoes
2 TBSP Vegetable Broth
4 Garlic Cloves, minced
1/2 Cup of Green Onions, diced
2 Cans of Kidney beans, rinsed
1-15 oz can of Fire Roasted tomatoes 
1 TBSP Smoked Paprika
1 TBSP Garlic Powder
1 TBSP Onion Powder
1 TBSP Chili Powder
¼ TSP Cayenne Pepper
1 TSP Salt
1 TSP Black Pepper
1 Cup of Cilantro, stems removed, and diced
½ Squeezed Lemon
2  Cups Vegan Cheese Sauce-See Recipe here
½ White onion, chopped
1 Large Tomato, chopped
1 Can of Black Olives, sliced
1 Jalapeno, seeded, and sliced
Instructions
Start by cutting up the potatoes Julienne style. Place them on your air fryer's racks, leaving a little space between each so they can cook evenly. Place them in the air fryer and bake on your Fry's setting.

In a frying pan, add in the vegetable broth and garlic
and sauté them for about 2 minutes, then add in the green onion and sauté for another minute or two.
Add in the beans, fire roasted tomatoes, and chili seasonings
( paprika, garlic powder, onion powder, chili powder, cayenne pepper, salt, and black pepper) and mix together thoroughly.
Cook on high until you bring it to a boil. Reduce heat
to low and let cook for about another 10 minutes. Add in the cilantro and cook for about another minute.
Your Air Fryer should be just about done with air frying your potatoes. Once they are done let them cool for a minute and then safely remove them from the air fryer.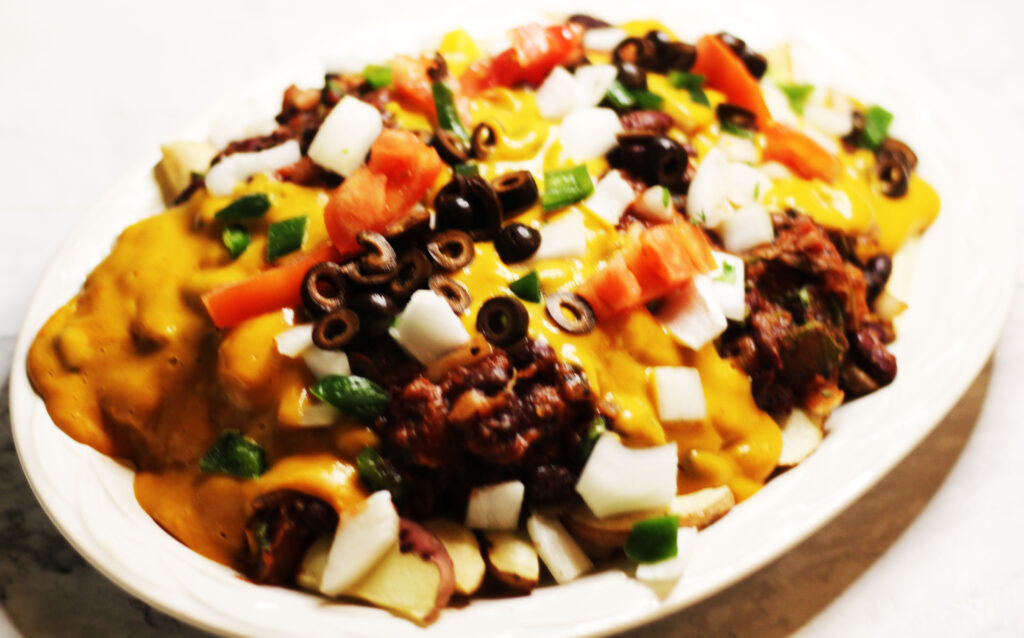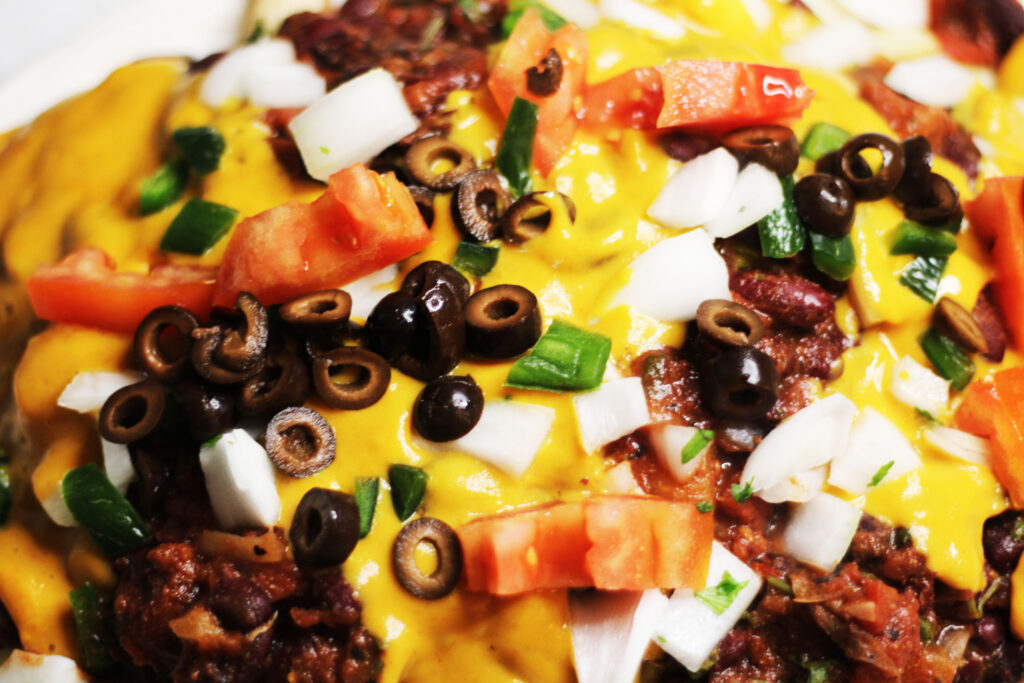 If you made our cheese sauce and have it on hand, this recipe takes even less time to make if not, I would suggest with starting by preparing the ingredients for that first.
Enjoy!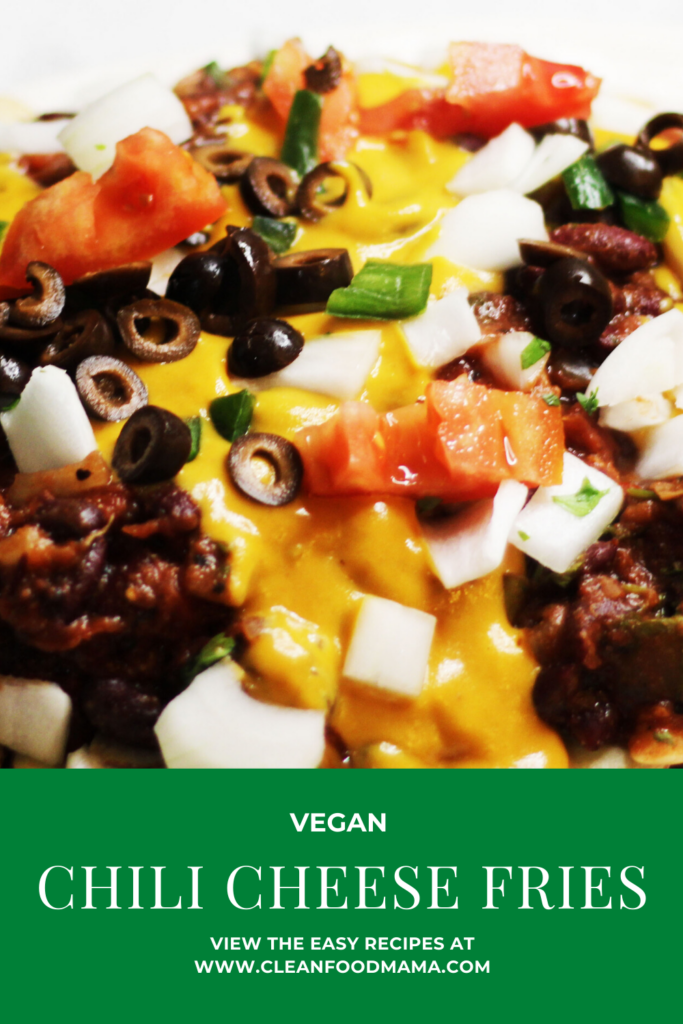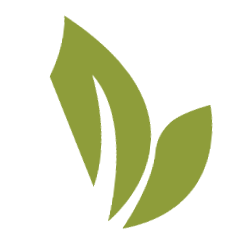 Stephanie Collazo, MS, CHC is the founder of Clean Food Mama, to help you get more plants into your diet. She shed 165 lbs by incorporating a whole foods plant-based diet and loves empowering other women to create healthy habits for themselves and their families.