This Healthy Breakfast Banana Split Recipe is Plant-based, Dairy-free, and Gluten-free.
DISCLOSURE: THIS POST MAY CONTAIN AFFILIATE LINKS, MEANING I GET A COMMISSION IF YOU DECIDE TO MAKE A PURCHASE THROUGH MY LINKS, AT NO COST TO YOU.
There is no question that I love bananas.  I am pretty sure that I have one almost every day. I am pretty sure I have at least one a day, and since going mostly plant-based, I had been looking at creating some plant-based dessert recipes on the blog. 
I figured it was time that I started getting creative in the kitchen. The day I actually made this recipe to post on the blog, I also made some whole wheat pancakes (recipe to come soon), so I can say it was a good day in the kitchen.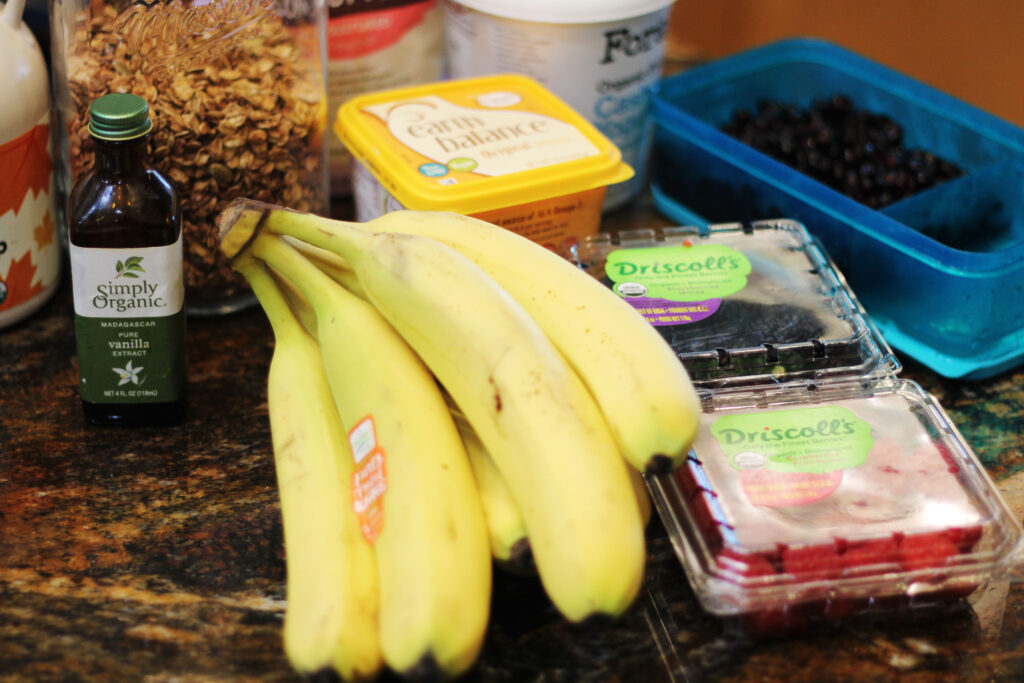 Don't get me wrong, I love desserts, but if I had to choose between cooking and baking, I would choose cooking.
And just like Rachel Ray said about herself, I would consider myself a "cook" not a "chef." I love creating recipes, and to be honest, my favorite dishes to make don't require me to measure out ingredients, I am a little of this and a little of that kind of gal.
So, when it came to creating this recipe, I knew that it had to be something that was simple and easy to make and did not require that I had to measure out a lot of different ingredients.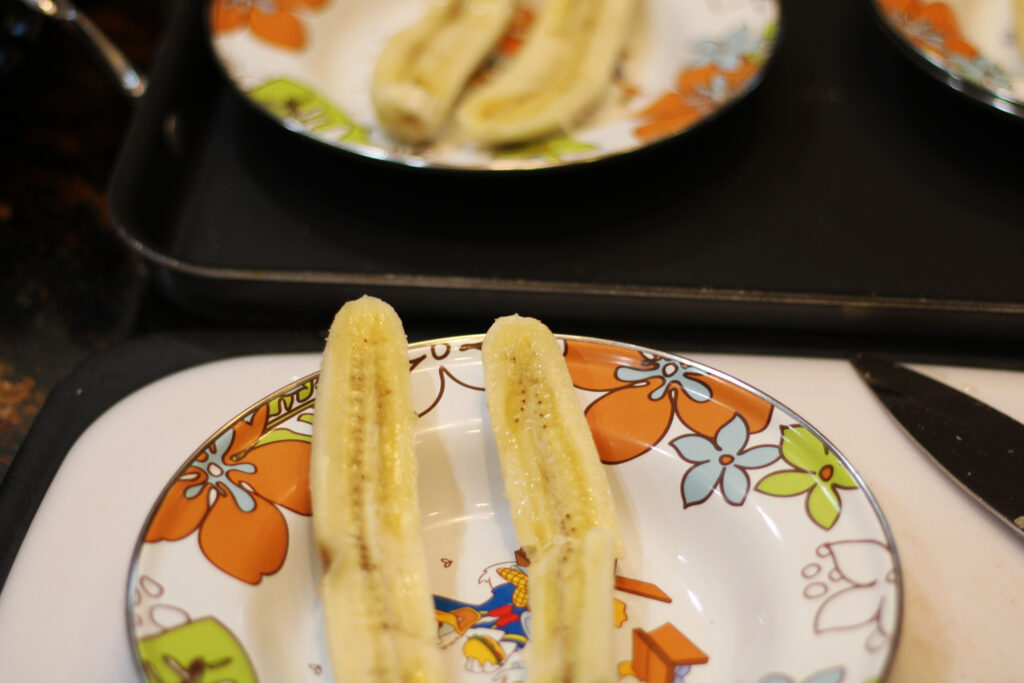 This recipe can be made using our Homemade Granola or by adding these raw ingredients into your bowl without baking them.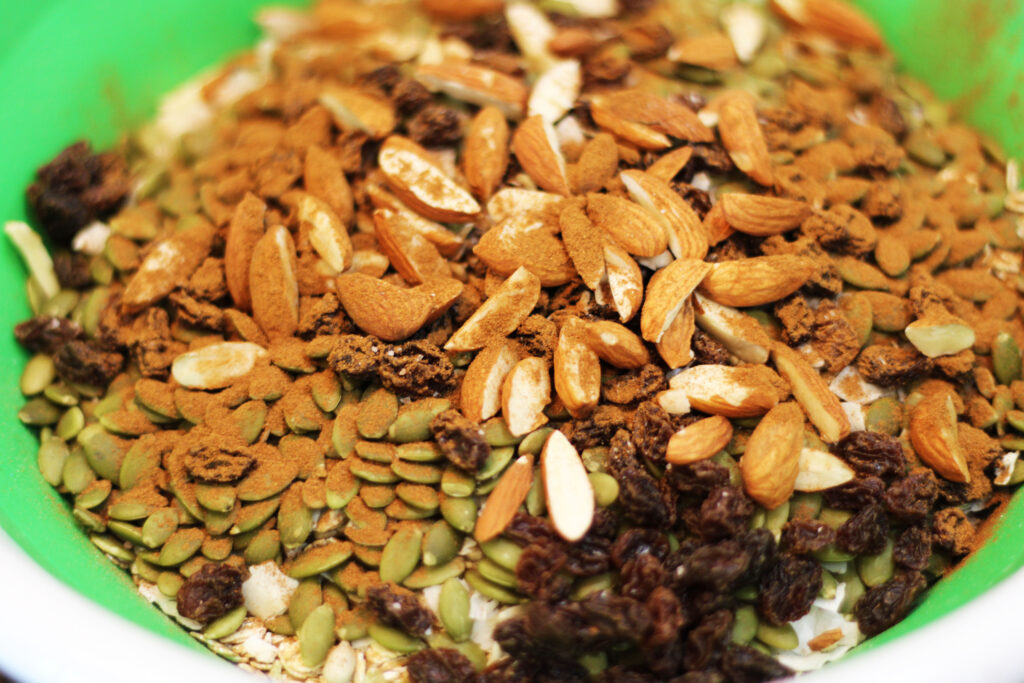 1/ Cup of Organic Old-Fashioned Oats
1 TSP Organic Pumpkin Seeds
1 TSP Sunflower Seeds
1 TBSP Sliced Almonds
½ TSP Flax Seed
½ TSP Chia Seeds
1 TSP Unsweetened Shredded Coconut or Shavings
1 TSP Raisins
1 TSP Cinammon
But if you are looking for more of a granola or crispier texture then, I would suggest going with our Homemade Granola.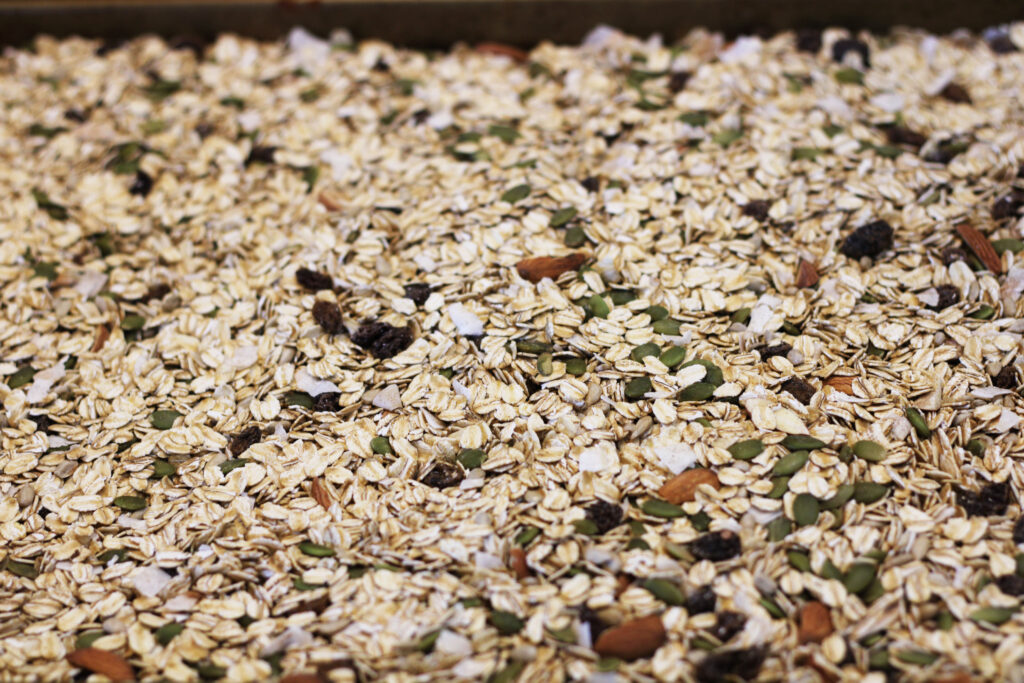 For this recipe, I used fresh blackberries, raspberries, and blueberries, but you can use one of your favorite berries and of course bananas. 
Did you know that bananas have 1.3 grams of protein, and 3.1 grams of fiber and contain power antioxidants linked to many health benefits including heart health, improving insulin sensitivity, and kidney health?  So, they not only taste good but they are good for you.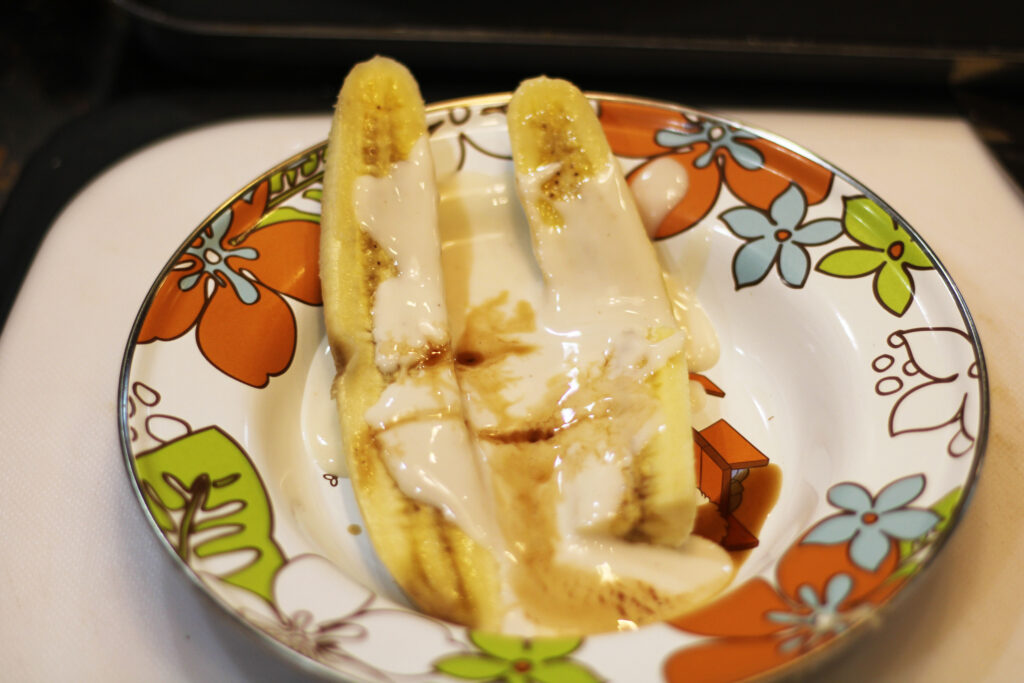 For the plant-based yogurt, I like to use Plain Unsweetened Almond Milk Yogurt by Kite Hill.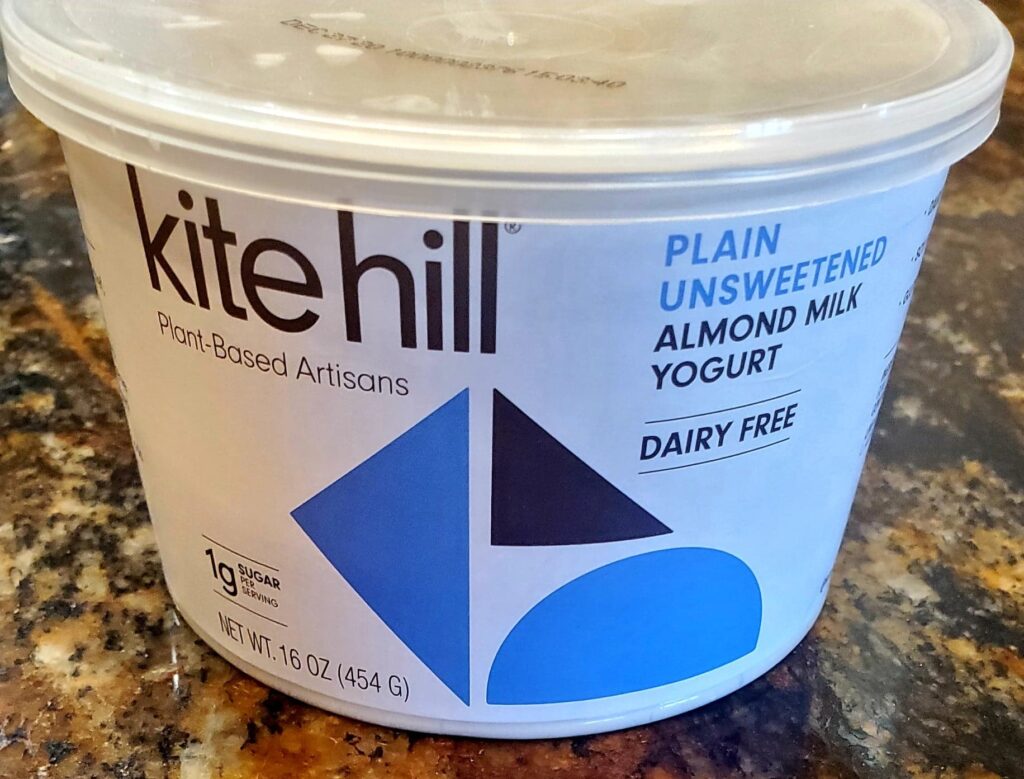 I have used Cashewmilk Yogurt by Forager in the past, but you can use any plant-based yogurt for this recipe.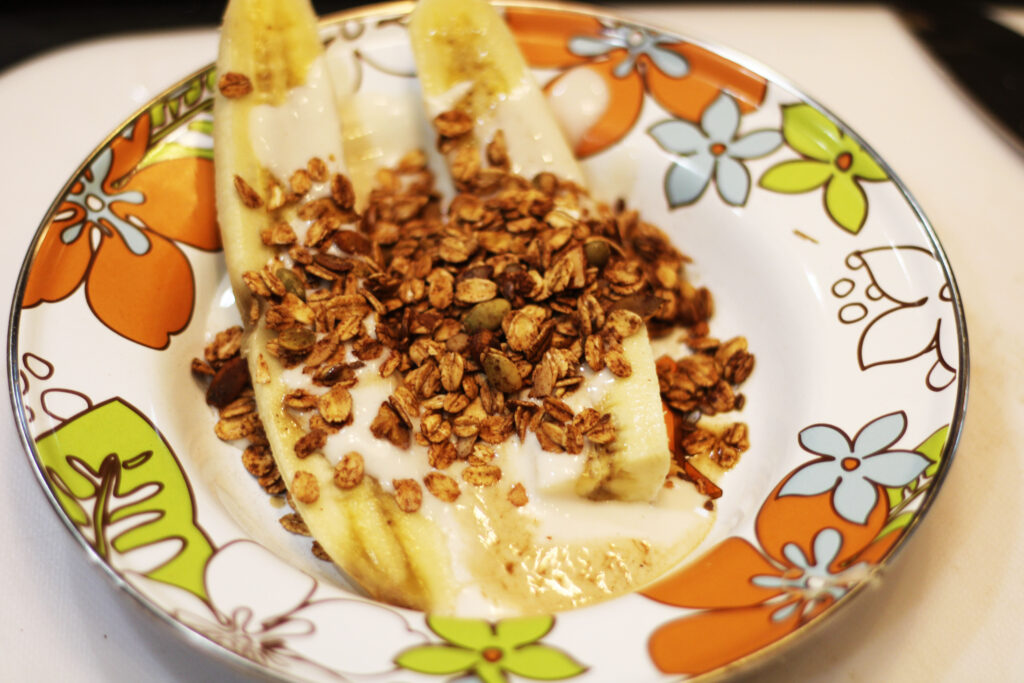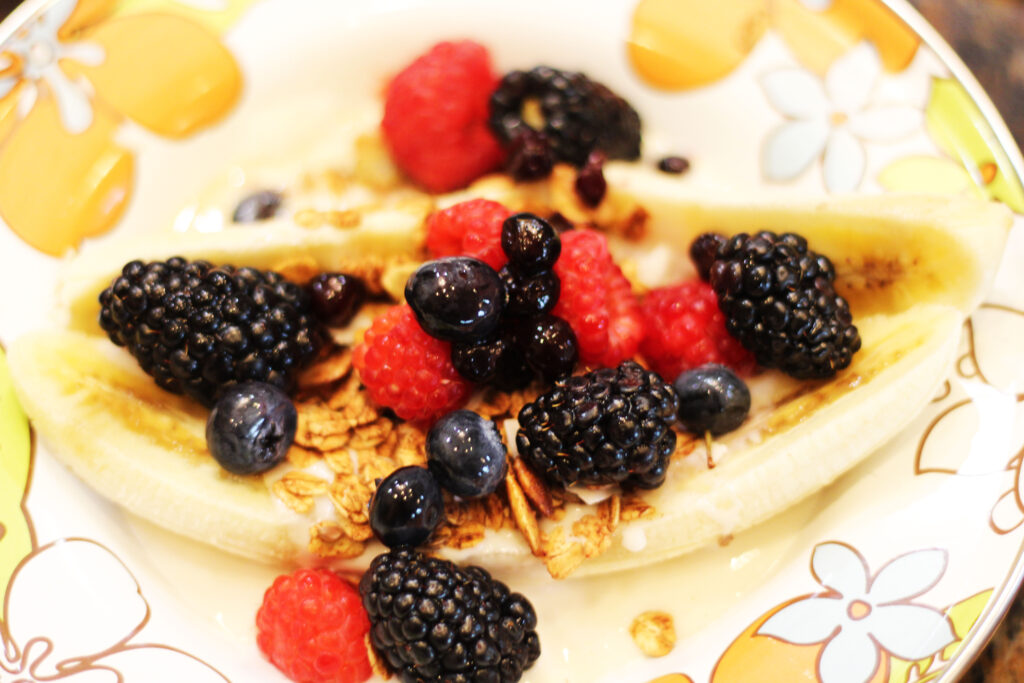 Enjoy this Healthy Breakfast Banana Split in a Banana Split Boat, a bowl, or a large mug and can be made in under 10 minutes.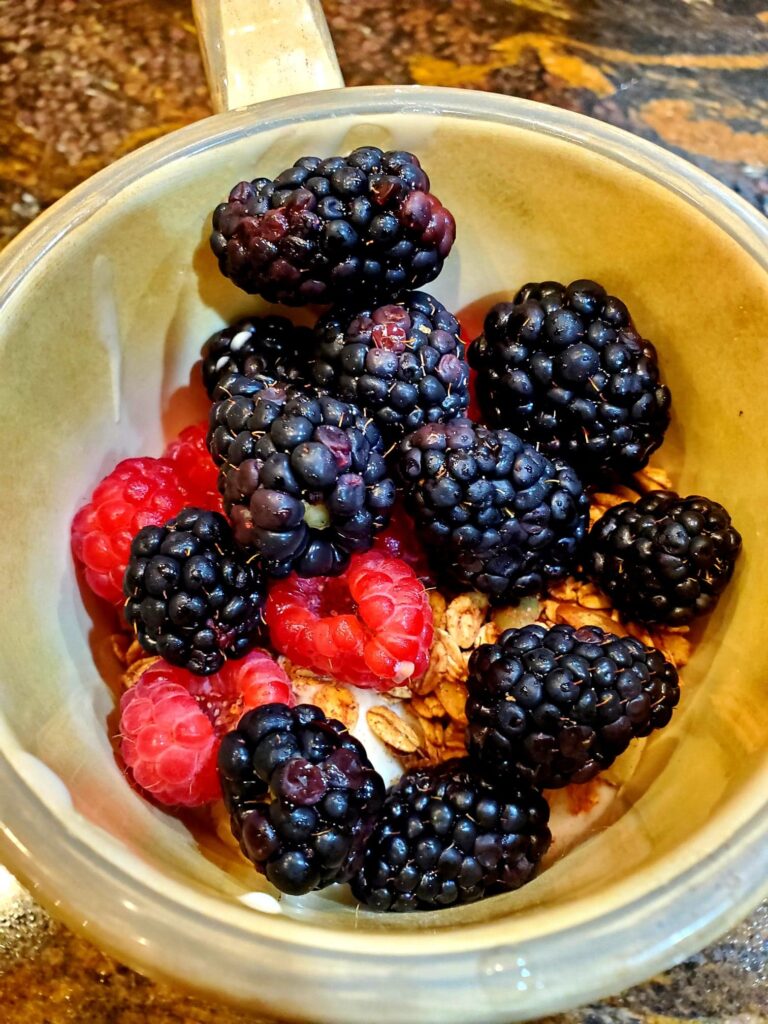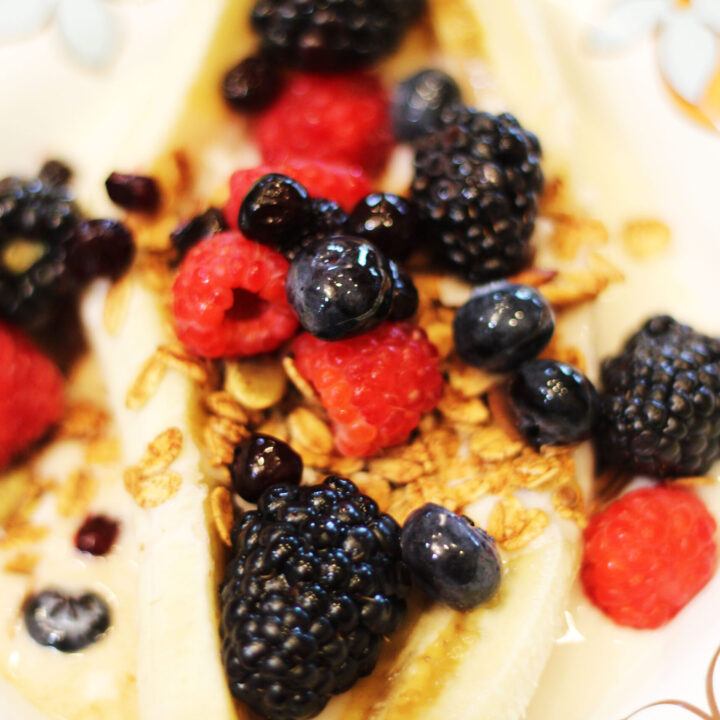 Healthy Breakfast Banana Split Recipe
Made using fresh berries and bananas, this healthy breakfast banana split can be enjoyed as a breakfast or dessert.
Ingredients
1 Banana, peeled and halved
1/2 Cup of a plant-based yogurt  
1/2 Cup of Clean Food Mama Homemade Granola  
1/4 TSP Pure Vanilla Extract
4-5 Fresh Raspberries, rinsed
4-5 Fresh Blackberries, rinsed
6-7 Fresh Blueberries, rinsed
1 TBSP Shredded Coconut
Instructions
In a small container, add in the yogurt and mix in the vanilla. Layer the bottom of the boat or bowl with both slices of bananas, add the yogurt, add on the berries, and top with shredded coconut and serve.
It makes a great breakfast meal or treat your whole family will enjoy.
Earlier this year, I competed in a friendly plant-based challenge with Estelle over at Homemade on a weeknight and it inspired me to do another recipe challenge, this time, I want to offer a recipe challenge to you, our loyal readers. 
The challenge I completed with Estelle was to make one of her original recipes, but instead using only plant-based ingredients.
So, in honor of that recipe challenge, we are looking for people to submit their dessert recipes to us and we will choose a couple to make using only plant-based ingredients and post them on our blog.
If you are interested in competing in the challenge, please fill out the contact form on our website or email us at [email protected]. 
If we pick your recipe, we will feature it on our blog and share it on our social media sites.
And if you have any dessert recipes that you would like to see us make using plant-based ingredients only, please let us know. We want to make sure that we are providing recipes that you will enjoy!
Happy Cooking!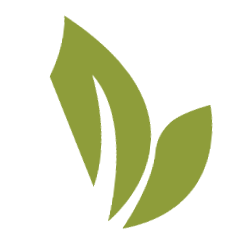 Stephanie is the founder of Clean Food Mama, a blog about a health journey, weight loss and getting more plants into your diet. She discusses her health journey and empowering others to do the same. She shed 125 lbs by incorporating a whole foods plant based diet. Click here to learn more about plant based foods.