This post contains affiliate links, and I will be compensated if you make a purchase after clicking on my links.
This clean eating homemade granola is packed with ingredients like raw pumpkin seeds which are a great source of protein and magnesium, and antioxidants. And other ingredients like sun flower seeds that are rich in healthy fats and Vitamin E.
There are so many granola cereals on the market. The ones in boxes and even the ones that come in bulk are not always made with clean ingredients. This plant-based homemade granola recipe is a great alternative to the store bought granola cereals you find in the grocery store.
We prefer to buy all the ingredients in bulk, as we have found it to be more cost effective and ensures we are using all plant-based ingredients to make the homemade granola.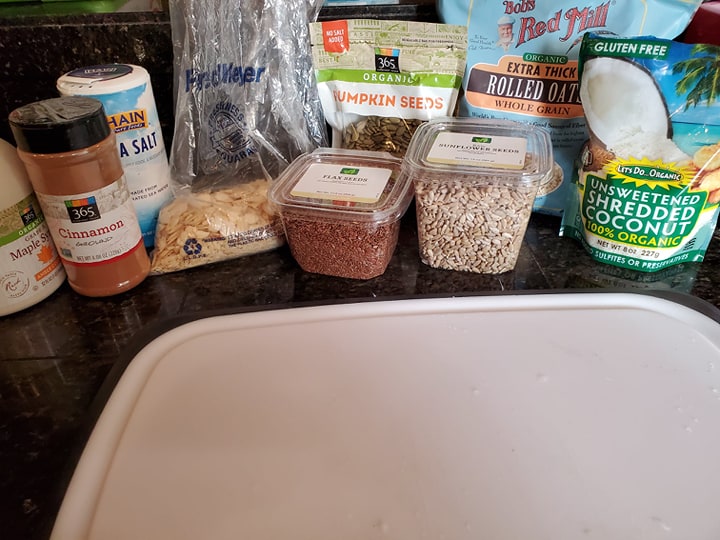 Whole Grain Rolled Oats: I find that it is best to used rolled oats. You can get the gluten-free options.
Pumpkin Seeds: Raw pumpkin seeds are best. Make sure that they are oil-free.
Sunflower Seeds: Raw sunflower are preferred. Again, check to make sure there is no oil added.
Almond Slivers: Using almond slivers instead of whole almonds work best. Costco has a large bag of almond slivers that work great.
Cinnamon: Cinnamon adds a great flavor the recipe.
Maple Syrup (optional): I like to use a small amount of maple syrup as it helps bind the ingredients together and make them extra crunchy.
Chia Seeds and Flax Seeds: These add some fiber and are are a great source of Omega-3 Fatty Acids.
Shredded Coconut (optional): You can use shredded coconut or coconut shavings.
Raisins: Make sure that you add them after baking the granola, as they might burn during the baking process. You can also use dried cranberries in place of raisins.
Place all the ingredients in a large bowl and mix together well.
Add them to a large baking sheet and spread out evenly. If you mixture is too big for one sheet, you can split it on another baking sheet.
Bake in the Oven at 350°F for about 15-20 minutes. I always check on it after about 12 minutes to make sure that it is baking evenly and not getting burned around the edges.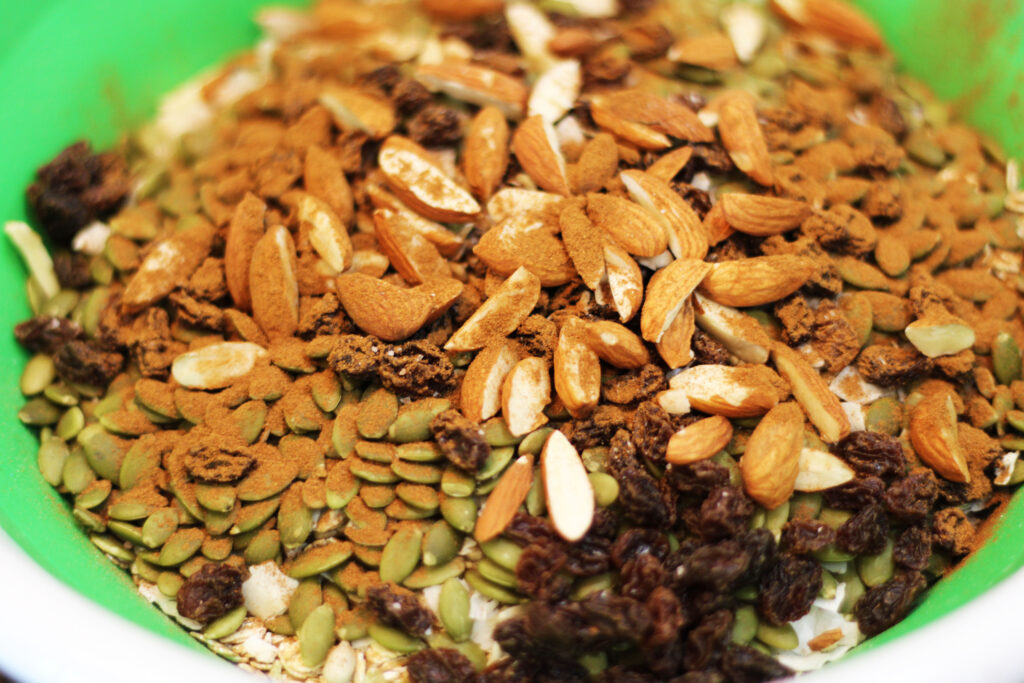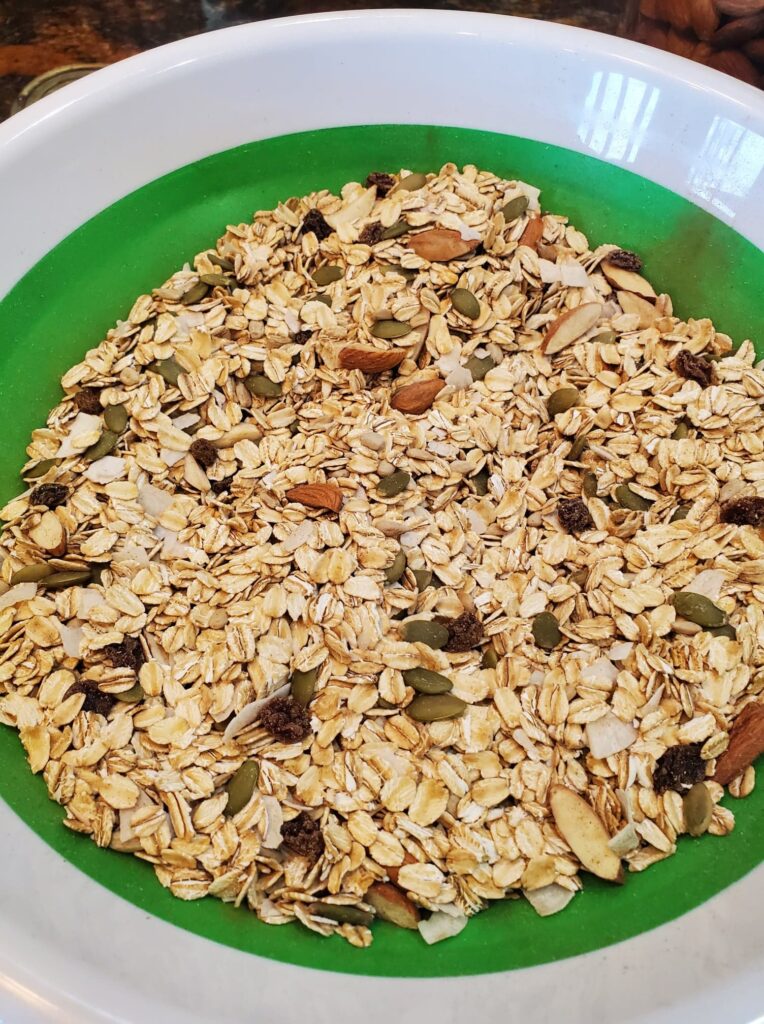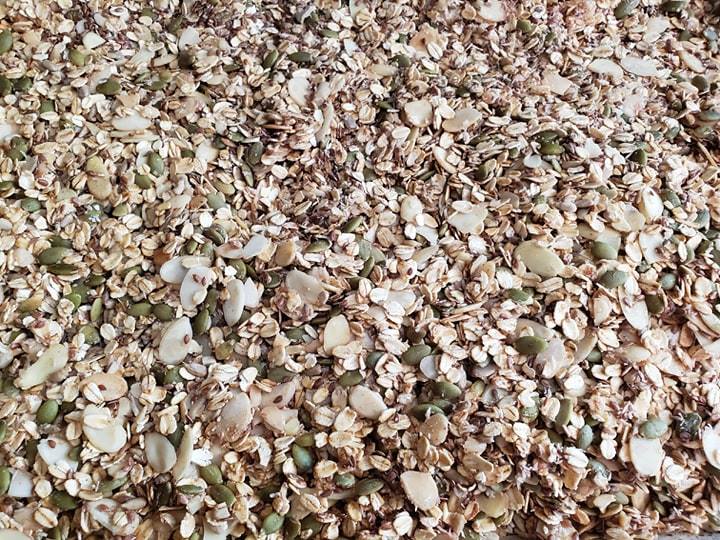 Homemade Granola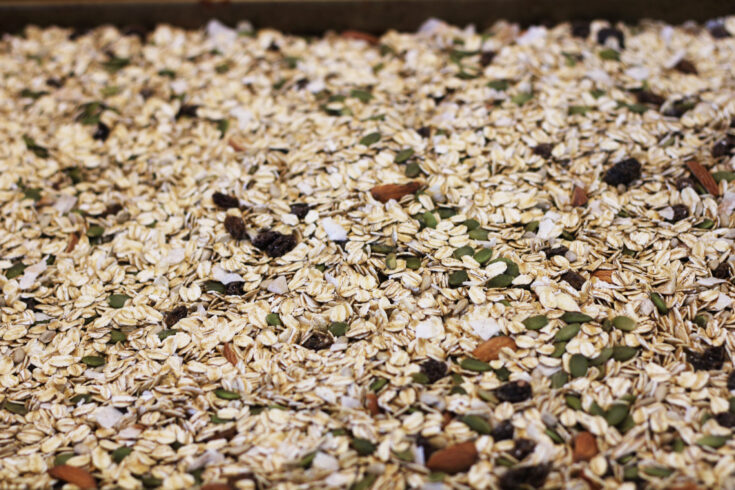 This homemade granola is plant-based and makes a great cereal or on the top of your favorite yogurt.
Cook Time
20 minutes
15 seconds
Total Time
30 minutes
15 seconds
Ingredients
2-3 Cups Organic Old Fashioned Oats
1 Cup Raw Organic Pumpkin Seeds
1/2 Cup Raw Sunflower Seeds
1 Cup Sliced Almonds
1/4 Cup Flax Seed
2TBSP Chia Seeds
1/2 Cup Unsweetened Shredded Coconut or Shavings
1/4 Cup Raisins
1/8 Tsp of Sea Salt
1 TBSP Cinnamon
1/4 Cup Organic Maple Syrup Grade B
Instructions
Mix everything but the raisins together in a bowl and then spread it out on a cookie sheet bake in the oven at 350 degrees for around 15-20 Minutes.
Let the mixture cool and add in the raisins and store any unused amount in an air tight container in the cupboard for up to 6 months. Enjoy!




Remove from the oven and let the mixture sit and cool and then you can transfer it to an airtight container and store in the cupboard for up to 6 months.
In place of raisins you can add in cranberries, or other dried fruits. We like to make our own dried fruits in the dehydrator and add them to this mixture.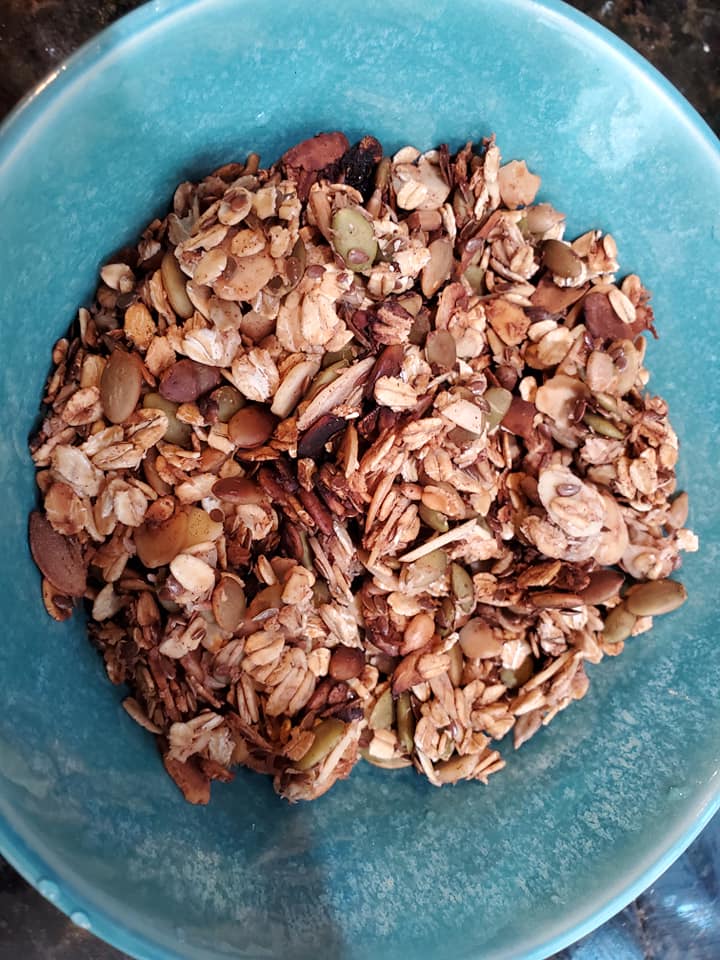 We love making this homemade plant-based granola because then we know what the exact ingredients are in it. It is great addition to plant-based yogurt, or enjoy with your favorite plant-based milk.
Here are some other Plant-based Breakfast recipes you might like"
Healthy Breakfast Banana Split Recipe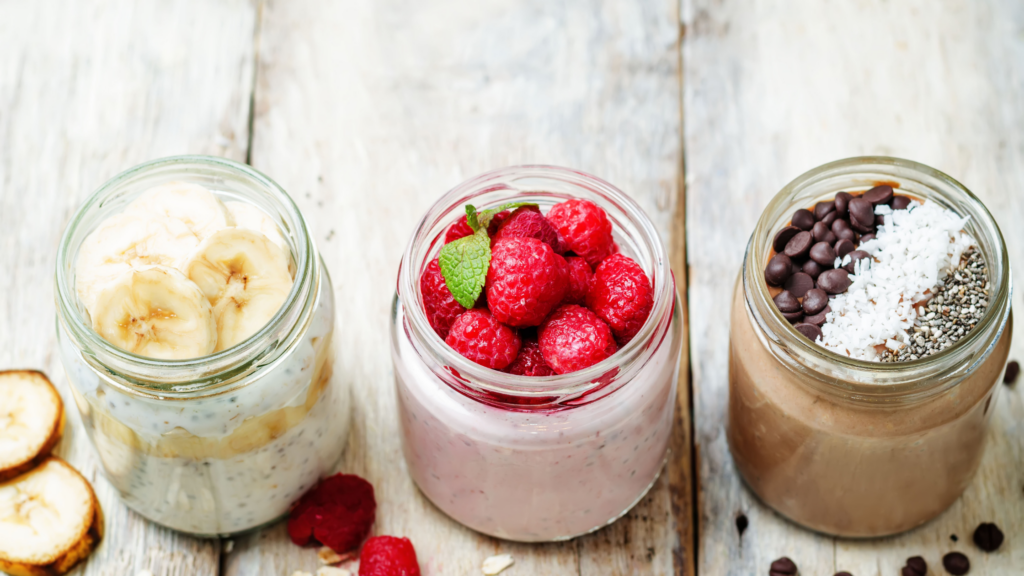 Enjoy!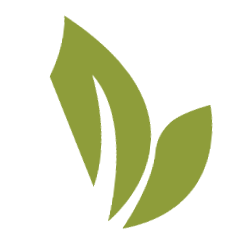 Stephanie is the founder of Clean Food Mama, a blog about a health journey, weight loss and getting more plants into your diet. She discusses her health journey and empowering others to do the same. She shed 125 lbs by incorporating a whole foods plant based diet. Click here to learn more about plant based foods.