This post contains affiliate links, and I will be compensated if you make a purchase after clicking on my links.
There are so many granola cereals on the market. The ones in boxes and even the ones that come in bulk are not always made with clean ingredients. This clean eating homemade granola is packed with ingredients like raw pumpkin seeds which are a great source of protein and magnesium, and antioxidants. And other ingredients like sun flower seeds that are rich in healthy fats and Vitamin E.
We prefer to buy all the ingredients in bulk, as we have found it to be more cost effective and ensures we are using all clean ingredients to make the homemade granola.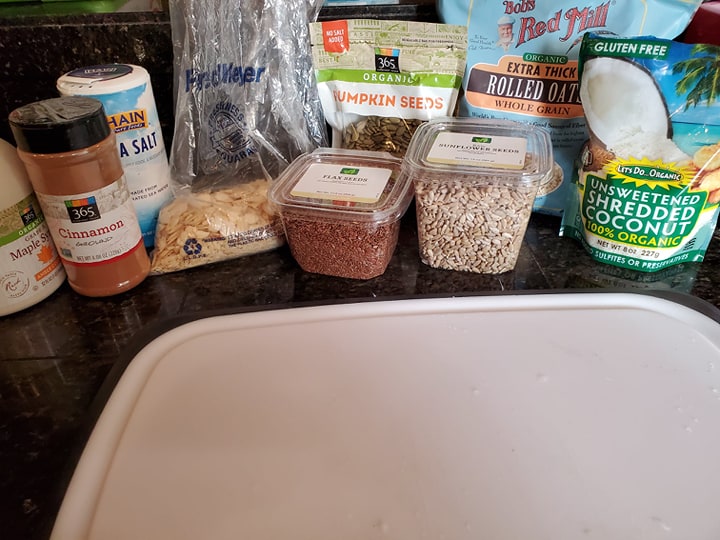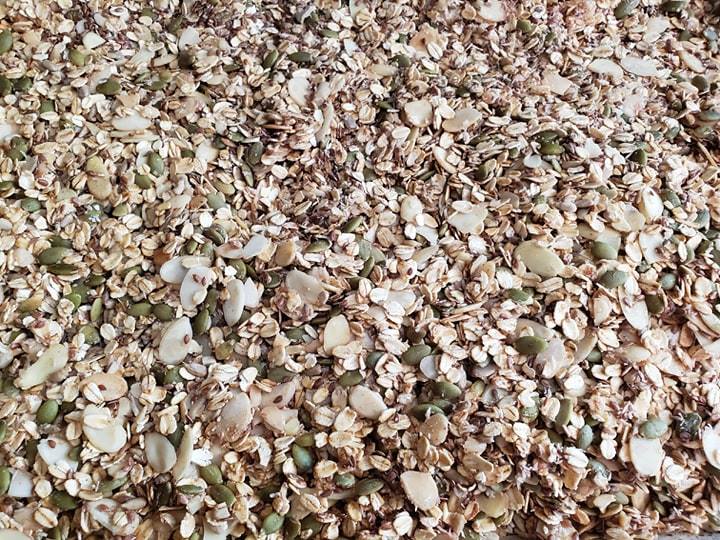 Homemade Granola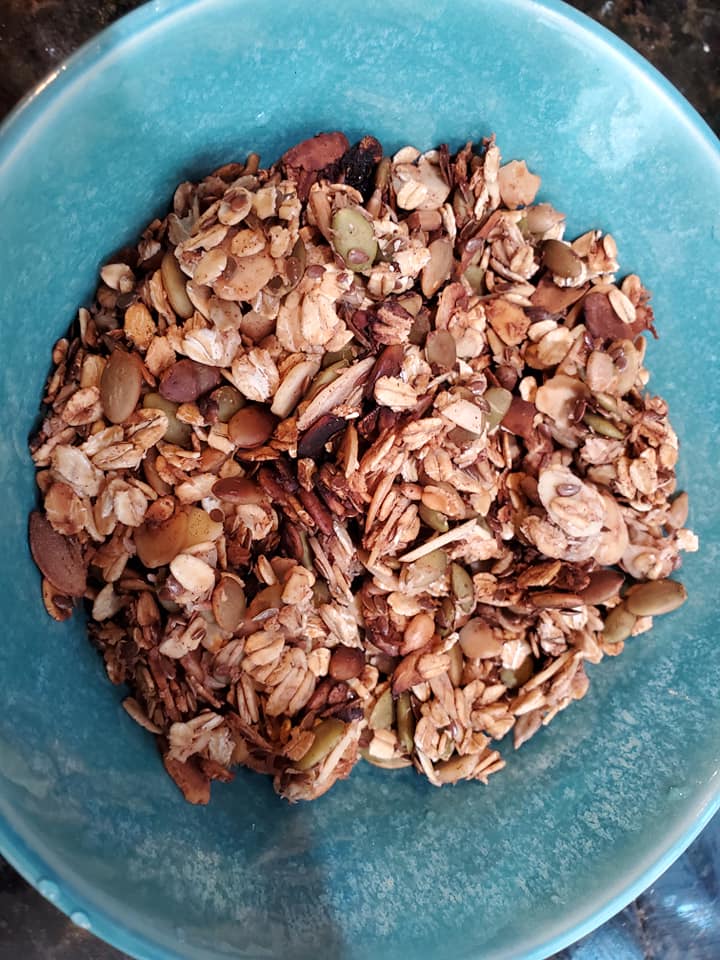 This clean eating homemade granola makes a great cereal or on the top of your favorite yogurt. It makes the perfect breakfast or snack.
Ingredients
2-3 Cups Organic Old Fashioned Oats
1 Cup Raw Organic Pumpkin Seeds
1/2 Cup Raw Sunflower Seeds
1 Cup Sliced Almonds
1/4 Cup Flax Seed
2TBSP Chia Seeds
1/2 Cup Unsweetened Shredded Coconut or Shavings
1/4 Cup Raisins
1/8 Tsp of Sea Salt
1 TBSP Cinnamon
1/4 Cup Organic Maple Syrup Grade B
Instructions
Mix everything together in a bowl and then spread it out on a cookie sheet bake in the oven at 350 degrees for around 15-20 Minutes. Then let it cool and store unused mixture in air tight container.
In place of raisins, you can also add other dried fruit. I would suggest one that is not high in sugar or one that you dried yourself.




In place of raisins you can add in cranberries, or other dried fruits. We like to make our own dried fruits in the dehydrator and add them to this mixture.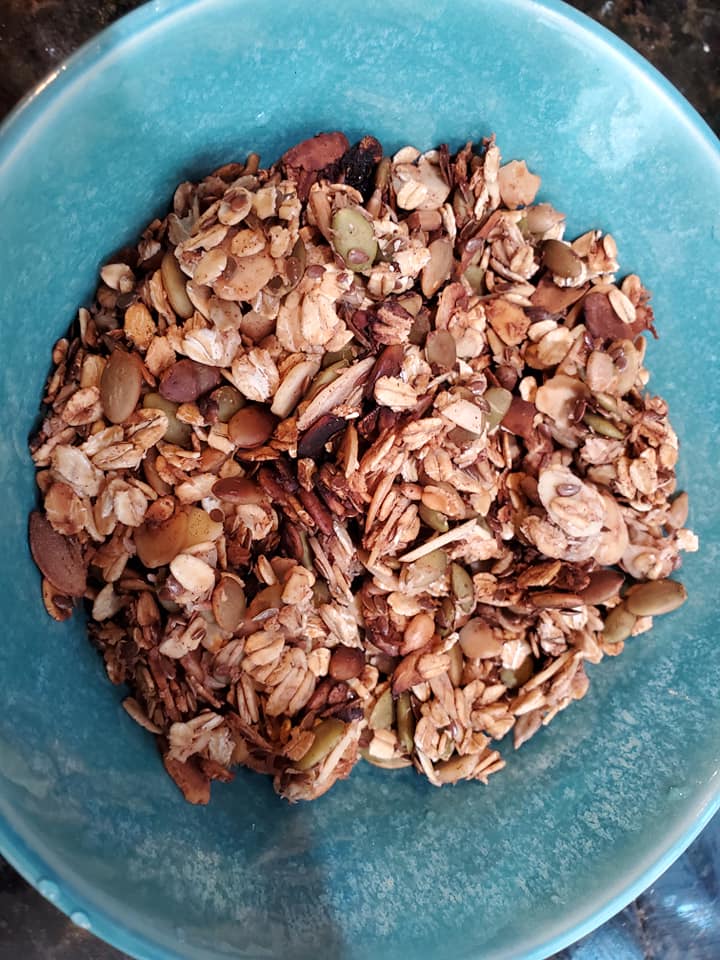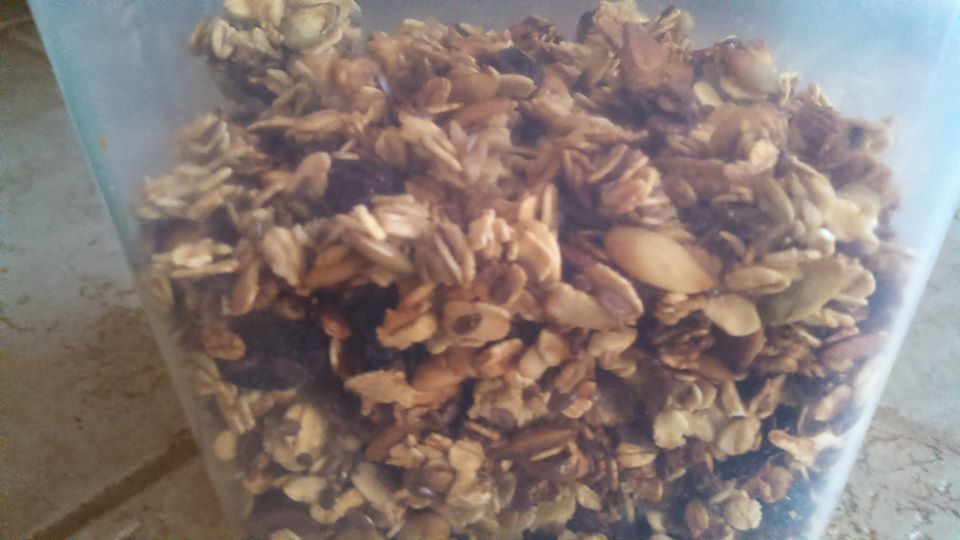 We love making this homemade clean eating granola because then we know what the exact ingredients are in it. It is great addition to yogurt, or with some homemade almond milk or simply as a snack.
Enjoy!