This post contains affiliate links, and I will be compensated if you make a purchase after clicking on my links.
Making a Vegan Charcuterie Board is easier than you think. Here are two Easy Vegan Charcuterie Boards your whole family will love.
Enjoy it as a snack for Family Game Night or as dish at your next gathering.
Making Charcuterie Boards do not have to be complicated and are a great way to enjoy all your favorite foods.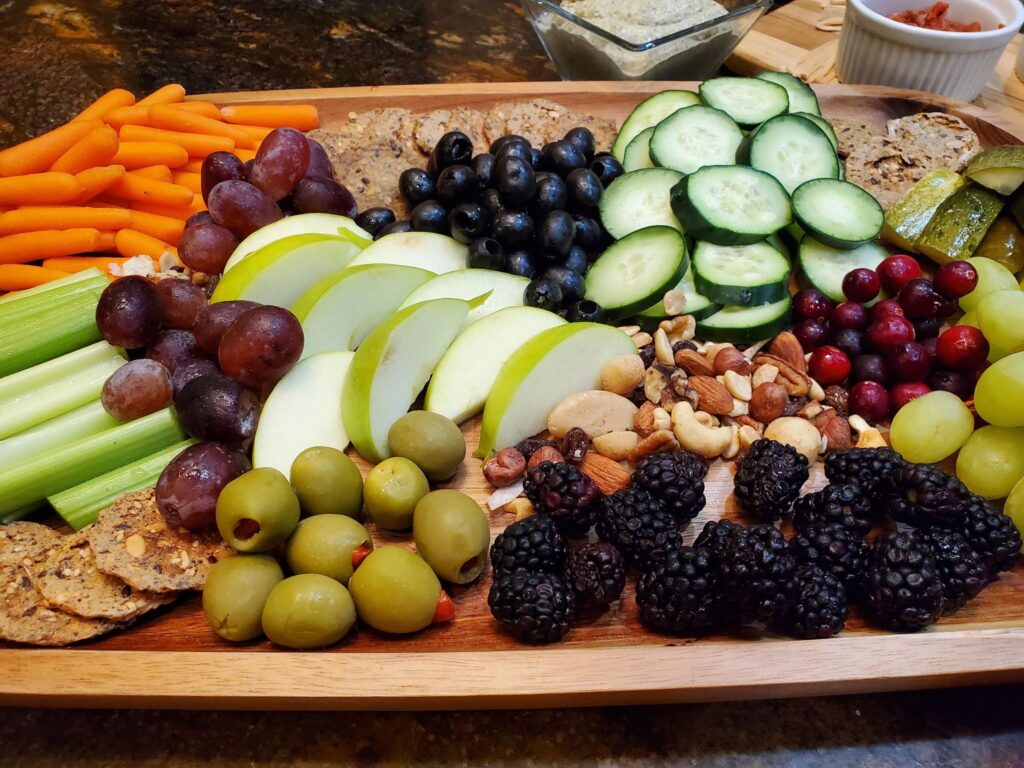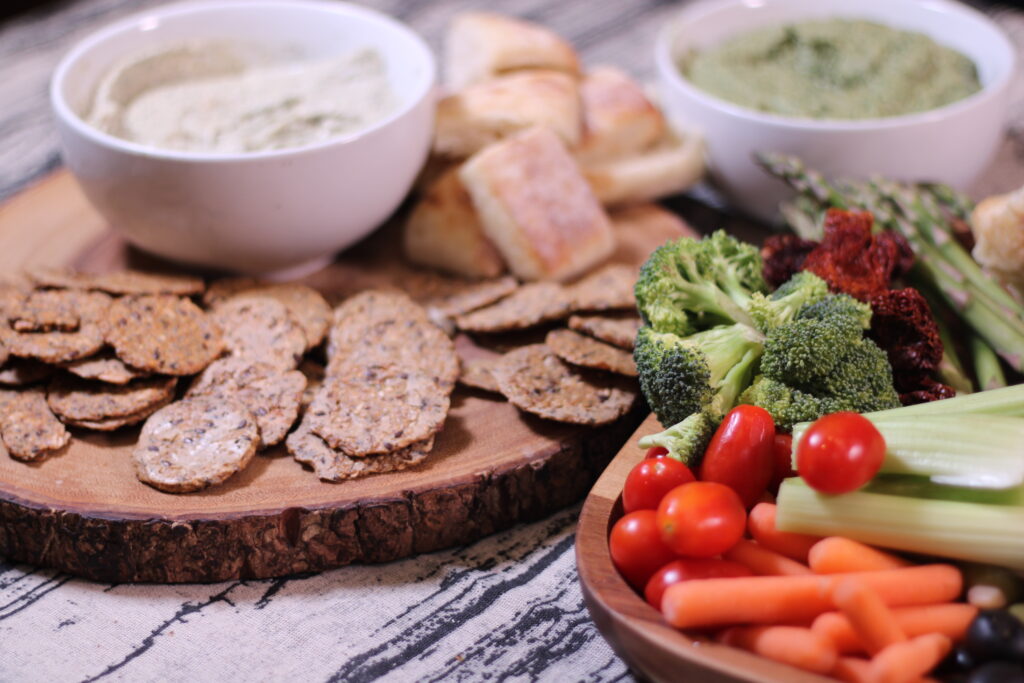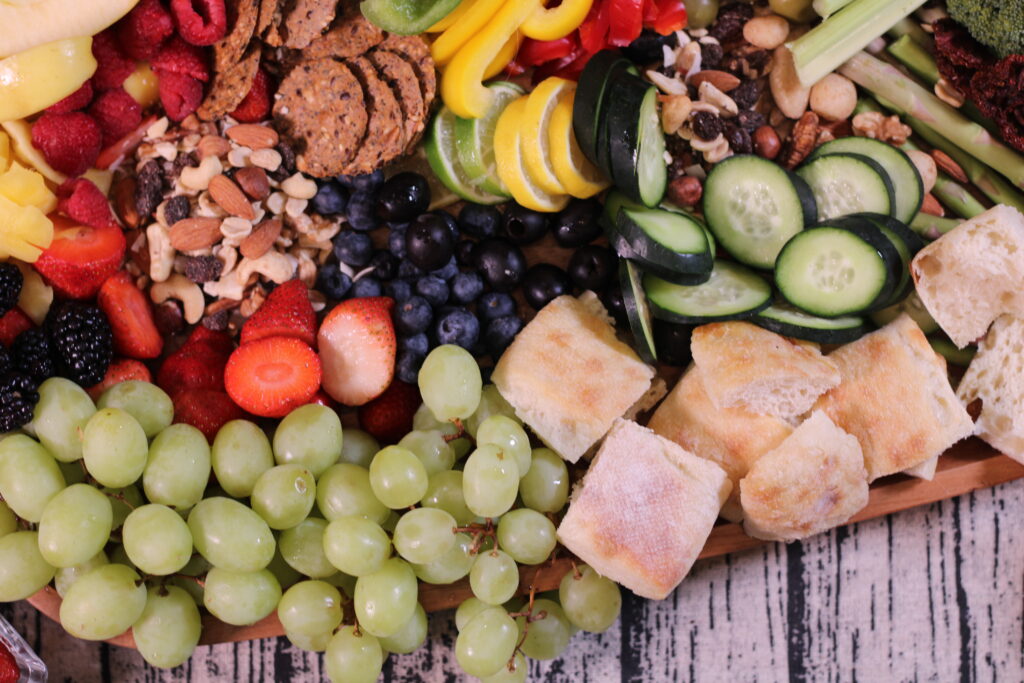 Yield: 4-6 People
Easy Vegan Charcuterie Board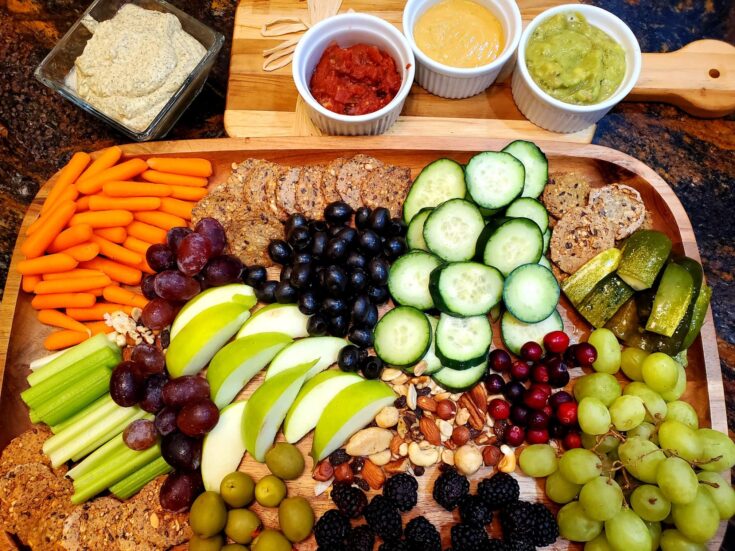 This Easy Vegan Charcuterie Board is a simple dish that you can enjoy as a snack or at your next gathering.
Ingredients
Blackberries
Red Grapes
Green Grapes
Blueberries
Apple Slices
Craberries
Cucumbers
Baby Carrots
Dill Pickles
Black Olives
Green Olives
Vegan Crackers
Vegan Bread
Guacamole 
Salsa 
Vegan Queso Blanco
Nuts and Seeds 
Instructions
Cut up all your veggies and fruit,
Arrange your food on your board starting with the larger food items.
Add in foods until you reach a desired look for your board
Add your dips to small dishes and display around the board. If you are making your dips from scratch, you will want to pre-make them before step one.
Add garnishments if you like. You can also add toothpicks to your food to access the foods
Enjoy!
And don't forget the sauces and dips.
Dairy-free Spinach Ranch Dressing
Yield: 6-8 People
Vegan Charcuterie Board
This Vegan Charcuterie Board is kid-friendly and a great addition to your event or to enjoy as a dish the whole family will love.
Ingredients
Strawberries
Blackberries
Blueberries
Raspberries
Green Grapes
Red Grapes
Apple Slices
Mango
Cherry tomatoes
Green Olives
Black Olives
Cucumbers
Baby Carrots
Asparagus
Celery
Broccoli
Green Bell Peppers
Orange Bell Peppers
Red Bell Peppers 
Yellow Bell Peppers
Sundried Tomatoes
Nuts & Seeds
Vegan Chocolate Chips
Vegan Crackers
Vegan Bread
Instructions
Cut up all the fruit and veggies
Premix the Dips and Sauces
Display the foods around your board. Starting with the larger size foods.
Add the Dips and Sauces to the display
Add Toothpicks, garnishments, and finishing details.
What ingredients would you add to your Plant-based Charcuterie Board?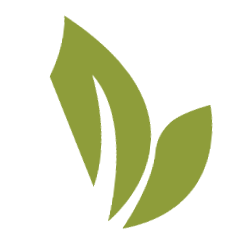 Stephanie is the founder of Clean Food Mama, a blog about a health journey, weight loss and getting more plants into your diet. She discusses her health journey and empowering others to do the same. She shed 125 lbs by incorporating a whole foods plant based diet. Click here to learn more about plant based foods.