This post contains affiliate links, and I will be compensated if you make a purchase after clicking on my links.
I am here for the salad dressing! 
I see that comment on social media all the time.
Finding a healthy and easy plant-based dressing or sauce is easier than you think.
While I am a big fan of clean food dressing options like Tessemae's, since going more plant-based, I have been looking for dressings in the store that are oil-free and I have not had any luck. Not only is it a good reason to make our own homemade dressing, but I always love a challenge.
If you remember back to when I did our first Plant-based Challenge with Estelle over at Homemade on a Weeknight, I love taking our favorite dishes and making them more plant-based.
There is no need to have a lot of ingredients to make a great dressing or sauce. Raw cashews not only make a great snack, they are great for making plant-based dressings and sauces.
My family absolutely loves Cilantro. And not only because of its wonderful health benefits, that you can learn more about on another one of our blog posts, What is Cilantro (Coriander): Uses and Benefits?, but because it is so delicious and adorns many of the dishes we make in our own kitchen.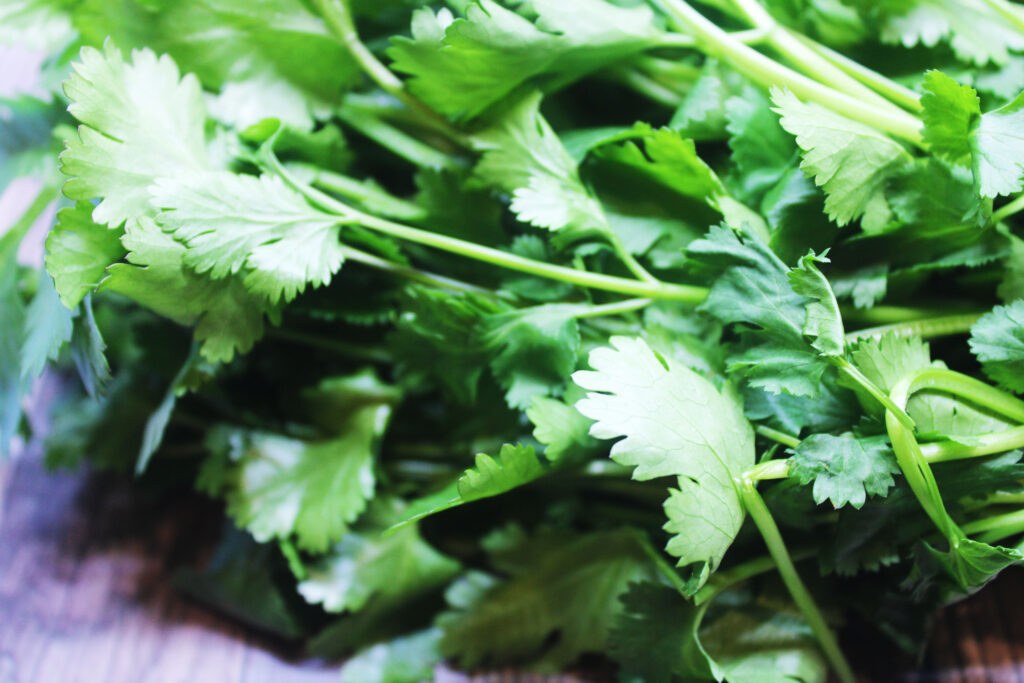 Crema is somewhat like sour cream, but a little thicker and actually can taste a little more sour than sour cream. But honestly, I prefer to have it be a little more runnier that way I can pour it on top of my favorite salad, power bowl, or burrito bowl.
There is so many ways in which you can enjoy this oil-free, soy, gluten, and dairy-free dressing including adding it to your favorite taco recipe, or on top your favorite soup recipe or as a dressing with our Power Bowl and Buddha Bowl recipes you can find here:
Wild Rice and Black Bean Power Bowl
Sweet Potato and Red Bean Buddha Bowl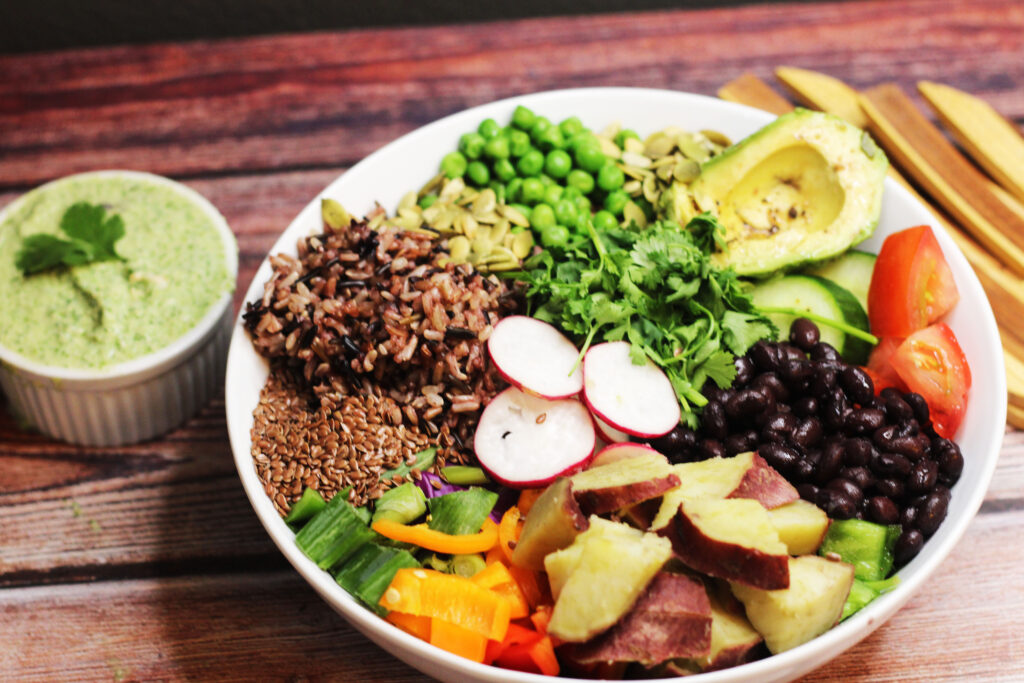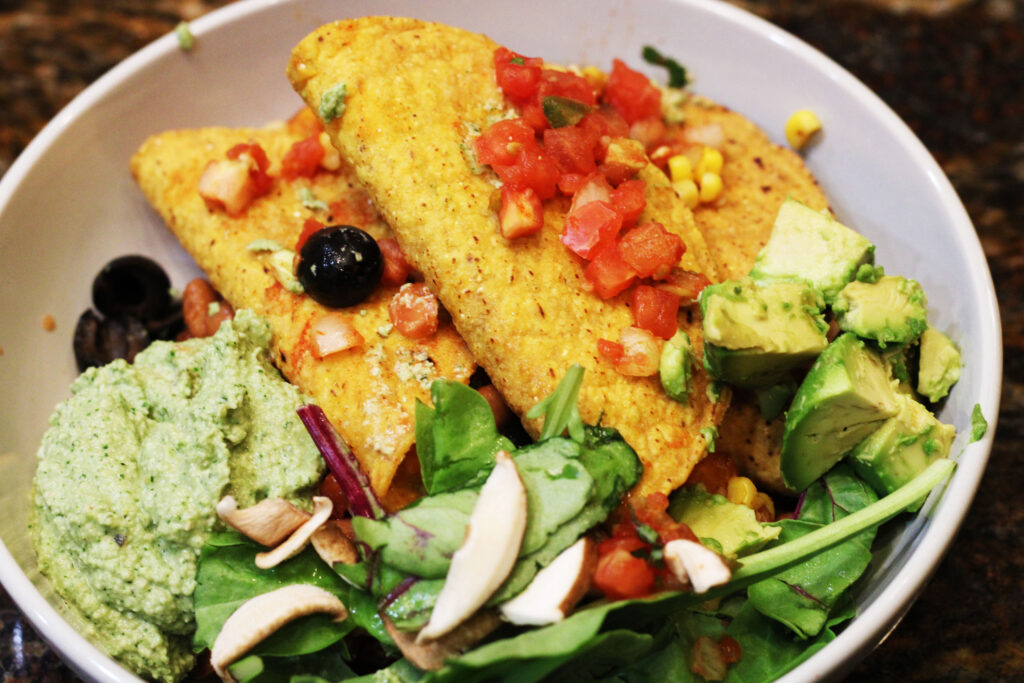 Or just enjoy it as a dip with your favorite vegetables or as a dip on your Charcuterie or Snack Board.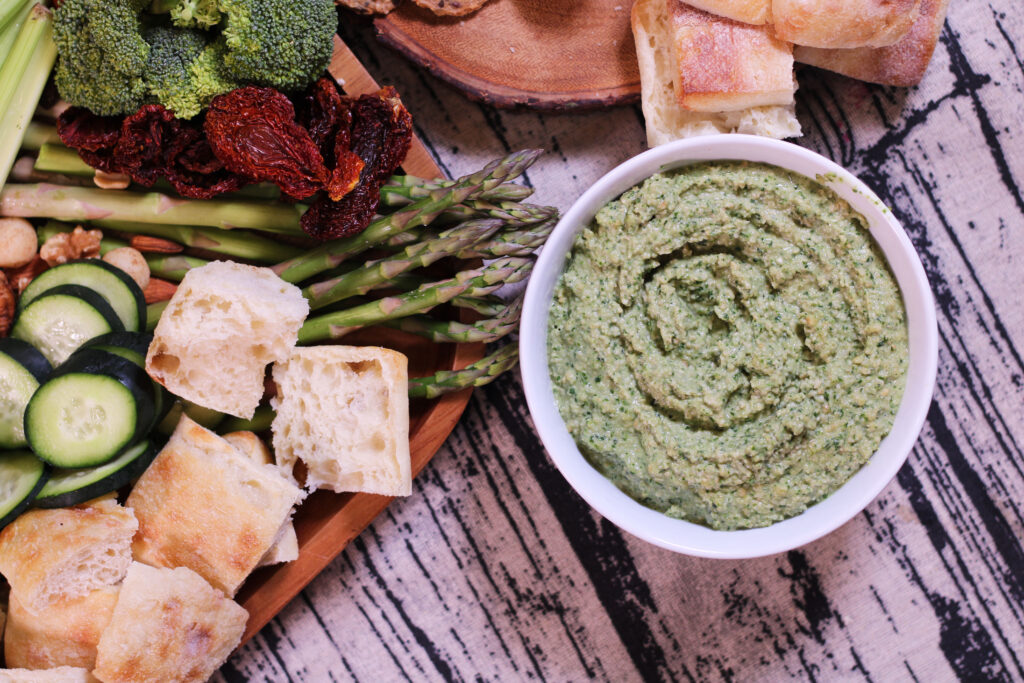 The list is endless. And the best thing is you can make extra and store in an airtight container in the refrigerator for up to 5 days.
All you will need for this recipe are 7 ingredients.
Raw Cashews (Soaked in water for about 4 hours or in hot water for about 10 minutes). I buy my raw cashews either at Natural Grocers or at Costco.
1 Lime, squeezed
½ Cup of Cilantro, leaved and chopped
1 TSP of Onion Powder
2 Garlic Cloves
¾ Cup of Water
½ TSP Salt
If you have a high-speed blender like a Vitamix, which is what I used to make this recipe, then you can skip soaking the cashews.
Using the Vitamix helps make this recipe creamy and smooth and it helps blend all the ingredients together perfectly. And it makes it great that you can add in additional amounts of the ingredients for your desired taste. You can add in a little more water if you want a creamier texture.
I remember when we got our Vitamix. I had been through three or four other blenders, everyone of them breaking within the first year. So, when I set out to find one that would be up to the tasks I needed in my kitchen, I started researching about Vitamix.
I loved that they created blenders for people that used them every day. I mean like the commercial grade ones you see at the Juice Bars.  And as an added bonus, they had a great warranty.  I cannot believe it has been almost 8 years since I purchased my Vitamix and I can say it has been one of the best purchases I have ever made. I have made everything from dressings to sauces to smoothies to soups. Yes! You can even cook soup in your Vitamix.
Since combining households with my mom we now have two of them, which means even more opportunity to make some great dishes.
While they have retired my Vitamix 6300 model, I did research the models they currently have on their site and chose to share their Ascent Smart System Series A3500
because it was closest model to the current one I have, so you can feel good knowing that it can handle all those day-to-day challenges and still be there 8 years later like mine is.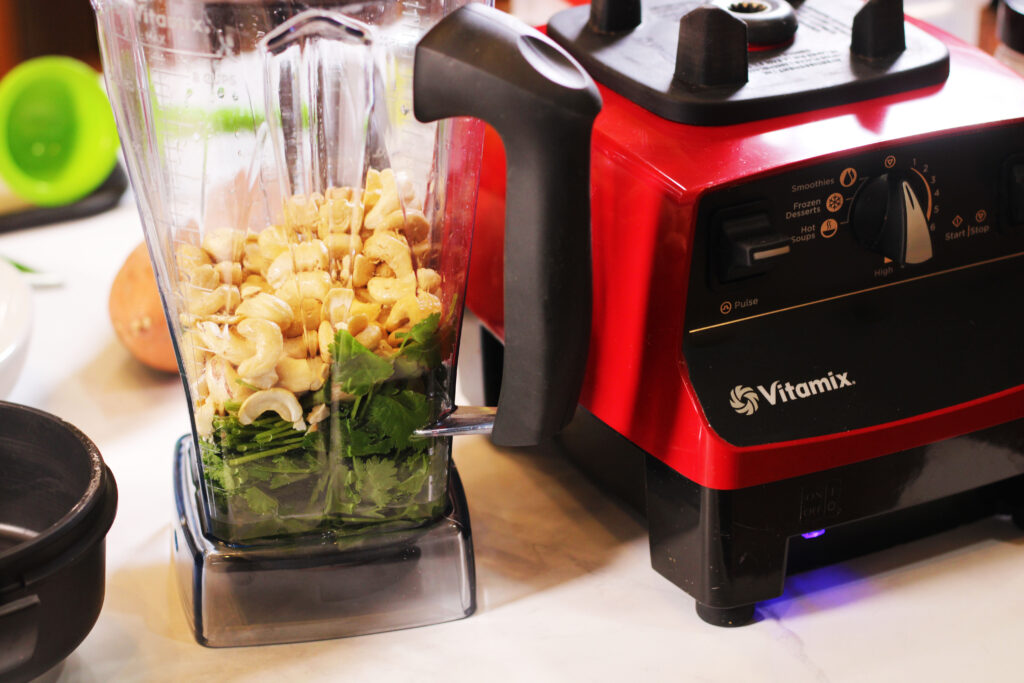 You might also want to look into purchasing their Vitamix 32oz Dry Grains Container
, because not only is the Vitamix great at blending wet products it can also be used to make flours and even grind coffee.
Once you have gathered all the ingredients, add them to your blender and blend. Add additional spices to reach your desired taste. Add in additional water for a more creamier consistency and serve. I prefer my crema to be on the cold side, so I will put it in the refrigerator for about 10 to 15 minutes before serving.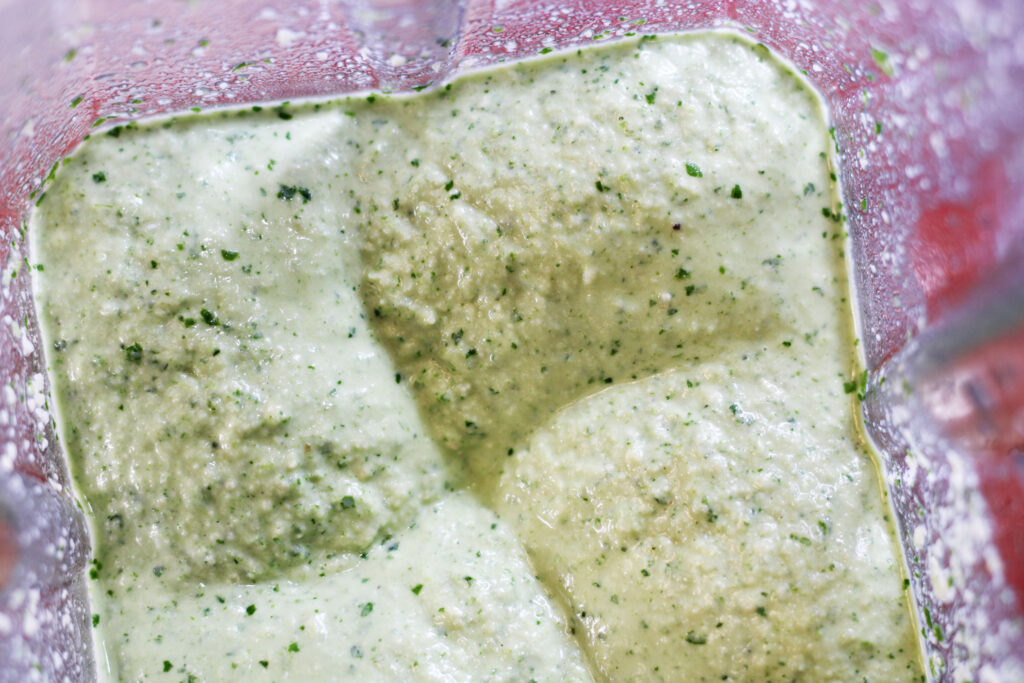 My family cannot get enough of this dressing. I like to make extra batches, because every time I go to look in the refrigerator for some its always gone. I guess that is a good problem to have. I am just happy my boys are choosing foods that will help nourish their bodies.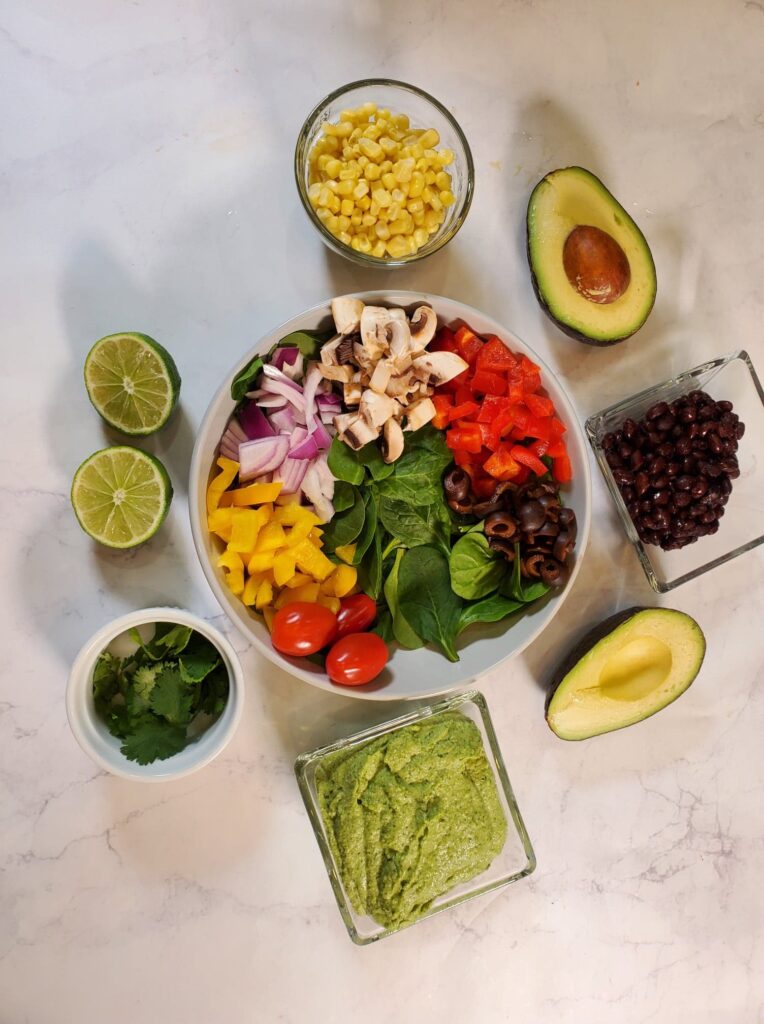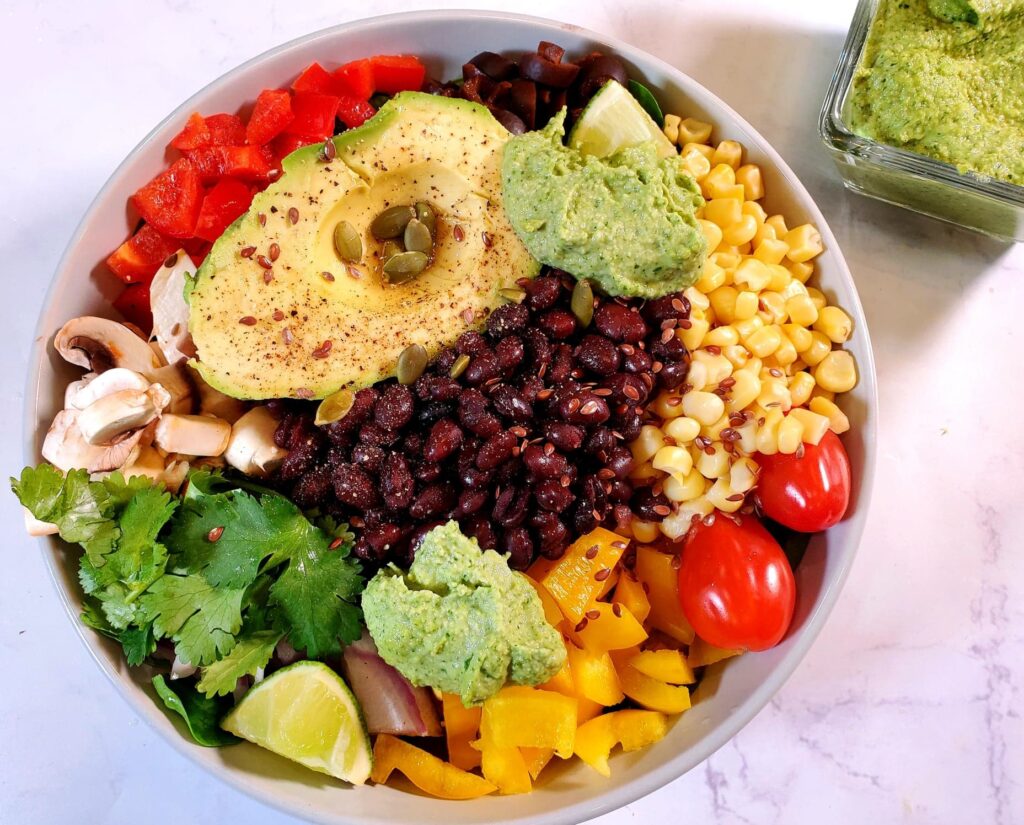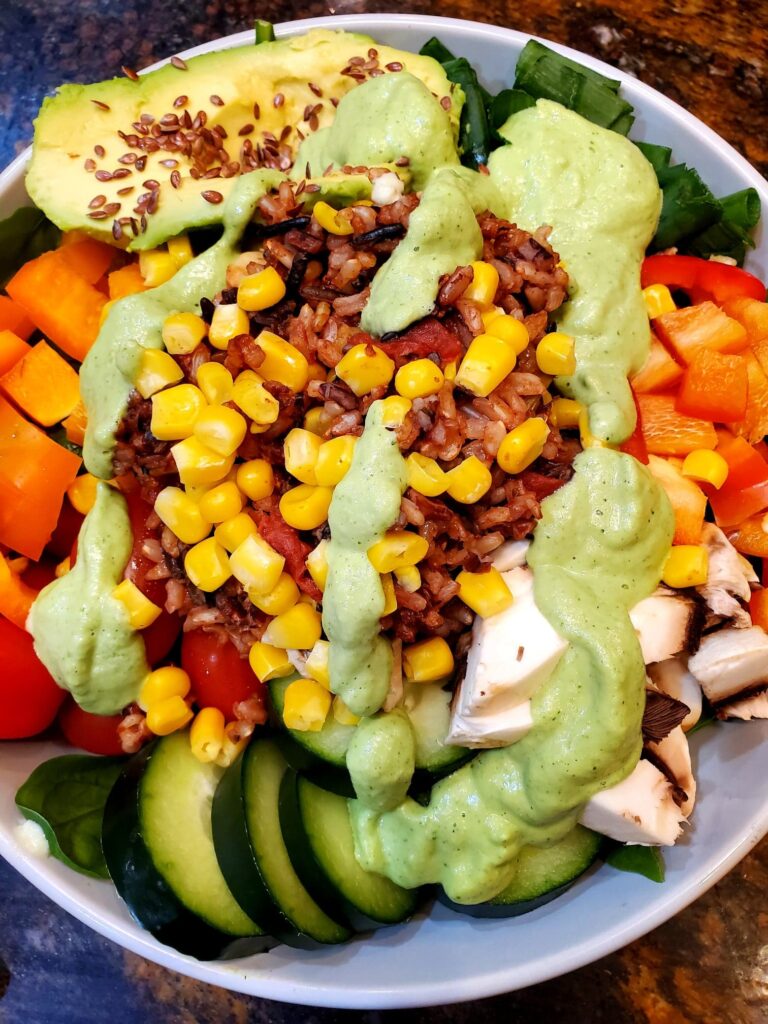 Yield: 4-6 Servings
Plant-based Cilantro Lime Crema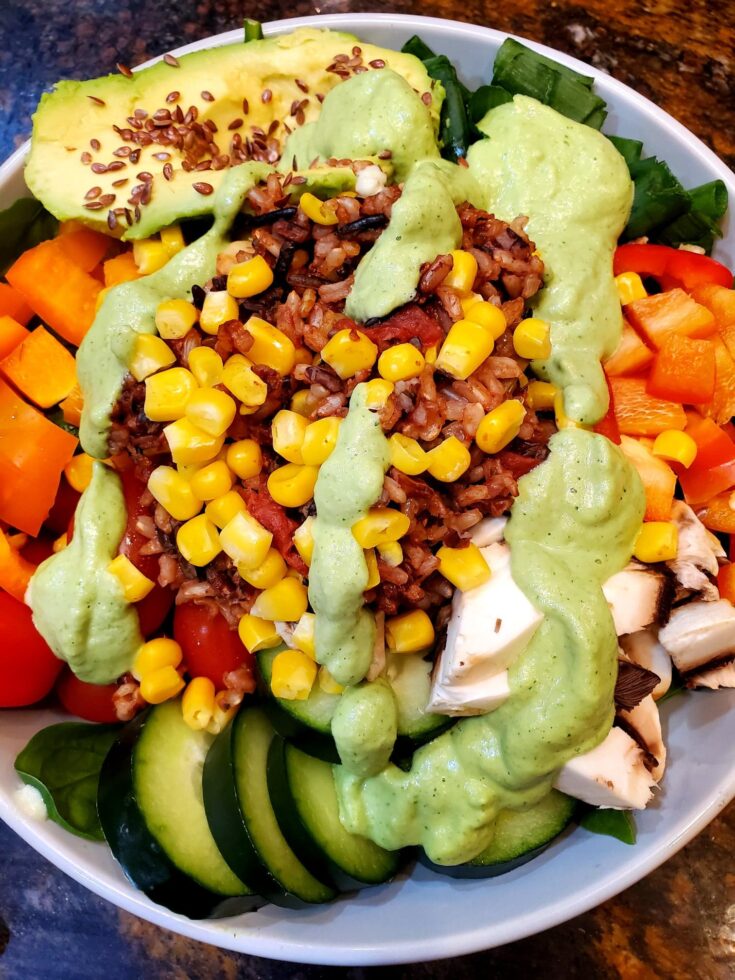 This Plant-based Cilantro Lime Crema is oil-free, gluten, soy, and dairy-free.
Ingredients
1 Cup of Raw Cashews
1 Lime, squeezed
1/2 Cup of Cilantro Leaves
1 TSP Onion Powder 
2 Garlic Cloves
1/2 Tsp Salt
3/4 Cup of Water
Instructions
Soak the Cashews in water for 4 hours or in hot water for 10 minutes. If you have a high speed blender like a Vitamix, you can skip this step.
Add all the ingredients to the blender and blend until creamy and smooth.
Add additional ingredients to taste
Add extra water for a more creamy texture.
Notes
If you prefer your dressing to be cold, place it in the refrigerator for about 10 minutes.
Store unused Crema in an airtight container in the refrigerator for up to 3-5 days.
Nutrition Information:
Yield:
6
Serving Size:
1
Amount Per Serving:
Calories:

126
Total Fat:

10g
Saturated Fat:

2g
Trans Fat:

0g
Unsaturated Fat:

7g
Cholesterol:

0mg
Sodium:

199mg
Carbohydrates:

8g
Fiber:

1g
Sugar:

2g
Protein:

4g
cleanfoodmama.com, occasionally offers nutritional information for recipes contained on this site. This information is provided as a courtesy and is an estimate only. This information comes from online calculators. Although cleanfoodmama.com attempts to provide accurate nutritional information, these figures are only estimates.
What are some dishes you would top with this recipe? Send us a message. We would love to hear how your family is enjoying this Plant-based Cilantro Lime Crema.
Enjoy!